Best Korean Short Ribs Recipes with Ginger, Sesame Seeds, Spices and Herbs
Beef and pork short ribs are traditionally slow cooked for hours using classic French recipes. But you can enjoyed them quicker using Korean methods to rapidly sear, grill or barbecue special rib cuts.
The ribs are marinated and then grilled or barbecued over charcoal to bring out all the flavors of the meat. The marinating takes an hour or so, but the ribs can be cooked in 30-45 minutes.
This article describes how to prepare and cook ribs in the Korean style.
Two recipes are provided: a simple version and a more complex one.
Both of them use spices, seeds and herbs to highlight the flavors of the roasted meat.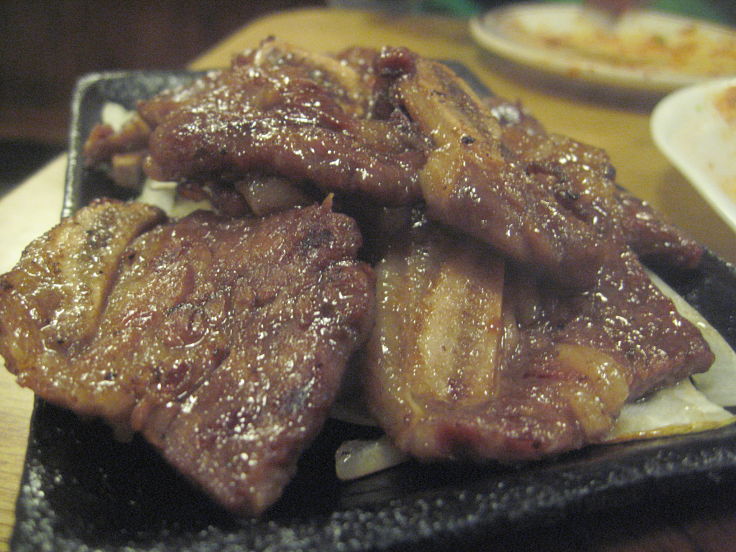 Simple BBQ Short Ribs Recipe
Ingredients
1/3 cup sugar
1/4 cup sesame oil
1/2 cup sesame seeds
3/4 cup of light soy sauce
4 pounds (2 kg) beef short ribs
3 cloves garlic, finely chopped
3 tablespoons all-purpose flour
2 tablespoon freshly grated ginger
2 teaspoons red chilli pepper flakes
Method
Using a sharp knife, slice into the meat to make a series of deep cuts at regular intervals, on both sides. Rub some sugar onto the meat and into the cuts. Cover and set aside at room temperature for about 30 minutes.

Toast the sesame seeds by dry-frying in a shallow pan over low-medium heat. This generally takes about 3 minutes, until the seeds have turned golden brown (do not brown or burn). Let the sesame seed cool and then pulverize using a pestle and mortar and pestle or a food processor. Add the sesame seeds to all the other ingredients mixed in a small bowl. Coat all surfaces of the ribs with the mixture, rubbing it into the cuts.

Put on a plate, cover and leave in the refrigerator for about 60 minutes.

Heat a charcoal barbecue grill, or gas grill or stove broiler until very hot. Grill the ribs turning once (generally about 5 minutes per side).

The ribs should be well browned on the outside (slightly charred if you prefer), but tender and pink on the inside. Cook the way you prefer them.
Advanced Korean BBQ Short Ribs Recipe
Ingredients
1/2 cup water
1 cup light soy sauce
2 tablespoons dark sesame oil
2 spring onions, thinly sliced
1 cup brown sugar, firmly packed
1/4 cup mirin ( or similar rice wine)
1/4 teaspoon freshly ground black pepper
1 small Asian pear, finely chopped, sliced
6-8 cloves of garlic, finely chopped or minced
1 small onion, peeled and finely chopped or sliced
5 pounds (2 1/2 kg) Korean cut beef short ribs (ask your butcher for these special cuts)
Method
Sprinkle brown sugar over beef short ribs, and rub well into all surfaces of the meat to provide an even coating. Place on a plate, cover and set aside at room temperature for 10-15 minutes while you are making the marinade. Combine all the remaining ingredients in a small bowl. Then place the beef short ribs into a large sealable freezer bag (or other container). Pour in the marinade, squeeze out the excess air from bag and then seal. Rotate the bag and flip over to ensure all the ribs are coated with the marinade. Transfer the bag to the refrigerator and marinate the beef ribs for 4-6 hours or overnight.

To cook the ribs, preheat your gas or charcoal barebecue or grill to medium-hot temperature. Take the ribs in batches and sqeeze off the excess marinade (this helps prevent burning). Grill the beef short ribs to desired doneness, turning only once (generally about 3-5 minutes for each side. Keep the cooked ribs warm on a grill placed over a pan in the oven. To serve, garnish with thinly sliced green onions or fresh herbs such as basil, coriander or broad-leaf parsley.