Korean Barbecue Recipes - Home Made Beef, Pork, Ribs, Chicken Dishes
Have you enjoyed a Korean barbecue at a restaurant and loved the ceremony of sharing the cooking with your friends who can cook their own meal and choose the marinated beef, pork, chicken, ribs and other items to their taste? It is rather like a fondue meal, which is still quite popular in Europe (see the recent image from Geneva).
Have you wondered whether you can share a Korean Barbecue at home with family and friends in an outdoor setting, or even indoor with an electric grill?
Well it is quite easy to do. What you need is some great recipes for the marinades, side dishes and ingredients which are provided below.
You also need a small barbecue that can be set up on an outdoor table or bench so that your guests can enjoy the social experience of cooking their own food and enjoying the delights of Korean tastes and textures. Once again it is very similar to a Fondue.
This article provides a simple guide to preparing a Korean Barbecue for your next dinner party with family and friends.
It includes recipes for the meat, marinades, sauces and side dishes you need and some options for small charcoal barbecues and other tiny grill cookers that can be set on tables or benches in outdoor areas.
Enjoy Korean barbecues at home!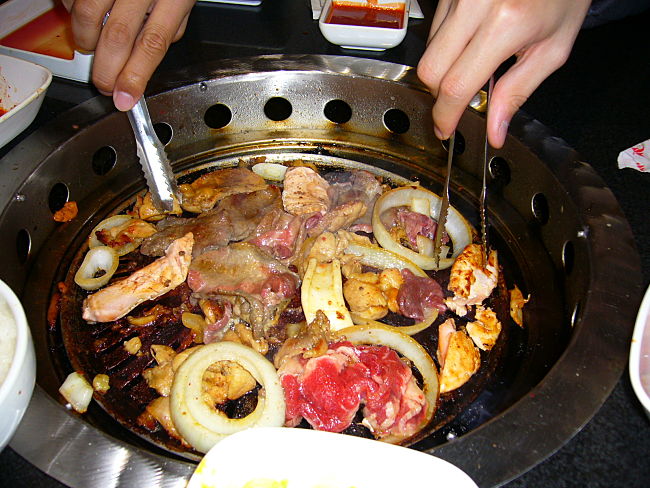 Cooking Korean Barbecues at Home
There are many options for Korean barbecues and it is up to you to use your own initiative and to find cooking method that will work at your place.
I would suggest four options: a tiny portable charcoal barbecue, a revitalised Fondue cooker, an indoor electric grill or a camping gas burner or grill that can be adapted as a compact portable barbecue. The electric grill is probably the only one suitable for use indoors. I prefer the charcoal barbecue option as it improves the flavor. The 'Baby Gas' barbecue options are OK, but they do not allow guests to sit around the unit when cooking.
You may even be able to adapt your existing barbecue to do the job, using a much finer mesh grid or camping style grate that can be put on top of your existing barbecue. You can only light one of the burners, but this is the least favorable option as it is not portable and guests cannot really do their own cooking when sitting around the barbecue.
A tiny portable barbecue that is similar to the ones that are installed in or on the tables at Korean barbecue restaurants is the preferred option. I use a tiny portable charcoal barbecue that can be bought cheaply at barbecue supply shops (see image opposite). You can get the fire going, well in advance, in your backyard and bring it to your table, bench or outdoor dining area when you are ready to cook. This means that the smoke and mess of setting up the charcoal fire can be done well away from the dining area.
Choose a very small barbecue with legs and a carry handle, similar to the one shown one the image. The gas options are also very practical and easy to set up and use. See the image for a 'Baby Weber' example. The cooking should always be done outdoors, except for the electric griller option.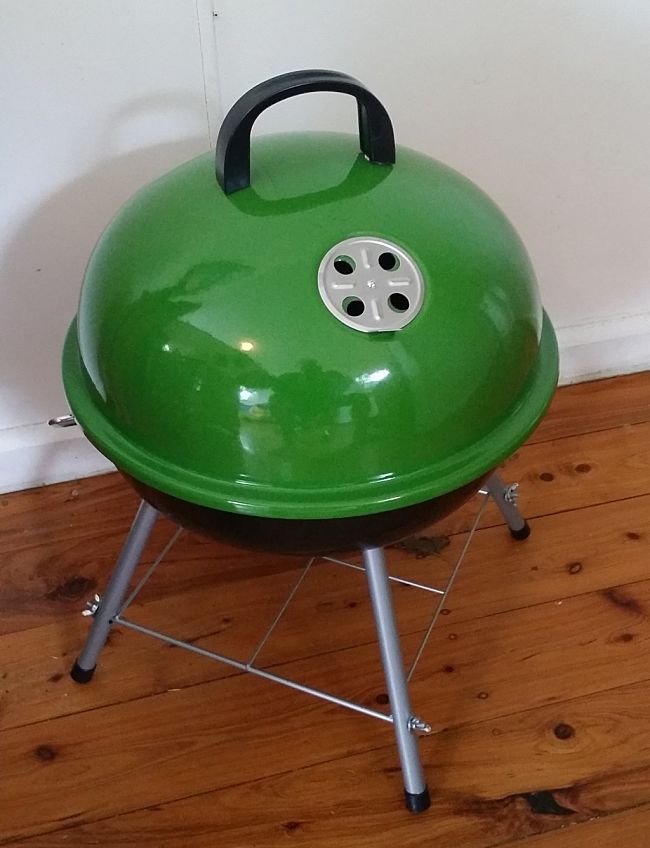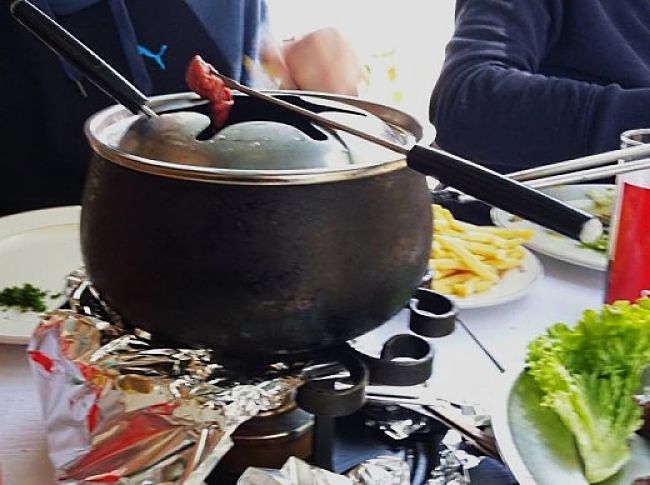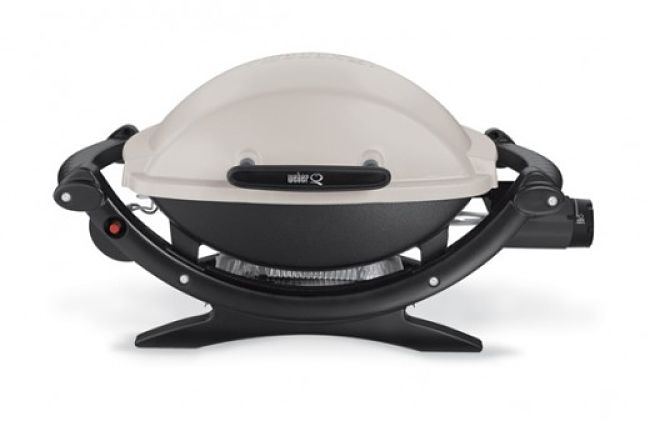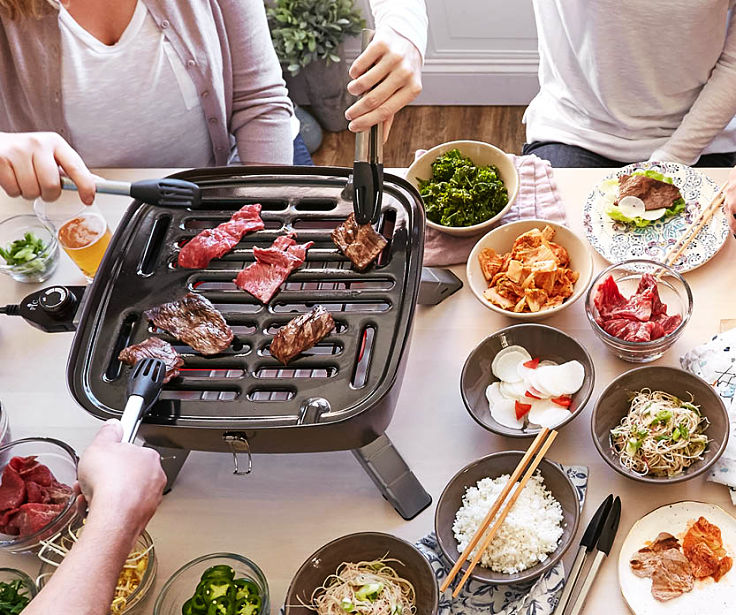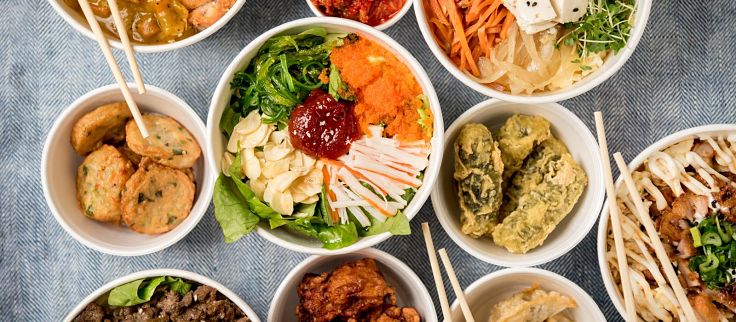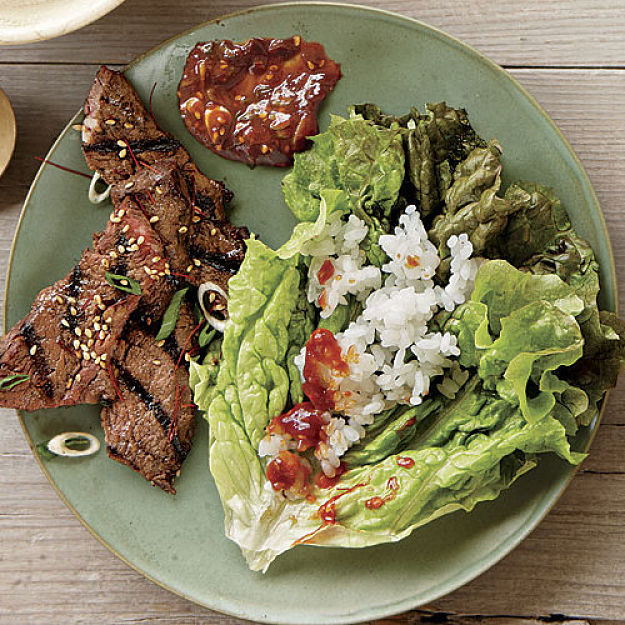 Collection of Korean Barbecue Recipes
Below are a set of Korean Barbecue recipes. You can provide a set of raw meat cuts as well as the marinaded meats as some people prefer this and use the Korean Ssamjang Sauce and side dished to add flavor.
Chicken - Korean Barbecue Style Recipe (Dak Gogi)
Chicken thighs are marinaded in a sweet and spicy sauce, then grilled or barbecued and wrapped up in lettuce leaves to serve.
Ingredients
For the Chicken and Marinade
salt to taste
4 teaspoons mirin
1/2 cup sesame oil
3 tablespoons soy sauce
2 medium shallots, finely chopped
freshly ground black pepper to taste
1 large piece of fresh ginger, finely chopped
4 medium cloves of garlic, minced or finely chopped
2 lb (1 kg) skinless chicken thighs, with bones removed
3 tablespoons mul yut (malt syrup) or similar light corn syrup
2 teaspoons gochugaru (Korean chile flakes) or used crushed red chile flakes
Rice bran oil, grape seed oil or similar high smoke temperature oil for frying
For serving
1/4 cup thinly sliced scallions (include green and white parts)
2 tablespoons thinly sliced fresh long red chiles, seeds removed
1 teaspoon sesame seeds, dry roasted
18 lettuce leaves, washed and shaken to remove excess moisture
4 cups cooked white rice, preferably short-grain
Method
Make cuts in the chicken thighs to help the marinade penetrate. Make the marinade by mixing the pepper to taste, pinch of salt, mirin, garlic, ginger, shallots, mul yut, soy sauce and sesame oil in a large bowl. Add the chicken and massage the marinade into all surfaces of the chicken pieces using your hands. Cover the bowl and set aside in the refrigerator for a minimum of 2 hours or overnight. Barbecue pieces using a hot fire. Serve after garnishing with scallions, sesame seeds and chile threads in lettuce leaves. Cooked rice can be added to the lettuce leaves with the chicken.
Korean Barbecued Beef Short Ribs (Kalbi)
Ingredients
1/2 cup water
1/4 cup mirin
1 cup brown sugar
1 cup dark soy sauce
2 tablespoons sesame oil
1/4 teaspoon black pepper
2 green onions, thinly sliced
4 tablespoons garlic, finely chopped
1 small onion, peeled and finely chopped
1 small Asian pear, peeled and finely chopped
5 lb (2.5 kg) Korean style beef short ribs (cut lengthwise across the rib bones producing thin strip of meat lined on on side with thick rib bones, thinner than conventional ribs.)
Method
Sprinkle the beef ribs with, mix to coat and set aside for 10 minutes or so. Prepare the marinade by whisking the rest of the ingredients, in a large bowl, and add the beef. Mix, cover and set aside in the refrigerator for 4 hours or overnight. The ribs can also be places in a resealable bowl. Drain off the excess marinade and place on a plate ready for barbecuing using high heat. Allow about 2-3 minutes per side. Serve with Korean side dishes.
Korean Barbecued Pork Recipe
Ingredients
1 lb (500 g) pork belly, sliced thinly into pieces 2 inches long, 1/2 inch wide and about 1/8 inch ( 5 cm x 1 cm and 3 mm thick)
For the marinade
ground black pepper
1 tablespoon soy sauce
1 tablespoons of sugar
2 tablespoons brown sugar
1 green onion, finely chopped
3 tablespoons hot pepper paste
1/2 tablespoon of minced ginger
2 teaspoons of toasted sesame oil
4 cloves of garlic, finely chopped
1/4 cup onion , chopped very finely
1/2 cup of Asian pear, crushed or finely chopped
Method
Combine and whisk all the marinade ingredients in a large bowl. Add the sliced pork and mix well to ensure all the surfaces of the pork pieces are covered. Cover the bowl and set aside for 30-60 minutes in the refrigerator. Drain the pieces well and place on a plate ready for barbecuing over high heat. Provide rice Ssamjang sauce, sliced garlic, and thin strips of chili pepper for serving wrapped in lettuce leaves.
Korean Ssamjang Sauce Recipe
Ingredients
2 tablespoons mirin
1 teaspoons sesame oil
2 teaspoons sesame seeds (dry roasted)
2-1/2 tablespoons red chile paste (gochujang)
3 tablespoons dwenjang or alternatively red miso
1/2 cup thinly sliced scallions (include both the green and white parts)
Method
Whisk all the ingredients together in a small bowl.
Fermented Korean Cabbage Recipe (Kimchi)
Ingredients
Sea salt
1/2 ripe apple
1/2 onion, finely chopped
4 green onions
1/2 ripe Asian or Korean pear
1/4 cup red chili pepper flakes
1 tablespoon garlic, finely chopped
1 tablespoon ginger, finely chopped
Head of a Napa cabbage - about 1 lb (500 g)
2 tablespoons fish sauce (or several anchovies, mashed)
Method
Separate all the cabbage leaves and slice into bite-size pieces. Add 1/4 cup of sea salt to a large bowl of warm water, stir to dissolve. Add the cabbage leaves and toss gently to coat all the leaves. Set the salted cabbage leaves in the bowl aside for at least four hours. Then, drain the cabbage leaves in a colander to remove the excess salt and transfer the leaves to a large bowl. Add 1/4 cup of red chili flakes to 1/4 cup of warm water and stir to make a red chili paste. Add the paste to the cabbage leaves, together with the minced ginger, minced garlic, green onions and fish sauce. Next, blend the pear, onion and apple with one cup of water, add this to the cabbage. Using a pair of tongs thoroughly coat all the cabbage leaves with the ingredients (wear plastic gloves if you use your hands). Transfer seasoned cabbage leaves to a large glass bottle, pressing down the cabbage leaves as they stack up inside the bottle. Transfer any remaining liquid to the bottle. Seal the bottle and leave sit at room temperature for at least 24 hours. Then, refrigerate and take out portions as they are needed.
Seasoned Korean Eggplant Side Dish Recipe (Gaji Namul)
Ingredients
pinch of salt
pinch of pepper
1/4 teaspoon sugar
1 teaspoon sesame oil
2 tablespoons soy sauce
1 teaspoon roasted sesame seeds
2 scallions, chopped very finely
1 teaspoon kochukaru (or red pepper flakes)
2 cloves garlic, finely chopped (about 2 teaspoons)
2 medium sized Asian eggplants (bright purple color, long and thin)
Method
Cut the Korean eggplants (or similar) into quarters or smaller and then into pieces about 2-inches (5 cm) long. Steam the eggplant pieces for 5-10 minutes, until they are tender when pierced with a fork. Drain the eggplant pieces in a colander and then sprinkle with the spices and seasoning and toss to distribute. Cool to room temperature before serving as a side dish with your Korean barbecue.
Spicy Korean Style Coleslaw Recipe - Side Dish for Korean Barbecues
Ingredients
Pinch of pepper
Pinch of salt
2 tablespoons sugar
2 tablespoons vinegar
1 onion, sliced thinly
2 tablespoons soy sauce
1 tablespoon sesame oil
3 cloves garlic, finely chopped
4 or 5 scallions, finely chopped
1 tablespoon dry toasted sesame seeds
1 small head cabbage, sliced into very thin strips
2 tablespoons crushed red pepper (kochukaru) or red chile flakes
1 cup red cabbage, thinly sliced (optional, but adds extra color)
Method
Put the cabbage, onions and scallions into a serving bowl. Add the remaining dressing ingredients and mix to combine well. Serve immediately at room temperature. Setting aside in the refrigerator for several hours improves the flavor, but warm to room temperature before serving.