Korean Seafood Pajeon Pancakes Recipe with Fresh Local Squid
Pajeon are crisp, deep fried Korean scallion-based pancakes that are often dominated by the rice flour rather than the seafood. The recipes here have thick fresh squid rings and large pieces of scallion, where the minimal amount of batter are used to bind the squid and scallions together. This enhances the flavor and provide a range of textures that make this dish and wondrous delight. Like all deep fried battered items maintaining the temperature of the oil is critical otherwise the batter becomes soggy and oily, rather than crisp as light. The preferred method is to have two deep frying pans, one for the first side and one for the second one. This means that the oil never drops below the critical temperature - pulled down by the addition of the batter. You can do it with one fryer but you need a high performance one with a large chamber and a good thermostat control that keeps an even temperature. The other secret is to make the batter while the oil is heating in the fryer and to work very quickly. Batter that sits around tends to get gluey and stodgy. the pancakes should be eaten immediately they are cooked.

Although the recipe calls for squid, you can used lots of other seafood such as shrimp, scallops, fish or crab.
Scallion Pajeon Pancakes With Local Squid Rings (4 servings)
2 bunches of whole scallions, trimmed top and bottom and sliced into 1-inch (2.5 cm) pieces
1 lb (500g) very fresh squid, cleaned, washed and sliced into 1/2-inch (1cm) rings (or thinner if you prefer
1/2 teaspoons of baking powder
150 g ( 1 cup) all-purpose flour
200 g ( 1 1/3 cups) good quality rice flour
Grape seed, Rice bran or similar neutral tasting high smoke point oil for frying. The amount depends on your fryer but aim for an intermediate volume as this helps to keep an even temperature as each pancake is added.
1 egg yolk
1 1/2 teaspoons finely grated fresh ginger
1 tablespoon finely grated garlic
2 1/2 tablespoons of Japanese red miso paste, or if available Korean denjang (fermented soybean paste)
1 1/2 tablespoons of mirin
6 teaspoons rice wine vinegar
1/4 cup soy sauce

Start by preparing the dipping sauce. Using a whisk, blend together 2 tablespoons of rice wine vinegar, 2 tablespoons of soy sauce and the mirin. Mix well and then set aside.

Heat a 1/2 inch (1 cm) layer of oil in a 10-inch skillet, deep frying pan over medium-high heat. Use a thermometer to check that the temperature has reached about about 325 degrees F (160 degrees C). Lower the temperature slightly but increase it again when you start frying and watch the temperature carefully. Stop cooking if the temperature falls below this temperature minimum to allow the oil to come back to the ideal temperature once again.

As the oil is heating make the batter. Add 4 tablespoons or rice wine vinegar, 2 tablespoons soy sauce, ginger, egg yolk, the miso or denjang paste, garlic and 1 cup of water to a second small bowl and whisk together well.

In a large bowl, combine the rice flour, baking powder and all-purpose flour together while dry. Add the scallions and squid and toss to coat these items with the flour. Pour in the denjang mixture or wet ingredients and stir the batter until just combined. Do not over mix at this stage.

Check the oil temperature. Carefully spoon about half or a quarter of the batter into the hot oil in the pan. Fry on the first side until the bottom is crisp and golden (generally 3-4 minutes). Flip over and and fry the other side for about the same time. As each pancake is cooked, transfer it to a baking sheet lined with paper towels, to drain the excess. Repeat to cook the remaining pancakes.

Slice the pancakes into quarters and serve with the dipping sauce.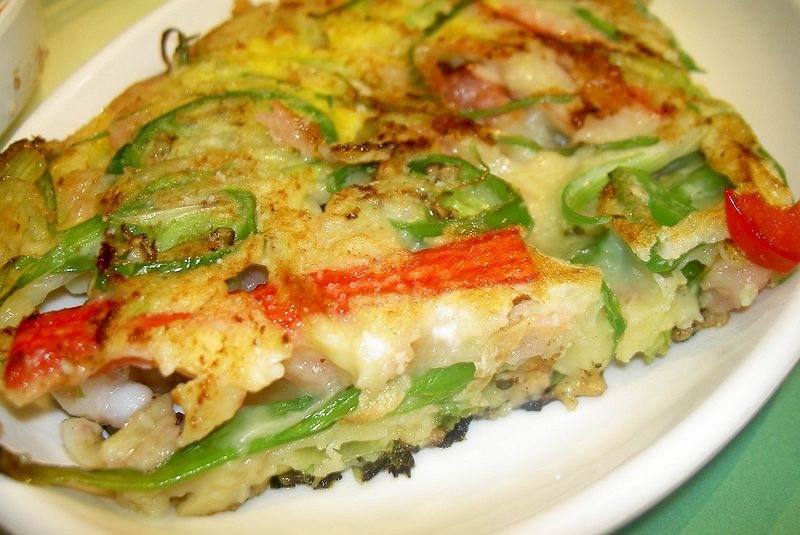 Korean Seafood Pajeon Pancakes are delicious when served with Fresh Local Squid
Maggie [CC-BY-2.0], via Wikimedia Commons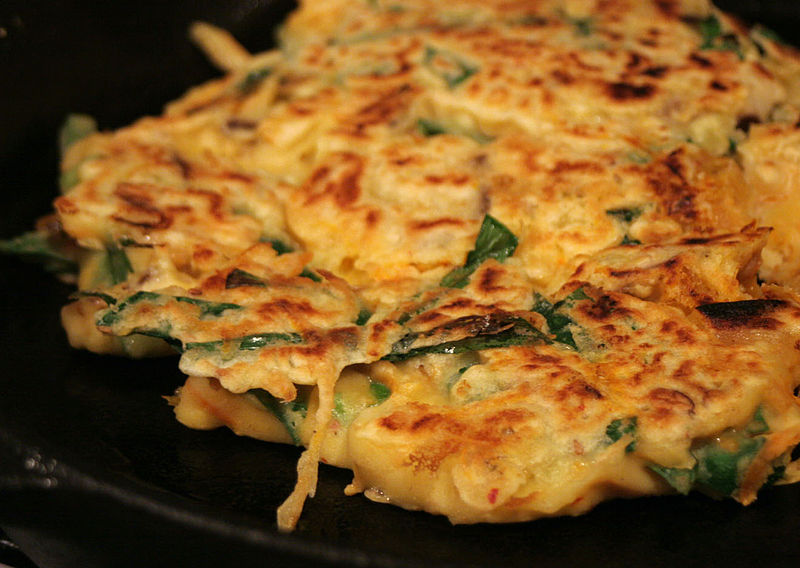 Pajeon Pancakes Recipe - delightful with local seafood
Christian Cable [CC-BY-2.0], via Wikimedia Commons