Laksa Curry Paste Recipes for Quick, Easy, Tasty Home Made Laksa
The heart and soul of a good laksa is the paste, which is the hardest to make. Laksa is an assembled dish consisting of
the core ingredients of meat or tofu, in a coconut broth,
the laksa paste,
the garnish consisting of bean sprouts, fresh herbs and vegetables.
The paste makes a good laksa a perfect laksa because of its kaleidoscope of tastes and aromas. It is a balance of sour, sweet, salty, aromatic and spicy elements that tickle the taste buds and your smell sensor - all five of them - sweet, sour, bitter, salty and umami (savoury).
Commercial laksa paste is like bought curry paste, spaghetti paste and noodle paste - any resemblance to anything living is purely an accident. These pastes are chemical concoctions full of artificial colors, flavors and preservatives. Yuk! Bought laksa pastes are a universal disappointment.
The good news is that you can easily make your own laksa paste in a blender. It keeps well in the refrigerator and is so easy to make that you can make it even time you need a laksa snack.
Assemble all the ingredients for the paste, garnish and, meat and coconut milk in the refrigerator, and you can easily create a delicious, healthy, fresh home made laksa, full of flavor aroma and texture, in 15 minutes or less. See a range of wonderful laksa paste recipes and chicken, prawn, seafood, beef, pork, tofu and vegan laksa recipes. It is all here!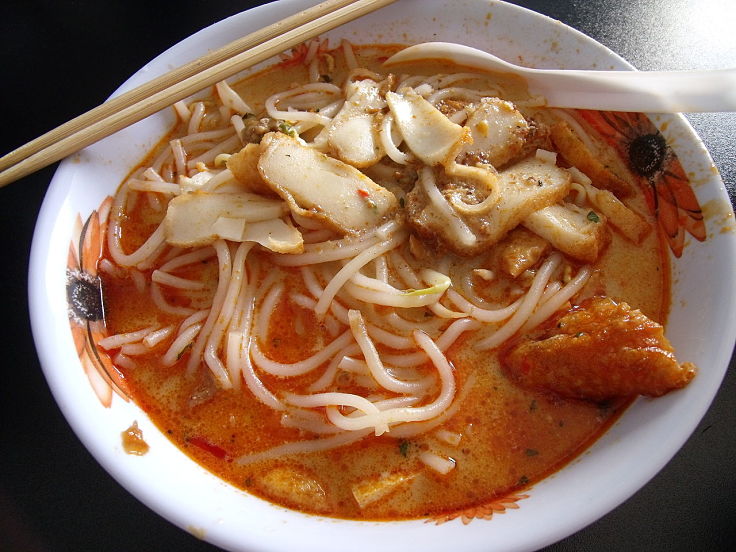 Laksa Paste Recipes
The recipes below range from the very simple to the very complex. The processing for all paste recipes is the same. Transfer the ingredients into a food processor or blender and pulse to a rough paste. Do not overdo is and your want same of the original ingredients to remain in small pieces rather than blended to a smooth feature-less paste, lacking the texture and flavor gems that characterises an excellent laksa paste.
Simple Laksa Paste Recipe with Fresh Herbs
1/2 cup of mint
2 cloves of garlic
the juice of a lime,
3 teaspoons of turmeric
2 small hot red chillies,
1/2 cup of coriander leaves
3 tablespoons of groundnut oil
2 stalks of lemongrass, roughly chopped
Spicy Laksa Paste Recipe with Candle Nuts and Shrimp Paste
6 candle nuts , chopped
1 teaspoon ground cumin
3 garlic cloves, chopped
1 teaspoon sweet paprika
1 teaspoon ground turmeric
2 tablespoons dried shrimp
8 small dried red chillies
2 teaspoons ground coriander
1 tablespoon belachan (dried shrimp paste)
1 tablespoon finely chopped galangal
2 large lemongrass stalks, trimmed, chopped
5 red Asian shallots, chopped (or spring onions)
Spicy Laksa Paste Recipe with Candle Nuts and Shrimp Paste
Oil to cover
6 candle nuts, chopped
1 teaspoon ground cumin
3 garlic cloves, chopped
1 teaspoon sweet paprika
1 teaspoon ground turmeric
2 tablespoons dried shrimp
8 small dried red chillies
2 teaspoons ground coriander
1 tablespoon belachan (dried shrimp paste)
1 tablespoon finely chopped galangal
2 large lemongrass stalks, trimmed, chopped
5 red Asian shallots, chopped (or spring onions)
Bulk Laska Recipe with Nuts, Herbs and Mixed Individual Spices
3 nutmegs, ground
1.5 cups of peanuts
10 cloves of garlic, chopped
10 lemongrass stalks, chopped
1 cup of sesame seeds, toasted
15 cloves, dry toasted, ground
100 g of candlenuts or macadamia
2 large knob of galangal , chopped
12 star anise, dry toasted, ground
20 long red chillies, cut into chunks
20 shallots (650 g 1 1/2 lb), chopped
20 cardamons, seeds removed from pods
100 g of cummin seeds, dry toasted, ground
300 g of coriander seeds, dry toasted, ground
1 cup of dried chillies, soaked in hot water for 15 minutes

Light and Simple Chicken or Fish Laksa Recipe

Ingredients

2 limes, halved, to serve
1/2 cup fresh mint leaves
2 teaspoons vegetable oil
120 g (4 oz) rice vermicelli
1 cup fresh bean shoots, rinsed
1/2 cup coriander, roughly chopped
1 red capsicum, cut into 2cm squares
1 litre (1 quart) chicken or fish stock
200 g (7 oz) snow peas, strings removed
270 ml ( 10 fl oz) can fat-reduced coconut milk
180 g (6 oz) laksa paste (homemade using the above recipes)
4 green onions, sliced diagonally (separate white and green parts)
400 g (14 oz) skinless chicken breast fillets or firm white fish fillets, finely sliced

Method

Soak the noodles in boiling water for 10 minutes, and then drain. Stir-fry the onion in a hot wok with a little rice bran oil or grape seed oil for 30 seconds. Then, add the laksa paste and mix while frying to enliven the taste and aroma. Mix in the coconut milk and stock. Bring to the boil and then reduce to a gentle simmer and cook on low for 5 minutes. Add the thinly sliced chicken or fish fillets and simmer 2-3 minutes until just tender. Add the noodles, capsicum, snow peas, bean shoots, herbs and other ingredients and mix. Ladle the laksa into serving bowls with a squeeze of lime juice and serve.

Quick and Easy Mixed Seafood Laksa Recipe

Ingredients

250 g (8 oz) scallops
1 3/4 cups coconut milk
1 tablespoon peanut oil
250g (8 oz) rice vermicelli
100 g (3.5 oz) bean sprouts
3 cups fish or vegetable stock
1/4 cup hamemade laksa paste (see above)
1 small red chilli, cut into thin strips
100 g (3.5 oz) deep-fried tofu, quartered
1/2 cup fresh coriander, coarsely chopped
1/2 cup Vietnamese mint, coarsely chopped
1/2 cup Thai basil leaves, , coarsely chopped
750 g (26 oz) green prawns, de-veined, shelled, tails on
2 tablespoons chopped peanuts or macadamia nuts, to serve

Method

Soak the noodles in boiling water for 10 minutes, and drain. Stir fry the onions and laksa paste in a hot wok with a little oil for 1 minute. Add the stock and coconut milk, mix through and then lower the temperature and simmer the liquid for 2 minutes. Add the scallops, green prawns and deep-fried tofu and simmer for 2 minutes. Put the noodles into serving bowls and add the fresh herbs and bean sprouts. Pour the laksa soup over the noodles, distributing the seafood amongst the bowls. Garnish each serving with nuts, chilli, shallots and leaves of extra fresh herbs.

Delicious Beef Curry Laksa Recipe from Scratch

Ingredients

Good pinch salt
3 cardamom pods
1 cinnamon stick
1 teaspoon cumin
1 cup coconut milk
1 teaspoon cardamom
2 kaffir lime leaves
1 clove garlic, crushed
Pinch of salt and sugar
2 tablespoon fish sauce
1 teaspoon clove powder
1 teaspoon of sesame oil
2 cloves of garlic, crushed
1 tablespoon galangal, sliced
1/2 coriander, roughly chopped
1 tablespoon Thai shrimp paste
2 tablespoons chopped lemongrass
2 long red chillies, finely sliced
1 large piece of ginger, finely sliced
1 teaspoon roasted chilli powder to taste
1/2 cup shallots or spring onions, finely sliced
250 g rice vermicelli soaked in boiling water and drained
2 tablespoons of rice bran oil or grape seed oil for stir frying
100 g (3.5 oz) eye beef beef fillet or other high quality tender beef cut, thinly sliced

For the Garnish

3 cups bean sprouts
2 tablespoons shallots
3 eggs, hard-boiled, quartered
2 tablespoons chopped coriander
1/2 cup of mint, or other fresh herbs
2 tablespoons preserved Chinese vegetable, shredded

Method

Make a stock by placing 400 g (12 oz) of beef ribs or other bones in large saucepan. Fill with enough water to just cover the bones. Add the kaffir lime leaves, garlic, cinnamon stick and fresh chilli and simmer gently for 90 minutes. Drain collecting the stock and set aside. Make the laksa paste by adding sesame seed oil, chilli powder, fish sauce, shrimp paste, the spices, sugar, shallots, cardamom, ginger, galangal, garlic, lemongrass, fresh chilli and coriander to a food processor bowl, and pulsing until smooth and well combined. To assemble the laksa, add 2 teaspoons of rice bran or grape seed oil to a hot wok, add 2 heaped tablespoons of laksa paste, prepared previously and fry for 60-90 seconds, until the paste starts to release its aroma. Add the sliced beef and stir. Pour over coconut milk and the homemade stock and mix well. Reduce the heat and simmer gently for 10-15 minutes. Serve by placing noodles in the bottom of a large serving bowl, and distributing the laksa between the bowls. Top with coriander, deep fried shallots, boiled eggs, dtang chai and bean shoots.

Quick, Simple Pork and Prawn Laksa Recipe

Ingredients

1 1/2 cups water
1 long red chilli, sliced
500 ml (1 pint) coconut cream
230 g (8 oz) homemade laksa paste
1 lemongrass stem, bruised, sliced
200 g (7 oz) dried rice stick noodles
2 1/2 tablespoons rice bran or grape seed oil
350 g (12 oz) pork fillet, trimmed, thinly sliced
1/2 cup stir-fried shallots, added just before serving
1 cup bean sprouts, trimmed, added just before serving
200 g (7 oz) fried firm tofu, sliced, added just before serving
300 g (10.5 oz) peeled, raw prawns (shrimp), with veins removed
1/2 cup coriander (cilantro), chopped, added just before serving

Method

Soak the noodles in boiling water for about 5-10 minutes following the directions on the packet, and drain, set aside. Heat a wok or heavy pan, add the oil and then the laksa paste. Stir and heat through for 2-3 minutes to activate the aroma and taste. Pour in the water, add the lemongrass, bring to the boil and then reduce the heat to moderate. Add the prawns and pork and cook for about 3 minutes, until just tender. Add the coconut cream, stir through and cook while stirring for 3-4 minutes. Add a portion of the noodles to each of the serving bowls and top with chilli slices, tofu, bean sprouts, coriander and fried shallots. Serve immediately.

Nice and Easy Tofu Malaysian Laksa Recipe

Ingredients

100 g dried rice vermicelli
250 g hokkien noodles
750 ml fresh coconut milk (second squeeze)
250 g laksa curry paste
2 lemongrass stalks
300 g firm tofu, cut into squares
250 g chopped snake beans
300 ml fresh coconut cream (first squeeze)
100 g bean shoots
1/3 cup chopped Vietnamese mint
sambal

Method

Soak the rice vermicelli in boiling water for 15 minutes, drain and set aside. Soften the hokkien noodles by dowsing them in boiling water. Heat a teaspoon of oil in a wok or heavy pan, add the laksa and fry for 2 minutes. Then, add the coconut milk and lemongrass. Mix well, allow the mixture to come to boiling point. Lower the heat to a simmer and cook for about 5 minutes. Then, add the tofu, snake beans and coconut cream and stir to heat through. Serve by adding a portion of noodles to each bowl, a handful of bean shoots, some tofu and snake beans. Pour the laska soup into each bowl and garnish with Vietnamese mint, other fresh herbs and sambal. Serve immediately.

Easy, Simple Vegan Laksa Recipe

Ingredients

2 tablespoons coconut oil
2 tablespoons sesame oil (or more Coconut Oil)
4 cups vegetable stock
3 1/4 cups coconut milk
1 teaspoons tamarind paste
50 ml (1.7 fl oz) tamari sauce (or soy sauce)
50 ml (1.7 fl oz) fresh lime juice
2 cups capsicum (dell pepper), cored and sliced
1 cup baby corn, quartered (or other Asian vegetables)
5 spring onions, sliced
300 g (10 oz) firm tofu, drained and chopped into cubes
200 g (7 oz) rice noodles

For the Laksa Paste

6 garlic cloves, chopped
1 inch (2.5 cm) piece of peeled ginger, peeled and chopped
4 red chillies, chopped
2 lemongrass stems,thinly sliced
1 teaspoon ground turmeric
5 Kaffir lime leaves, finely shredded

For the Garnish

1 cup of bean sprouts
1 cup fresh coriander Leaves and other fresh herbs, chopped

Method

Soak the noodles in boiling hot water to soften. Add all the laksa paste ingredients to the bowl of a food processor and pulse to form a chunky paste. Using a wok or heavy frying pan, stir-fry the tofu in 2 tablespoons coconut oil until just golden brown. Add the laksa paste and sesame oil and fry for two minutes. Add the vegetable stock and coconut milk and bring to the boil, then lower the heat for a gentle simmer. Add the corn, peppers, spring onions and cook for 5 minutes. Add the tamari, tamarind and lime juice and cook for a further 2 minutes. Divide into bowls and add a serving of the noodles, bean shoots, some peanuts (optional), coriander other fresh herbs.







The texture of bean sprouts, meat and seafood fresh herbs and vegetables and the noodles makes a laksa a special treat as a snack or main meal dish. Source: Public Domain

There are many varieties of laksas to enjoy at home prawn, seafood, chicken, beef, pork, tofu and vegan. See recipes for all these types singularly and in combination. Source: Public Domain

Laksa is easy to make at home provided you have all the components ready to go in your fridge. All it takes is 15 minutes to make home made laksa from scratch.. Source: Public Domain

Discover the lovely range of stunning homemade laksa paste and soup recipes in this wonderful article. Source: Public Domain

Chicken and tofu laksa - Discover a wonderful array of other laksa recipes here - Fabulous, delicious and so easy to make. Source: Public Domain

Delicious home made laksa with fresh chillies and herbs. Source: Public Domain

Ingredients for homemade Laksa - see the great guide and recipe for making laksa paste at home. Source: Public Domain

Home made Laksa - looks and tastes so Good. Source: Public Domain