Light, Spicy Chicken Curry Recipe with Tomato, Ginger, Almonds
Chicken curry can be rather boring. This recipe features ground almonds and toasted almond flakes and a wide variety of spices that creates a lovely aroma and kaleidoscope of tastes to twinkle your taste buds.
The puréed tomatoes and fresh coriander leaves lightens the taste and adds color. Serve with Naan or other Indian breads, vegetables and steamed rice.
You can adjust the recipe depending on what ingredients you have available. Using fresh herbs makes a change from using prepared curry powders and curry pastes. The taste is mush better and you can develop your own preferences.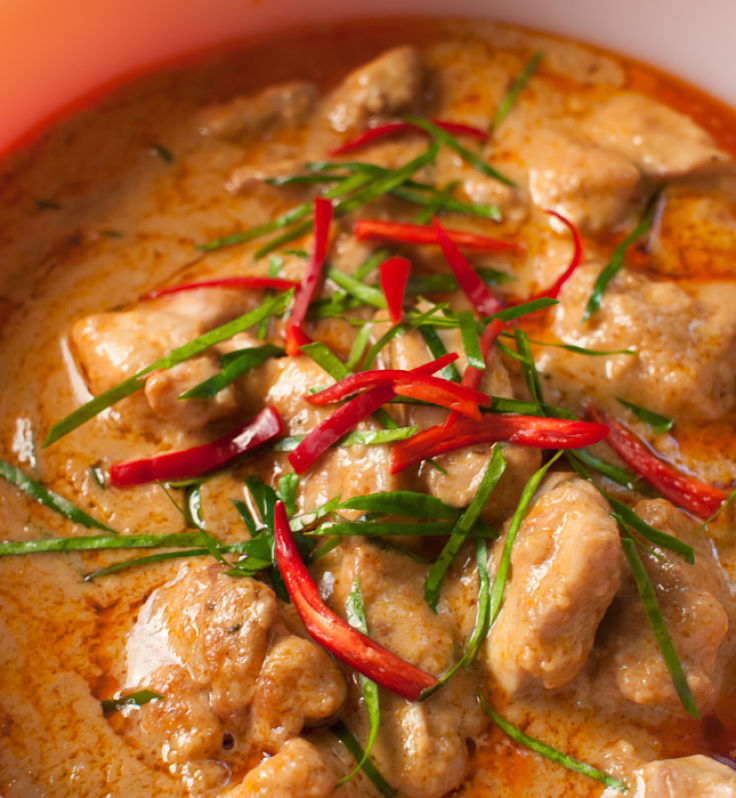 Ingredients
4 cloves
2 teaspoons salt
1 stick cinnamon
1/2 teaspoons turmeric
1 teaspoons ground cumin
Juice of one small lemon
1 teaspoons ground coriander
120 g (1/4 lb) ground almonds
250 g (1/2 lb) fresh tomato purée
80 g ( 2 oz) flaked almonds, toasted
4 black cardamom pods or 8 green ones
4 onions, peeled, sliced and chopped in half
4 large garlic cloves, peeled and finely chopped
4 cm (2 inches) fresh ginger, peeled and finely chopped
A bunch fresh coriander, chopped or broken into large pieces
1 teaspoons cayenne pepper (more or less to suit your taste preference)
6-8 chicken thighs depending on size, skin removed ( or 2 chicken breasts)
3 tablespoons rice bran oil, or grape seed oil (neutral flavor and high smoke point frying oils)
Method
Using a knife, make shallow slits into the chicken pieces and rub all over with salt and lemon juice. Set aside to marinade for 1-2 hours or overnight (in the fridge).

Next, fry the onions in oil using a heavy frying pan. Add a pinch of salt and fry until they start to turn brown (about 15 minutes). Add the ginger and garlic and fry for an additional 3 minutes.
Then add all the ground spices and stir through for another 2-3 minutes.
Next add the puréed tomatoes, whole spices, ground almonds and 250 ml (1 1/4 cups of hot water). Bring to the boil and then reduce the temperature for a gentle simmer.

Next, heat two tablespoons of oil in a large heavy frying pan to medium high temperature and fry the chicken pieces until just cooked.
Combine the chicken and sauce in a deep pan or Dutch oven and simmer gently for 60-75 minutes until the chicken is very tender and the flavors have combined (stirring regularly to stop any sticking). Adding extra hot water if needed.

Let the curry cool a little, add the toasted almond flakes and coriander leaves to each bowl or plate as the curry is served over steamed rice. Enjoy!
Related Articles
=> Honey Mustard Chicken Recipe - Baked with Rosemary and Black Pepper
=> Yogurt Marinated Chicken Recipes for Barbecue or Grill
=> Best Chicken Strip Recipes, Crumbed, Grilled, Fried, Fabulous Sauces and Tips
=> Peruvian Chicken Recipes Showcase Modern Peruvian Cuisines
=> Easy Quick Recipes - Tex-Mex Style Chicken Burger Recipe
=> Chicken Enchilada Soup Recipe Collection - Slow Cooked in Crock Pot
=> Jerk Chicken Recipes - Jamaican Style Slow Cook Chicken - Grilled, Spicy, Delicious
=> Korean Barbecue Recipes - Home Made Beef, Pork, Ribs, Chicken Dishes
=> Velvet Chicken Recipes - Chinese Velveting Techniques for Meat
=> Health Risks of Uncooked Chicken and Turkey - Contamination Common, Follow the No Wash Advice