Mexican Bunuelos Recipes with Fresh Berry Sauce and Fruit
Bunuelos are found in cantinas throughout Mexico, usaully served with tropical fruit or very sweet fruit purees. Bunuelos are fried dough ball that are popular in South Maerican countries such as Colombia, Cuba, Bolivia, Guatemala and also in Europe, particularly in Spain, Greece, Turkey and Morocco. Bunuelos generally have a fruit-based filling, but can also be savory. The sauces for this dish are what makes it very special. The wheat-based yeast dough balls sometimes flattened into pancake shapes. One unique feature is that they are flavored with anise. The round ball shapes or discs are deep fried and served with a fresh sauce make from berries and other fresh fruit such as raspberries, cherries, blackberries, strawberries or redcurrant sauce, developing on what is available and appeals to you.

Your whole family will love them. Bunuelos go well with hot chocolate sauce. There are easy to make at home.
Recipe for the Bunuelos Dough
375 ml sunflower oil, for frying
1/2 tsp anise seeds, crushed in a mortar
1 large egg
125 ml ( 1/2 cup) milk
1/2 teaspoon baking powder
1 tablespoon caster sugar, with extra to sprinkle on the Bunuelos before serving
280g ( 1/2 lb) plain flour, sifted twice
For the Raspberry Puree
500 g ( 1 lb) raspberries or other berries in season
1/4 cup freshly squeezed lemon juice (optional)
75 g caster sugar
For the Side Serve
Vanilla ice cream, yogurt or whipped cream
Summer berries or other fresh fruit to serve
How to Make the Bunelos
Place double-sifted flour in a large mixing bowl. Add the baking powder, sugar and 1/4 teaspoon salt and mix the dry ingredients well. Whisk the egg and milk in a separate bowl until frothy. Add the crushed aniseed at the last minute. Make a cavity in the center of the flour, 'volcano like'. Add the milk and egg mixture and gradually stir the mixture. It should be quite stiff and so it is best to use your hands to combine onto a dough ball.

Transfer the dough to a floured surface and knead vigorously for 4-12 minutes, depending on your skill in kneading. Take tablespoons of the dough and roll onto balls. They can be flattened into thick disks. You can insert various fruity or savory fillings into the center of each ball. Cover the balls with a clean cloth and set aside to rest for 20-30 minutes.

To Make the Raspberry Suree
Place the raspberries (or other berries into a blender or food processor bowl, add the sugar then blend well into a fine liquid. You can strain the puree through a sieve or cloth to remove the seeds and to create a smooth delicate sauce. Add some frshly squeezed lemon pr lime juice to reduce the sweetness and add more interest.

Roll each dough ball and shape into balls or disks again juts before frying. Heat the sunflower or other deep drying oil in a fryer or a deep frying pan. Test for the right temperature using tiny cubes of bread. The cubes should instantly sizzle when you them. Fry the balls or disks of dough 2-3 at a time until the puff up and become a golden brown color on both sides. Only turn them once. When cooked, scoop them out and drain well on kitchen paper. To serve sprinkle with sugar and a few drops pf lemon juice while still warm.

Serve by placing 1 - 3 on a plate, and then pour on the raspberry sauce. Add whipped cream or ice cream and a serving of fresh fruit in season.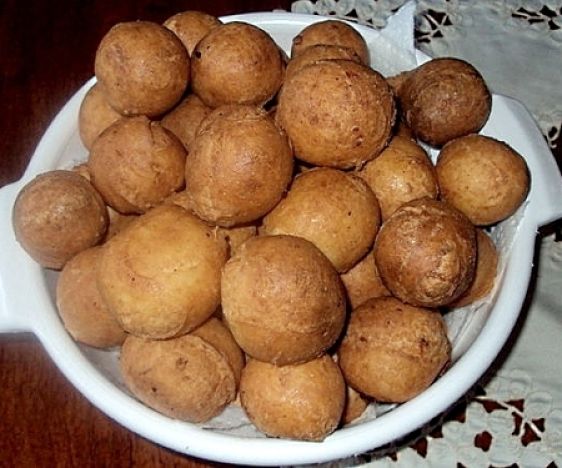 Delicious Bunuelos are easy to make at home and are very versatile in terms of the filling and sauces you can use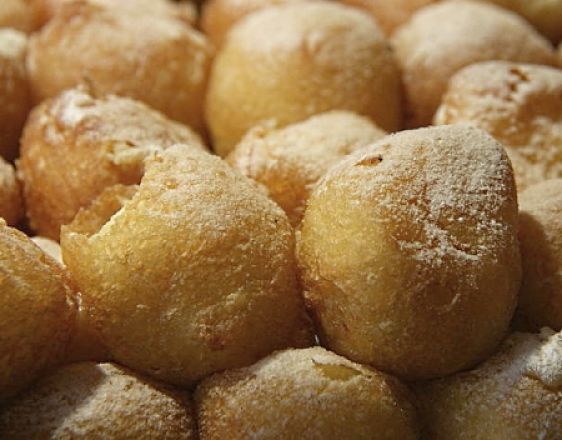 Cherry Bunuelos are easy to make at home and are delicious.