Mexican Flautas Recipes - Beef, Chicken, Pork - Rolled Tortilla Snacks
Mexican Flautas ('Spanish for flutes') are a traditional Mexican street-food made by rolling-up a flour tortilla, adding beef, pork or chicken filling and frying until the tortilla is crisp. They are closely related to Taquitos which are very similar.
► Flautas are usually longer, made from a burrito-sized flour tortilla and are usually served as a main dish.
► Taquitos are shorter versions made with corn tortillas, about 6 inches (12 cm) long, usually served as an appetizer.
The two terms, and ingredients, are interchangeable and the outcome is virtually the same. Flautas can be short or long, made with flour or corn tortillas, baked or fried.
Both versions of rolled and filled tortillas are delicious and versatile, and can be easily made at home with a variety of fillings.
They can be baked in the oven to reduce the fat and calories and there are vegetarian versions.
They are general served with a salsa, avocado, sour cream and salad, either as an appetizer or a main dish.
This article shows you how to make fabulous flautas at home and includes several fabulous recipes for beef, chicken, pork and vegetarian flautas, either baked or fried.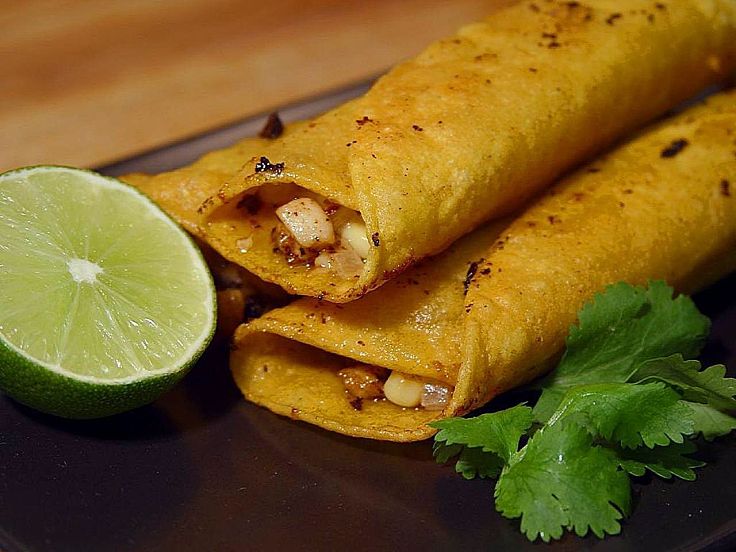 Tips for Making Flautas
Heat the tortillas on a griddle prior to adding the filling. This make them more pliable and easier to roll. They can also be heated in the oven (group of 6, sprinkled with water, wrapped in foil) or in the microwave (sprinkled with water, wrapped in a microwave-safe plastic bag and zapped for 30 seconds).
Keep the warm tortillas in a towel to stop them drying out.
Put some filling close to the edge of the tortilla. Roll tightly, but avoid having the filling squeeze out the end of out of the tortilla. Some people like to roll them into an elongated horn or cone shape.
Flautas can be baked rather than fried. This is not the traditional way of cooking them. But it reduces the fat content and calorie load. The cost is that they are not as crisp as the traditional fried version.
Before deep frying, secure each rolled tortilla with one or more toothpicks. This stops them unrolling when being fried.
Make sure the oil is very hot. Use a temperature of or an electric deep fryer with temperature control. Fry them two at a time turning once they are golden to mid brown color and crisp. They must be crisp and you may have to experiment with the temperature to get the frying correct.
When each flautas is cooked, remove with tongs and drain the excess oil on paper towels.
Let the flautas cook a little before serving as the filling can be very hot inside.
Serve 2-3 flautas per plate and top with the sour cream, salsa, and cheese. You can add tomatoes, sliced avocado or guacamole, lettuce onion and other salad items.
The shorter ones are traditionally eaten by hand
The flautas can be prepared are rolled two hours in advance and cooke3d just before serving. Keep them tightly wrapped in plastic to stop them drying out.
Fabulous, Simple Flautas Recipes
Traditional Deep Fried Beef Flautas made with Corn Tortillas
1/2 cup of creme fraiche or Mexican cream if available
1 cup of 'Cotija' Cheese shredded, fresh Mexican Cheese, crumbled; or alternative
Good quality vegetable oil suitable for deep frying
12 toothpicks to hold the tortillas together
2 cups of Beef filling
12 corn tortillas (find very thin ones as they are easier to crisp)
Optional toppings can include tomato slices or quarters, avocado slices, shredded lettuce or cabbage, chopped onion, and even various fresh herbs cilantro and parsley.
For a simple beef filling:
1 bay leave
2-3 garlic cloves peeled
1/2 of an onion, finely chopped
1 Pound (500g) of flank skirt, or fillet steak cut in small cubes
Water or beef stock to cover the meat.
Salt and pepper to taste
Chopped Mexican chillies or other spices to taste (Optional)
Simmer the meat in a small covered pot with the garlic, bay leaf, onion, salt and stock for about 35-50 minutes, until tender (check to avoid overcooking). Cool and shred the beef into tiny pieces.

For a simple potato filling:
2 large potatoes or 3 medium size ones, peeled (the skin can be left on if desired)
salt to taste
water to cover the potatoes
Herbs and Spices (optional)
Slice the potatoes in large cubes. Simmer in the water and salt until just tender (do not overcook as they can finish cooking in the tortilla; firm texture is better). Drain and coarsely break the potato up into small pieces. The potato can also be mashed. Herbs can be added.
Assembling and Deep Frying the Flautas

Warm the tortillas to make them more pliable. Place about 1-2 tablespoons of the filling (depending on the size of the tortillas) close to the edge of the tortilla. Roll tightly and secure with a toothpick. Deep fry in pairs turning once so that the rolled tortillas are golden brown and very crisp. Remove and drain the cooked flautas on paper towels and serve with your choice of topping and salads
Beef Flautas - Shallow fried
1 cup of canola oil
12 corn tortillas
Juice of one lime
Salt and black pepper to taste
2 tablespoons cumin
1 cup cilantro chopped
1 pound tomatillos, quartered
2-4 jalapenos, diced
4-6 cloves of garlic, crushed or finely chopped
1 medium Spanish onion, quartered
1 tablespoon canola oil
2 pounds of chuck roast (or similar) cut into moderate size chunks
Salsa, lettuce, diced onions, chopped cilantro, avocado slices and sour cream for garnishing

Toss the beef cubes in a tiny amount of flour and brown on all sides in a heavy frying pan or large Dutch oven, with a little oil. Add the four cups of water (or beer stock), 1/2 cup of the chopped cilantro, cumin, jalapenos, tomatillos, garlic, onions, and salt and pepper to taste. Heat the mixture to boiling point and then simmer gently for 2 hours until meat is tender and just cooked. Remove beef from the pot, cool it, and shred it into tiny pieces. Place the mixture in a small bowl, add the lime, some of the pan juices, and season with salt and black pepper to taste. Set aside to cool.

Wrap the tortillas in foil, and heat in a moderate oven for about 5-10 minutes to soften and make them easier to roll. Take a warmed tortilla and add 2 tablespoons of the beef mixtxure to one side and roll tightly. Secure with a toothpick. Heat the cup of canola oil in a large iron skillet. Heat the oil to 350 degrees F ( 175 degrees C) and using tongs gently place 2-3 flautas into oil, with the seam side facing down. Cook on each side until crisp and brown (about 45-60 seconds per side). Cook the remaining flautas and serve with chopped cilantro, salsa, avocado, onion and sour cream.
Spicy Shredded Pork Flautas with Salsa and Guacamole
18 corn tortillas
2 tablespoons chopped cilantro
1/4 cup red onions, chopped
4 avocados, pitted and chopped
Juice of two limes
Juice of two lemons
1 jalapeno,seeded and minced
1 yellow pepper
1 red pepper
1 head of garlic
1/2 pound tomatillo, husked and rinsed
4 cups beef stock
3 tablespoons chopped garlic
1 cup tomatoes, peeled, seeded and finely diced
1 1/2 cup onions, finely chopped
1 1/2 pounds pork shoulder, with fat removed and cut into cubes about 2 inch cubes (5 cm)
3 tablespoons olive oil
Preheat the oven to 400 degrees F (200 degrees C). Season the pork with salt and pepper. Heat 2 tablespoon of olive oil in a heavy pan, or Dutch Oven, and brown the pork for 1-2 minutes. Add the onions and sauté the mixture for another 2 minutes. Add the garlic and tomatoes, some extra salt and pepper and sauté for another 1 minute. Add the beef broth and bring the mixture to the boil. Then cover the pan and simmer the mixture gently for 1 1/2 to 2 hours. Check to ensure that the pork is very tender. Remove the pork and shred it, retaining the juices in the pan. Cook the juices over medium heat to render down until most the liquid has dissipated. Remove from the heat and add back the shredded pork.

To make a salsa, Place the garlic, tomatillo and peppers (halved and de-seeded) on a baking sheet, drizzle with a little olive oil. and cook in the pre-heated oven for 15 - 20 minutes. Remove the vegetables from the oven and transfer them to a food processor. Add the onions, juice of one lime and one lemon, and jalapeno. Pulse until the mixture to coarse chop but do not make into a paste. Season the salsa with salt and pepper.

Make a guacamole by combining the avocados, remaining lime and lemon juice, garlic, red onions and cilantro, salt and pepper.

Assemble the flautas by spooning two tablespoons of the pork filling into a warmed tortilla and rolling up tightly. Deep fry in batches until golden brown (about 3 minutes). Serve covered with the salsa and guacamole.
Baked Chicken Flautas with Spinach and Cumin
1 teaspoon Olive Oil
6 ounces melting cheese, shredded
5 burrito-size Flour Tortillas (9 inches; 20 cm)
3 cups Baby Spinach, roughly chopped
1 Jalapeno Pepper, minced
1 teaspoon Chili Powder
1 teaspoon ground Cumin
1 teaspoon Garlic Powder
1 teaspoon Salt
1 teaspoon Paprika
2 cups Water
16 ounces (470 ml) chicken broth
1 pound (500g) boneless, chicken thighs with skin removed
Salsa and salad for serving
Preheat the oven to 450 degrees F (230 degrees C). Place the chicken thighs into a deep heavy pan or pot and cover with the stock and water.Heat to boiling and then simmer for about 10-15 minutes. Take out the chicken and shred it. Combine the chicken with the seasonings. Retain about 1/4 cup pf liquid in the pan. Add the spinach and jalapeno to the liquid and cook over low heat for 2-3 minutes, to wilt the spinach. Add about 1 tablespoon of the chicken mixture to the edge of a warmed tortilla, and add 1/2 tablespoon of spinach and cheese. Roll the tortillas up and transfer seam-side down to an oiled baking sheet. Brush the flautas with a little olive oil and bake for about 10 minutes. Remove the pan, turn the flautas over and bake for a further 10 minutes. Make sure the tortillas are crisp. Serve with salsa and salad.
Related Articles, Information and Recipes to Try
=> Best Gourmet Taco Recipes : Fabulous Homemade Tacos
=> Top 20 Taco Recipe Collection - Beef, Pork, Chicken, Seafood, Vegetable, Vegan
=> Vegan Green Jackfruit Recipes: Barbecue, Curry, Taco, Pasta, Carnitas and Stir-Fry
=> Mexican Bunuelos Recipes with Fresh Berry Sauce and Fruit
=> Easy Sopapilla Recipes - How to Make Authentic Mexican Sopapillas
=> Mexican Food Calories - How to Make Healthy Meal Choices
=> Homemade Corn Tortillas Recipes and Whole Grain Wheat Flour Tortillas