Pairing Wines with Various Types of Barbecued Meats and Mushrooms
Most people don't worry too much about the wines they serve at barbecues, but like other foods matching food and wine perfectly can make an enormous difference.
So, what are the classic barbecue wine pairings?
See the Image above.
Which Barbecued Foods Go Best With Which Wines?
Sparkling Wine - Chicken
Sauvignon Blanc - Chicken
Dry Riesling - Sausages
Dry Rosé - Chicken
Pinot Noir -Chicken
Zinfandel - Sausage, Burgers, Chicken
Carignan - Chicken
Carmenere - Mushrooms, Burgers
Cabernet Franc - Brisket, Burgers
Tempranillo - Brisket, Burgers
Malbec - Burgers, Brisket
Syrah - Brisket, Burgers
Which are the Best Wines for Each Food Type of Barbecued Meat
Brisket - Tempranillo, Syrah, Malbec
Burgers - Malbec, Syrah, Tempranillo, Cabernet Franc
Chicken - Sparkling Wine, Carignan, Dry Rose, Pinot Noir, Zinfandel
Sausage - Zinfandel, Dry Riesling
Mushrooms - Cabernet Franc, Carmenere

The image above shows a complete food and wine pairing table for barbecue meats.
Tips for Pairing Wines and Barbecued Meats and Mushrooms
Best Wines to Substitute for Beer at a Barbecue. The role or beer is to quench the thirst and to cleanse the palate. The best ones are probably Dry Riesling and Sauvignon Blanc.
If its Hot and the Food is Served Outside Serve all Wine Chilled. This applies to the red wines. They don't need to be freezing cold, but they need to be cooled down in the fridge. Like warm red wines are a disaster and the delicate tastes are ruined. Chill your red wines. Don't think, just do it.
Serve Good Quality Wines but not the Most Expensive Ones - While a nice cool red goes will with the smoky atmosphere around a barbecue it is not the time to serve your most expensive wines. Neither the atmosphere nor the food are conducive for savoring very high quality wines.
Related Articles and Recipes
=> Health Benefits of Ginger - Nutritional Facts, and Dietary, Medicinal Benefits
=> Best Sangria Recipes with Fruit, Red or White Wine, Liqueurs, Herbs
=> How to Make Ginger Wine - Guide and Three Fabulous Homemade Recipes
=> Ginger Beer Recipe Ideas - How to Make Homemade Ginger Beer
=> Homemade Sports Drinks for Revitalizing After Exercise
=> Homemade Root Beer - Recipes, Guides and Tips using Extracts
=> Residual Sugar in Wine - Sweetness Chart and Calories in Wine Summary
=> Calories in White Wine and Nutrition Facts for White Wine Styles, Varieties
=> Best Sangria Recipes with Fruit, Red or White Wine, Liqueurs, Herbs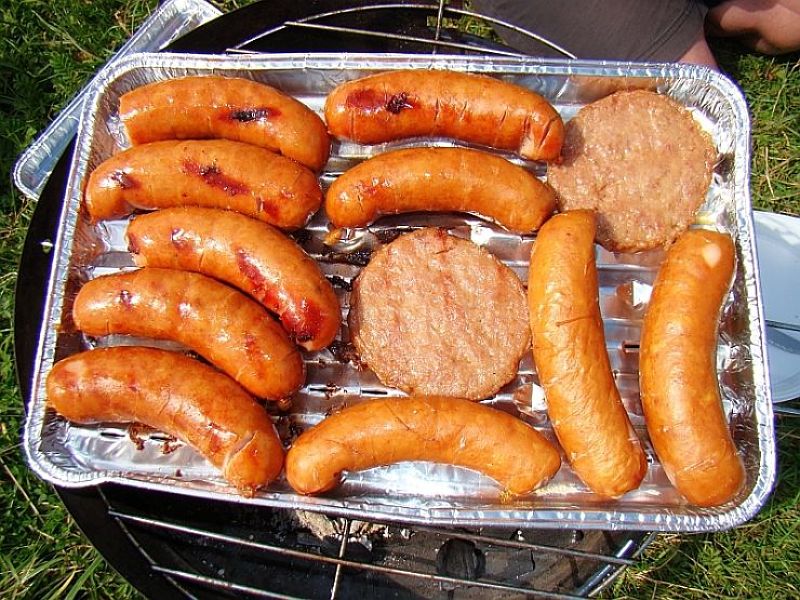 Pairing Wines with Various Types of Barbecued Meats and Mushrooms
By Silar (Own work) [CC-BY-SA-3.0], via Wikimedia Commons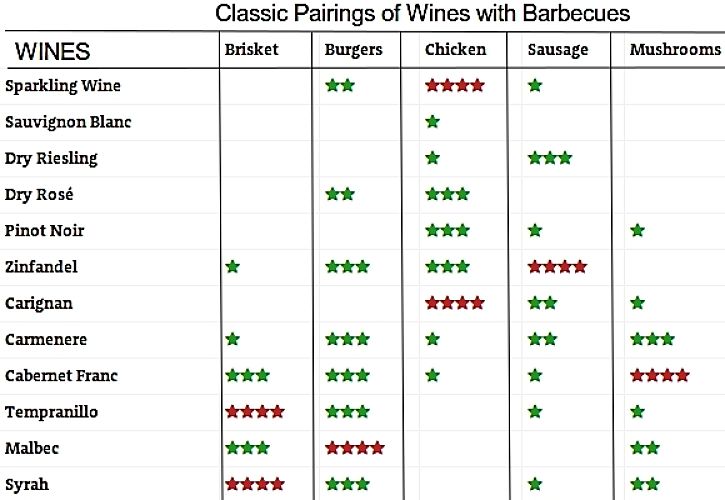 Original Graphic by the Author, John Anderson - Summary of Wine Pairings for Various Meats