Panzerotti Recipes - Tiny Calzones Baked or Deep Fried
Panzerotti, a tiny version of a closed pizza or calzone, like and English pasties in size originated in southern and central Italy. The dough is softer than that for a calzone and can be made with, or without yeast. The fillings can be whatever you like or have at hand when you make them. The usual fillings are tomato, mozzarella or feta cheese, meats such as ham and chicken, vegetables such as spinach, onions, mushrooms, baby corn, and a variety of fresh herbs and spices.

One popular savory filling is made by frying onions, garlic, salted anchovies and capers in olive oil, often with a little bread and seasoning added. The pockets of dough are filled with various fillings, sealed, seasoned and then deep-fried of baked. The panzerotti expands when cooked and puffs up.

Panzerotti have similar uses to Turkish and Lebanese
Fried Panzerotti made with a Yeast Dough
2 tablespoons extra virgin olive oil
500 g (1.1 lb) strong plain flour (Bread Flour)
500 g (1.1 lb) flour
20 g (1 oz) salt
500 ml (2 cups) lukewarm water
10 g (1/2 oz) caster sugar
25 g (1 oz) fresh yeast
Grape seed or rice bran oil for deep frying
Filling 1
150 g (6 oz) buffalo mozzarella
200 g (7 oz) vine ripened tomatoes, halved, sliced
10 basil leaves
Filling 2
Traditional Filling such as spinach, ham, ricotta, mozzarella, onions and mushrooms
Dissolve the sugar and yeast in 1/2 cup of luke warm water. Add the salt to a separate 1/2 cup of warm water. Sift the two flours together in a large bowl. Add the salt water and yeast mixture to the flour in a large bowl and combine well until the mixture turns to a soft ball. The add the olive oil and mix well. Transfer the dough to lightly floured board or kitchen bench and knead for about 5 minutes until the dough is smooth, silky and elastic.

Divide the dough into about 20 balls and place them well separated onto 2 or three baking trays. Cover the trays with plastic wrap or a towel and set aside to rise in a warm place for about 2 hours for the balls to double in size. Gently press each ball flat to a 12 cm (5 inch) circle, like mini pizzas bases, retaining the air in the dough. Place a some slices of tomato, mozzarella, basil leaf and other filling ingredients into the center of the circle. Season to taste and then brush the edges with a little water. Fold each one over to form a half moon shape. Press the edges together and crimp with a fork to seal. Repeat with the remaining dough balls and filling

To cook heat the high smoke point oil in a deep fryer or deep saucepan to a temperature of 180 degrees C (350 degrees F). Place a one or two panzerotti into the oil in batches and fry for about 2 - 3 minutes on each side, until both sides are golden brown. Drain on paper towel and serve immediately when all panzerotti are cooked.
Other Filling Options
300 g (10 oz) cherry tomatoes
200 g (7 oz) mozzarella
Oregano
Cube the mozzarella. Cut the tomatoes into cubes and drain. Combine with the together mozzarella.
50 g (2 oz) ricotta forte
50 g (2 oz) onions
100 g (3.5 oz) cherry tomatoes
Several pieces of anchovy
Salt and fresh ground pepper to taste
Add some oil to a heavy pan and fry the onions until soft and transparent. Add the chopped anchovies and combine well. Spread a small amount of this mixture on each disc of dough and add the ricotta forte. Top with a slice of tomato, some onion rings and a slice of anchovy. Add salt and pepper to taste and fold over and seal.
100 g (3.5 oz) ricotta forte
2 cherry tomatoes for each Panzerotti
20 g (1 oz) grated pecorino romano
1 egg yolk (optional)
Combine the pecorino and ricotta forte and add an egg yolk if desired. Spread a tablespoon of the filling onto each panzerotti and top with chopped tomatoes, herbs and freshly ground pepper.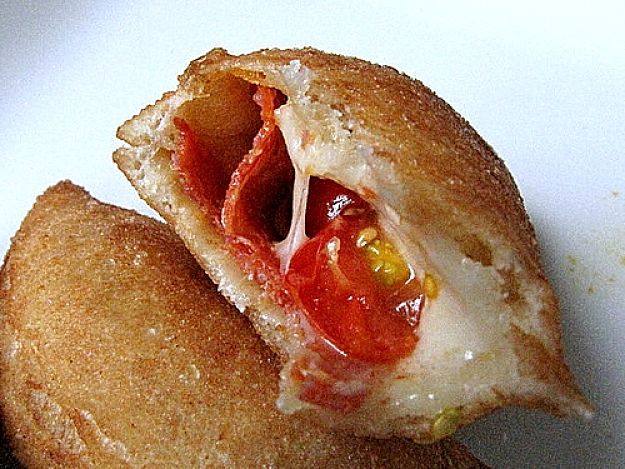 Panzerotti are delicious as a snack and puff up when cooked; janderson99 original image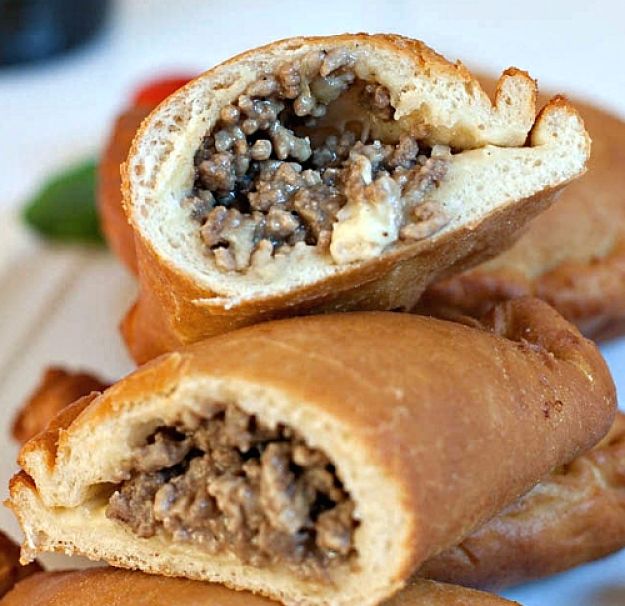 You can used a wide variety of fillings for Panzerotti - Mini Closed Pizzas; janderson99 original image