Protein Balls Recipes Made with Fruit, Nuts, Seeds and Protein Powder
Protein balls made from raw dates, dried fruit, nuts, seeds and a dash of protein powder have really taken off recently with active people, body builders and vegetarians.
Protein balls have been around since the 1970s in various forms, but the addition of concentrated protein powder has really boosted their popularity. With a carefully chosen range of ingredients these bliss balls are a complete and compact protein snack that energizes and provides nutrients in a very healthy way.
► Protein balls contain the complete set of amino acids, are very high in protein and are gluten-free.
► They are packed with vitamins, minerals and antioxidants from nuts, dates and dried fruit.
► The nuts can be replaced by a variety of seeds such as pepitas, sunflower, linseed and pumpkin seeds and many others.
► The traditional dates can also be replaced with dried fruits such as apricots and sultanas.
Learn how to make these delicious high energy, high protein and very nutritious snacks at home.
They energize any quick breakfast, and they offer a healthy energy boost for an afternoon snack.
They are very easy to make, store well and are a great snack before or after training, a workout or a gym session.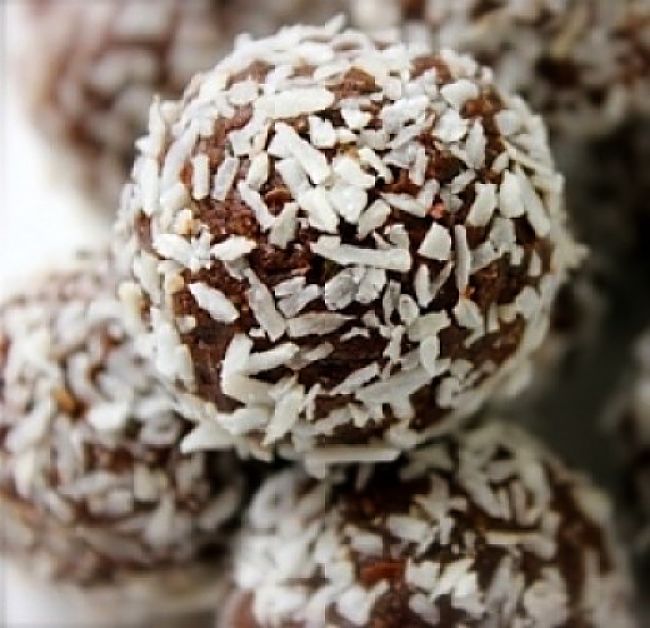 Variations in the Ingredients for Protein Balls
Vegans and people on gluten-free diets love protein balls made with gluten-free oats, dried apricots, pepitas, linseeds other seeds to boast the variety of amino acids.
The gluten-free oats and dried apricots and soaked overnight to soften them.
The completed protein balls are rolled in raw coconut and goji berries.

Another variant is made from quinoa, tahini, chia seeds , raw cacao powder and agave syrup.

Another recipe includes apples, peanut butter, muesli, honey, wheatgerm and protein powder.

A so called new-age variety, is made from chia seeds, linseed, gluten-free muesli, raw cacao powder, sunflower seeds, extra virgin coconut oil, and brown rice protein powder (or equivalent).

You can adapt the recipes below to suit your needs and the ingredients you prefer.
Protein Balls Recipe 1
1/2 teaspoon ground cinnamon
1 tablespoon natural vanilla extract
2 tablespoons cocoa powder
16 fresh dates, pitted
60 g Healthy Protein Powder
330 g raw whole almonds or walnuts
coconut, chopped nuts, goji berries and cacao for rolling
Place the almonds or walnuts into the food processor with the protein powder, cinnamon and cocoa and blend on high speed until the mix looks crumbly and well mixed. Add the vanilla extract and the dates, and then process again until the mixture starts to thicken and form a crumbly paste. Add a little water so that the mixture softens and starts to forms a soft ball. Using a spoon, remove some of the mixture and roll into medium size balls. The mixture should make about 14 balls. Roll in coconut, sesame seeds, chopped nuts, goji berries or cacao powder. The completed balls can be kept for up to 4 weeks in the refrigerator.
Protein Balls Recipe 2
2 tablespoons honey or agave syrup
1 tablespoon ground cinnamon
2 tablespoons raw cacao powder or cocoa powder
60 g Good Quality protein powder
1 tablespoon tahini or peanut butter
100 g prunes, pitted and chopped
100 g soft dried apricots or figs, chopped
170 g dates, pitted and finely chopped
2 tablespoons linseed, pepitas or sunflower seeds
100 g almonds, lightly toasted
100 g chopped walnuts or cashews, lightly toasted
100 g desiccated coconut for coating the finished balls, as well as a variety of small seeds such as sesame seeds
Pinch of sea salt to taste
Add the almonds, walnuts and seeds to a food processor bowl and blend vigorously and until the mixture resembles fine bread crumbs. Add the apricots, dates and prunes and process until smooth. Add the tahini, cinnamon (optional),cacao powder, protein powder, honey and sea salt. Process for about two minutes. The mixture will thicken when mixed and starts to form into a ball. Remove portions about the size of a golf ball, and roll into compact and firm balls using wet palms. Roll in coconut and seeds. Keep- the finished balls in an airtight container in the refrigerator. They will keep for up to two weeks. They can also be frozen for longer storage. It pays to make a large batch.