Stuffed Squash Blossom Recipes - Pumpkin Flowers Filled and Deep Fried
Pumpkin, squash and even zucchini flowers are edible and are often featured in Vietnamese and other South-East Asian cuisine. They are a wonderful and intriguing addition to salads, pasta sauces, stir-fries and soups.
The larger flowers can be stuffed and deep and shallow fried. You can use a large variety of ingredients for the filling, but the most popular are prawns and other seafood with fresh herbs and spices. You can also use cheese and other non-conventional filling ingredients.
Pumpkin flowers are very nutritious with one cup containing only 5 Calories, 1 g of carbohydrate, 0.5 g of protein, and virtually no fat.
This article contains a recipe for pumpkin flowers stuffed with shrimp and pickled dill, and another recipe that uses a cheese and garlic stuffing.
The stuffed flowers are coated in batter and deep fried.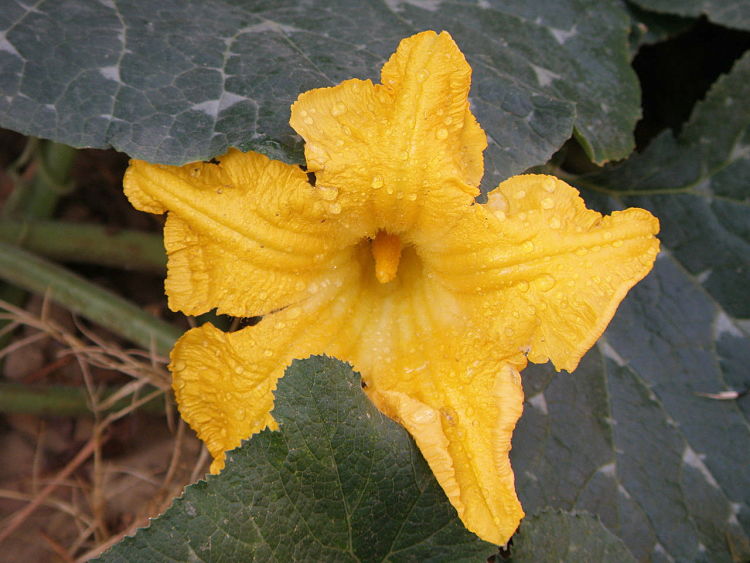 Pumpkin Flower Stuffed with Shrimp (Prawns), Picked Dill and Lime Juice
1 lime, cut in half
1 tablespoon fish sauce
1 1/2 tablespoon picked dill
2 egg whites, lightly whisked
1-2 cloves of garlic, finely diced
150 g (5.5 oz) peeled and de-veined raw prawns (shrimp)
175 g (6 oz; 1 cup) potato starch or cornstarch (cornflour)
12 pumpkin flowers (or similar) with stems intact, (remove the stamens)
Grape seed or rice bran oil, for deep-frying (choose a neutral tasting one with a high smoke point)

Finely chop the prawns and grind them to a fine paste in a pestle and mortar. Add to a mixing bowl with the garlic, half the dill and the fish sauce. Season with freshly ground black pepper and salt to taste. Knead with your hands for for about 2 minutes to make a well-mixed paste. Taking teaspoons of the mixture, gently stuff each pumpkin with the prawn paste. Then hold each flower by the stems, brush each flower with some egg white and then dust potato starch onto each flower, shaking off any excess.

Heat the oil in a deep saucepan or wok to a temperature 180 degrees C (350 degrees F). Taking three at a time, deep fry the flowers for about 1-2 minutes. The stuffed flowers should be crisp and just starting to brown slightly. Remove each batch with a slotted spoon and drain on paper towels. Serve topped with the remaining dill, slices of lime and a dipping sauce.


Pumpkin Flowers Stuffed with Cheese and Deep Fried Using a Beer Batter
18 large male pumpkin blossoms, or similar with stamens removed
For the Cheese Filling:
1 clove garlic, minced
1/4 teaspoon dried basil
1/2 teaspoon dried oregano
1/2 teaspoon red pepper flakes
3 ounces cream cheese
3 ounces goat (feta) cheese
Salt and pepper to taste

For the Beer Batter:

1/2 cup cold flat beer
1 egg, beaten
1/2 teaspoon baking powder
1/4 teaspoon baking soda
1/4 teaspoon celery salt
1/4 teaspoon black pepper
1/2 teaspoon salt
1/2 cup flour
1/8 cup cornstarch
Grape seed or rice bran oil, for deep-frying (choose a neutral tasting one with a high smoke point)
Grated Parmesan cheese and sliced chives for garnish
Salt and pepper to taste

Gently spray the pumpkin blossoms within cold water to clean and freshen up. Twirl around to shed most of the water, then complete the drying using paper towels. Set aside.

To make the filling, blend or whisk the cream cheese, goat cheese, oregano, basil, red pepper flakes, garlic. Adjust the seasoning with freshly ground pepper and salt. Carefully add about 2 teaspoons of the cheese filling to each blossom. Set aside in the refrigerator while you make the batter. Blend or whisk the cornstarch, celery salt, baking soda, baking powder, flour, salt, pepper, flat beer and egg until well combined as a batter.

Heat about 6 cm (2 inches) of oil in a heavy frying pan or pot to a temperature of 375 degrees F (190 degrees C).

Taking each stuffed blossom, one at a time, dip it into the batter, so it is fully immersed. Wipe off the excess batter and slide into the hot oil. Cook till lightly brown on one side, then turn over and cook the other side till light brown and crisp. Remove with a slotted spoon and let drain on paper towels. To serve sprinkle the blossoms with salt, pepper and a little grated Parmesan cheese and chopped chives.
Filling Ingredients for Pumpkin Flowers
Option 1
1 tsp balsamic vinegar
2 tbsp chopped fresh herbs
3/4 cup chopped fresh spinach
1 tsp red pepper flakes to taste
1 tbsp minced fresh or dried onion
1/2 cup cheese crumbled or finely chopped (feta, jalapeno jack or blue cheese works wonderfully)
Option 2
1/3 cup pine nuts
1/2 cup olive oil
3 teaspoon of salt
2 tablespoons sugar
2 teaspoons allspice
3 teaspoons cinnamon
1/2 teaspoons black pepper
1 large onion (finely diced)
1/3 cup dried currants (or dark raisins)
2 cups short-grain white rice, cooked al dente
1 large bunch fresh dill weed (sprigs only, thick stems removed)
Option 3
2 eggs
Salt, for seasoning
1/2 cup grated parmesan
5-6 basil leaves, chopped
Ground nutmeg, for seasoning
1 small garlic clove, crushed
Extra virgin olive oil, to taste
500 g (1 lb) white-fleshed potatoes
Option 4
salt
pepper
avocado oil
2 tablespoons brandy
1 leek, finely chopped
2 shallots, finely chopped
1/4 cup heavy whipping cream
1 garlic clove, finely chopped
1 serrano pepper, finely chopped
2 lobster tails, cooked and chopped
Option 5
Salt and Pepper
1 Cup Ricotta Cheese
1 1/2 Cups Fresh Breadcrumbs
1/3 Cup Grated Pecorino Romano Cheese
2 Teaspoons Finely Chopped Fresh Basil
2 Medium Eggs Beaten With 2 Tablespoons Milk
Lemon Wedges and tomato sauce for serving