Quick Leek and Herb Risotto Recipe, Cooked in Microwave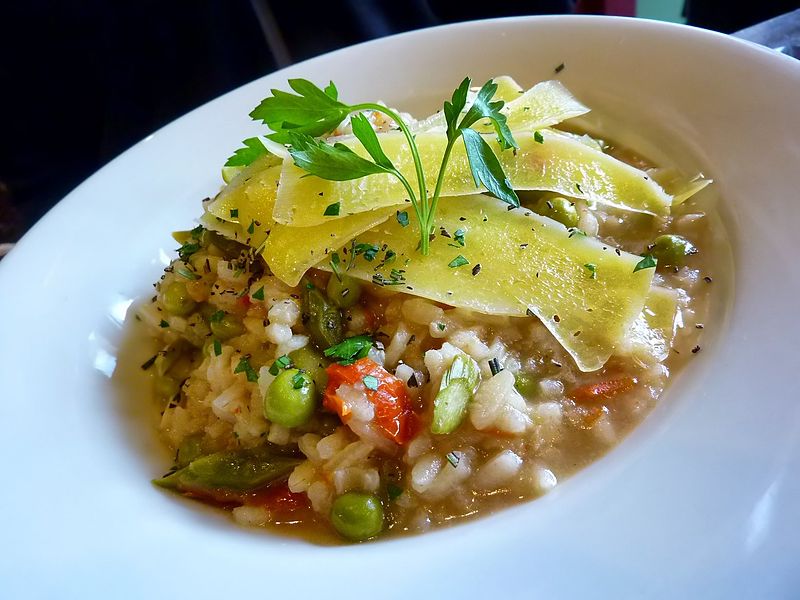 Lara604 [CC-BY-2.0], via Wikimedia Commons
This delightful and simple vegetable risotto can be made in a microwave oven - so easy!
Risotto is a lovely dish, but it takes a lot of time and care to ensure the liquid added in batches is absorbed before you add the next slurp. It is very nice dish but time consuming and hard to get perfect results every time.

Are you still keen to make risotto, but you don't have the time and patience to cook it the conventional way?

Well the good news is that you can cheat, and make a lovely risotto completely using your microwave oven.
Ingredients
1 1/2 cups arborio rice (or similar)
2 teaspoons finely grated lemon rind
2 tablespoons fresh parsley, finely chopped
4 cups, homemade or prepared vegetable or chicken stock
1/2 cup grated low-fat tasty cheese (choose the one you like best)
2 medium leeks, with outer leaves discarded, base removed and then finely sliced
1 teaspoon dried mixed herbs (or a combination of fresh herbs such as coriander, basil or sage)
Method
[ Note: It is very hard to be exact with the times and microwave settings. Try the dish a couple of times and write down the oven setting and times that suit your stove].

Put the leek and oil into a large microwave safe dish (with straight-sides). Cook, uncovered, using a HIGH setting for 4-5 minutes. Add the rice, mix and cook, uncovered, using a HIGH setting for an additional 4 minutes. Remove from the oven.

Next add the stock and cook, uncovered, use a HIGH setting for 7-9 minutes. Remove from the microwave, stir well and cook, uncovered, on HIGH for another 9 minutes (stir after about 4 minutes). If all the liquid has not been fully absorbed into the rice, stir well, and cook in the microwave for an additional minute or so.

Remove the pan from the microwave. Add the herbs, cheese and lemon rind, mix to combine and serve immediately.