Really Special Fried Rice Recipes - Best Chinese Style Dishes
Chinese Special Fried Rice is a complete one dish meal that is popular as a take away (take out) dish. It is traditionally packed with prawns, ham, omelette pieces, chicken and a variety of vegetables. But there are many other exciting options, as you will see.
This article describes how to make this special fried rice dish at home so that it is crisp and tasty, without the soggy, oily taste that can ruin many home-cooked attempts.
It includes a range of very, very special fried rice with fabulous ingredients that will charm and thrill your dinner guests and the whole family. Enjoy discovering how to make fabulous special fried rice dishes easily, simply and reliably. Enjoy!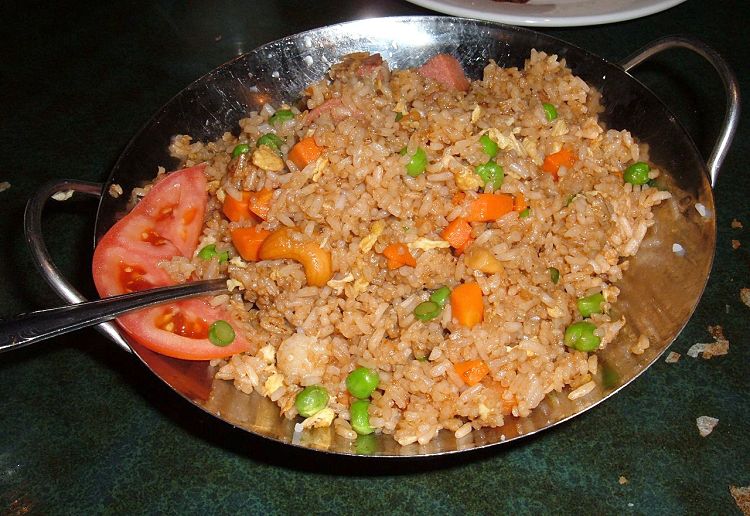 Secrets for Preparing Perfect Chinese Fried Rice, Every Time
Making great fried rice is easy in theory, but getting it right does take a little know-how and practice to avoid the disasters. It is the small things that matter to avoid burnt or soggy fried rice. It can also be too dry and clumpy.
Below are four secrets for wonderful fried rice:
Use cold, day-old, leftover cooked rice that has been left uncovered in the fridge overnight. This firms up the rice grains, reduces the moisture and avoids clumping. The rice should have been just cooked, not mushy to start with and should be medium grain rice rather than short-grain. glutinous or other rice types. Medium grain rice is ideal, but long grain rice also works well.
The wok or frying pan should be very hot. One of the problems with domestic appliances is that the gas burner is too small and the wok also too small to store enough heat to cook the rice at high temperature. Take the rice out of the fridge an hour or so before it is cooked to allow it to come to room temperature rather than being cold from the fridge. Preheat the wok to very high temperature before adding the oil, and then reheat to get the oil piping hot and just starting to smoke before frying. Work with small batches of rice to stop the rice reducing the oil temperature. A drop in oil temperature will cause the rice to absorb the oil and go soggy. It is best to cook individual servings of rice and other ingredients, plate by plate, rather than try to cook everything at once. It is too hard to control the temperature of a large wok and large amounts of food. Steam will be absorbed into the rice.
Using the right oil is essential for stir frying - Don't use olive oil as it has a strong flavor and a low smoke point, and will degenerate at high temperature and taint the food. The best oils to use are rice brain and grape seed oils, that have a neutral taste and a high smoke point). Peanut oil is also suitable for high temperature frying. It does have a strong flavor , but many many people like this taste.
Don't overdo the sauce and seasonings. Use soy or oyster sauces sparingly otherwise they can dominate and ruin the subtle tastes of ingredients such as seafood. Use any liquid sparingly as any liquid will tend to make the dish soggy. If you use fresh herbs, lightly fry them first so they shed any excess moisture. Fish sauce used very sparingly adds magic to stir-fry dishes. A few drops of sesame oil also works wonders.
Spectacular Very Special Fried Rice Recipe
This recipe has a wonderful variety of ingredients offering many options depending on your own preferences and what you have available.
Ingredients
1 teaspoon salt
2 free range eggs
1/2 cup end veggies
1 bunch green onions
1/2 teaspoon sesame oil
2-4 tablespoons soy sauce
1 cup root root vegetables
3 tablespoons sesame seeds
1 cup crisp green vegetables
4-5 cups cooked day-old rice
1 small onion, finely chopped
1 clove of garlic, finely chopped
3 tablespoons of dry roasted peanuts, cashews or almonds
3 tablespoons rice bran or grape seed oil (or peanut oil)
1/4 pound (150 g) diced ham or pre-cooked Chinese sausage
1/2 pound (250 g) mixed raw meats such as beef, pork or chicken
Method
Slice the meat thinly, sprinkle with corn starch and a light drizzle of soy sauce and a little sesame oil and mix. Aim to cover the meat slices in a very thin coating of sticky cornstarch. Prepare the vegetables as needed by peeling and chopping. Sort the vegetables into mini-piles on your bench or chopping board according to how long they will take to stir-fry. Heat your wok or large heavy frying pan over moderate to high heat. Toast the sesame seeds or chopped peanuts in the hot dry pan and set aside. Pour in the oil and sesame oil, and wait until the oil gets very hot. Work in batches. Oddly it is best to fry the meat last, because meat tends to keep cooking after you remove it from the pan. You cook the meat last, just before serving the dish. Also, cooking the meat tends to 'clog' up the pan, whereas the vegetables leave the pan clean. Fry the prawns (shrimp) second last. Fry the onion until golden, then add garlic. Add the vegetables in sequence beginning with those that take longer to cook. Finish with the green vegetables and herbs that you want to leave crunchy and cook for seconds rather than minutes. Fry the vegetables until crisp and tender. Remove the vegetables and set aside briefly. Cook the prawns and add to the vegetables. Cook the meat until just tender and set aside. Then, add more oil to the wok and make sure it is very hot. Add the rice in several batches. You want the rice to be cooked in the oil and against the hot surface of the wok, and definitely not steamed. Keep tossing and flipping the separated rice grains to genuinely fry the rice, not steam and re heat it. When all the rice batches have been cooked, transfer the cooked vegetables, herbs, meat and rice back to the pan for final heating, stirring and combining of the flavors. Then, when mixed and hot serve immediately sprinkling each serving with peanuts and chopped fresh herbs.
Versatile Fried Rice Recipe with Fried Eggs and Anything Goes Really
You don't need exact ingredients, measurements or rocket science to make fried rice, though the flames might help. Just about anything belongs in fried rice: leftover roast chicken, stir-fried pork or beef, fried tofu, ham, frozen peas, fresh chopped vegetables and herbs veggies. But avoid anything that releases too much moisture. Making fired rice in an adventure but be daring and add a huge variety of tastes colors and textures. Variety id the spice of life!
Ingredients
spices
3 free range eggs
1/2 cup frozen peas
1/2 cup chopped red chilli
1/2 an onion, finely chopped
1 cup carrots, finely chopped
2 cloves garlic, finely chopped
2 tablespoons soy sauce (or fish sauce)
1 cup leftover meat - chicken, pork or beef
1 large piece of fresh ginger, finely chopped
1/2 cup deep fried sliced firm tofu (optional)
2 tablespoons oyster sauce (or sweet soy sauce)
1/2 cup mixed Chinese greens or spinach, chopped
1 cup mixed fresh herbs, such as cilantro, basil
1 tablespoon neutral high smoke point oil such as grape seed oil or rice bran oil
4 cups cooked long or medium grain rice, day-old or refrigerated for at least 3 hours, uncovered
Method
Break the rice chunks up and separate into individual grains, which should be quite dry. Heat a wok or large skillet to very high heat. Add the oil and heat until very hot. Add garlic, ginger and onion and stir vigorously for 30 seconds. Add the carrots, hard vegetables and cook until tender (about 2-3 minutes). Add the chopped vegetables and herbs and stir fry briefly. Adding 2 teaspoons of water creates steam which helps wilt the herbs and vegetables. Remove the contents to a separate dish and set aside. Add more oil to the wok and reheat. Break the eggs into the wok, and stir until they just start to set and scramble. Add the rice in batches stirring and tossing between each addition. Transfer the cooked rice to the pot containing the cooked vegetables. Stir-fry the remaining batch of rice, adding the cooked meat and tofu to the last batch to heat through. Add all the ingredients back into the wok. Add the sauces, spices, salt and black pepper and stir for about 2 minutes until everything is combined. Serve immediately.
Fried Rice with Fresh Abalone, Scallops or Mussels
Fried rice is seldom better than this. Fresh abalone slices, scallops or mussels, seared in a flaming wok, sweet and tender with just a hint of chilli.
Ingredients
3 tablespoons soy sauce
2 tablespoons sesame oil
2 teaspoons sambal oelek
1 tablespoons fried shallots
4 spring onions, sliced finely
4 small dried chillies, chopped
2 garlic cloves, finely chopped
2 fresh red chillies, finely chopped
5 cm (2 inch) piece fresh ginger, peeled and finely chopped
2 cups long-grain or medium-grained rice, cooked and cooled overnight in the refrigerator
2 fresh abalone, cleaned and very thinly sliced, or 2 cups of fresh scallops or mussels removed from the shells
Method
Heat wok over very high heat until smoking. Add the sesame oil, stir briefly. Add the dried chilli and garlic and fry for 20 seconds or so. Add the abalone, scallops or mussels and stir-fry until tender (do not overcook). Add the spring onions, sambal oelek, fresh chilli, soy sauce, ginger and finally the rice. Stir vigorously until well combined and heated through. Serve with fresh herbs and dried shallots as a dressing.
Fabulous Mixed Meat and Seafood Fried Rice Recipe
Ingredients
1 cup chopped shrimp
1 tablespoon soy sauce
1/2 cup sliced scallion
1 cup fresh bean sprouts
1 tablespoon chopped garlic
1 large onion, finely chopped
1 tablespoon toasted sesame seed
1/2 cup peas or slices green beans
1 cup chopped cooked chicken breast
1/2 carrot, sliced into thin strips
1 cup thinly sliced Chinese sausage
1 cup baby octopus or calamari, slices
salt and freshly ground pepper to taste
1 tablespoon dark sweet soy sauce (ketjap manis)
1/2 cup roasted chopped peanuts or macadamia nuts
1/4 cup of rice bran oil, grape seed oil or peanut oil
3 free range eggs (whisked with 1 teaspoon sesame oil, salt, and pepper)
1 cup cook long grain rice, steamed the day before and chilled overnight
Method
Heat a wok or large skillet to high temperature. Add some oil, heat and then fry the eggs spread as a thin layer over the bottom of the wok (until just cooked). Chop the eggs and set aside. Clean the wok and add more oil. Stir-fry the onions for 1 minute and the add the garlic and stir. Crumble the rice with your fingers or a wooden spoon to separate all the grains. Fry the rice in batches to ensure it does not steam and go soggy. Remove the rice and set aside. Lightly stir-fry the prawns, sausage/ and shrimp to heat through. Quickly add the carrots, peas, scallions, bean sprouts and fry briefly. Add the chopped cooked eggs and season with the soy sauce, sesame oil, salt and pepper. Add chopped herbs or leafy green vegetables (optional). Serve immediately.
Special Pork and Fried Rice Recipe with Mixed Vegetables and Bell Peppers
Ingredients
1 teaspoon of fish oil
2 tablespoons peanut oil
2 tablespoons hoisin sauce
1/2 cup chopped fresh coriander
4 garlic cloves, finely chopped
1/4 cup soy sauce, light or dark
400 g (14 oz) pork stir-fry strips
150 g (5 oz) fresh green beans, sliced
1 large brown onion, halved, and cut into thin wedges
5 cm ( 2 inch) piece fresh ginger, peeled, finely grated
3 small bell peppers (red, green and yellow), thinly sliced diagonally
5 cups cold cooked long grain rice ( cooked the day before and kept tin the fridge overnight)
Method
Place the pork in a small bowl and sprinkle over with hoisin sauce. Mix well and set aside for 15 minutes to marinate. Heat a large wok or frying pan over high heat. Add half the oil and stir until very hot, but not smoking. Stir fry the marinated pork in two batches until just cooked (about 2 minutes), for 2 minutes. Transfer to a pot and set aside while you stir-fry the remaining ingredients. Heat the remaining oil to high heat. Stir-fry the onion, bell pepper and beans, until just barely cooked and still tender and crisp. Add the ginger and garlic and stir-fry for 1 minute. Remove the ingredients. Stir fry the rice in batches. Assemble all the ingredients back in the wok, and heat though for 2-3 minutes while stirring frequently. Add the soy sauce, salt and pepper to adjust the flavor to suit your preferences. Serve immediately topped with nuts, coriander and other fresh herb leaves.
Special Vegetarian Chinese Fried Rice Recipe
Ingredients
6 shiitake mushrooms
3 eggs, lightly whisked
3 tablespoons soy sauce
1 tablespoons sesame oil
200 g snow peas, trimmed
100 g bean shoots, rinsed
1 teaspoons sugar or honey
3 tablespoons vegetable oil
1 red chilli, finely chopped
2 garlic cloves, finely chopped
100 g cashews or macadamia nuts
2 tablespoons spring onions, chopped
Sea salt and freshly ground black pepper
2 cm (1 inch) piece of fresh ginger, finely chopped
550 g cooked rice, cooked the day before and stored uncovered in the refrigerator
Method
Soak the mushrooms in hot water for 60 minutes, then drain and chop. Heat the wok to high, add some oil and fry the eggs until just set. Remove the egg disks, roll tightly and slice to form long thin strips. Heat the remaining oil in a wok. Fry the rice in batches, remove and set aside. Stir-fry the ginger, garlic, and chilli for 1-2 minutes. Then add the mushrooms, snow peas and bean shoots and fry for 2 minutes. Then, add all the cooked ingredient back into the pan, season with soy sauce and serve hot.