Resting Meat After Cooking - Tips and Guides for Grilling, Roasting, Barbecuing
There is a lot of mumbo jumbo about resting meat after cooking before it is served. What are the facts and why is it necessary? A key issue is the moisture in the meat, and how it is affected by temperature. Another related issue, is how the moisture in the parcel of meat is distributed during resting, and how this is in turn affected by temperature. Retaining moisture is the secret to tenderness in meat which is grilled, roasted and barbecued.
Depending on the size and thickness of the meat, and how long it has been in the oven, the internal temperature of the meat will rise steadily when cooked. Most people us a meat thermometer, and remove the meat from the heat, when the safe temperature inside the meat is reached. The safe temperature partially depends on how far you want to cook the meat before serving - rare, medium or well-done. But, the same principle apply, though well-done meat will be drier when you serve it.
When the meat is removed from the heat, the internal temperature could continue to rise a few degrees, or stay steady, before starting to fall. During the resting period you want the internal temperature in the meat to drop as this tends to keep any moisture within the meat. How much to let the temperature fall and why it is important is explained below. Large pieces of meat take longer to cool and need a longer resting period.
This article dispels the myths about resting meat after cooking, and provides the best possible advice on resting time and how to set them for various cuts and types of meat.
Moisture Loss Before and After Resting
Moisture is the Key
If you conduct a simple experiment on two thick slices of steak cooked medium-rare the principles will become clear:
► Place one piece on a plate, slice it in half, and position the halves so that the cut sides are next to each other. Cover with a piece of foil.
► Place the other piece on another plate, cover with foil, but leave it whole. Set aside for 10 minutes.
► Then, unwrap the whole piece, slice it into two halves, and align the cut-surfaces together like the other piece. Re-wrap with foil and set aside for another 5 minutes.
► Then, unwrap both pieces and compare the amount of liquid or juices that have flowed out of both pieces of steak.
You will notice that there is a lot more liquid on the plate with the steak that was not rested. The graphs illustrate these differences.
Conclusion: Rested meat retains more moisture and juices at all level of cooking from rare to well-done.
Why Does Rested Meat Expel Less Juice after Cutting, Retain Moisture and Tenderness?
As muscle fibers are cooked they shrink, squeezing out moisture.
When meat is cut, the structure is opened up and the juices flow out.
When a piece of meat is rested, it cools slightly and the fibers relax a little allowing some liquid back into the fibers. Also the liquid inside the meat, around the fibers gets redistributed and becomes thicker and less free-flowing as the temperature drops.
This means that more liquid will be retained in the meat when it is cut, increasing its tenderness and 'juiciness'.
The figures below highlight how moisture content and temperature change as meat is rested. Understanding these changes helps to show the benefits of resting meat before serving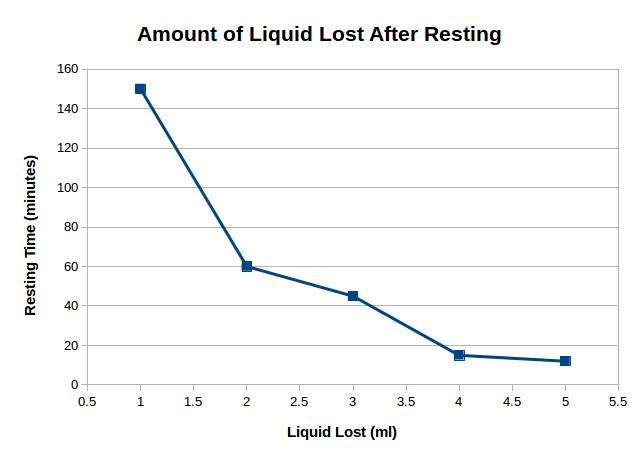 Source: Original Image - Dr. John Anderson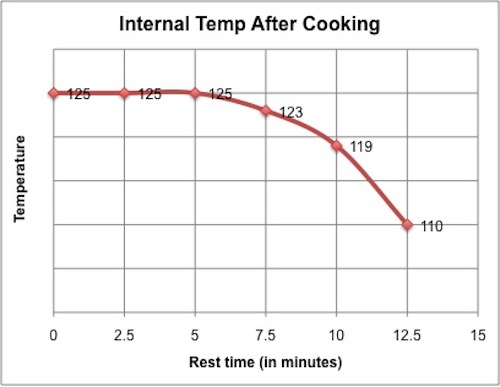 Source: Original Image - Dr. John Anderson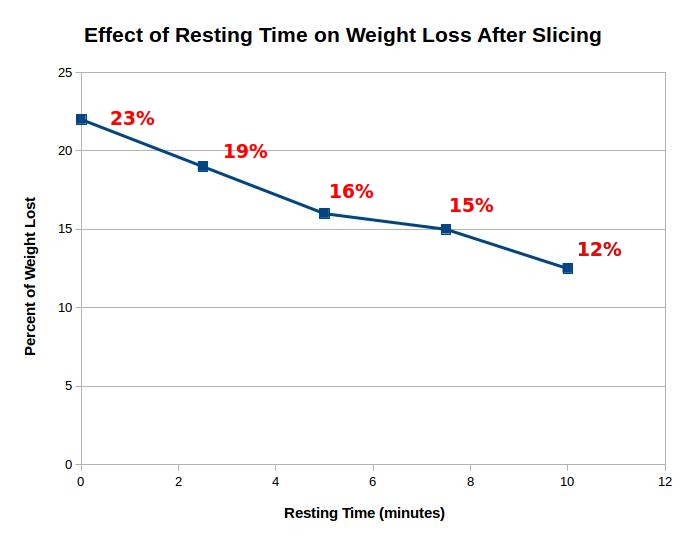 Source: Original Image - Dr. John Anderson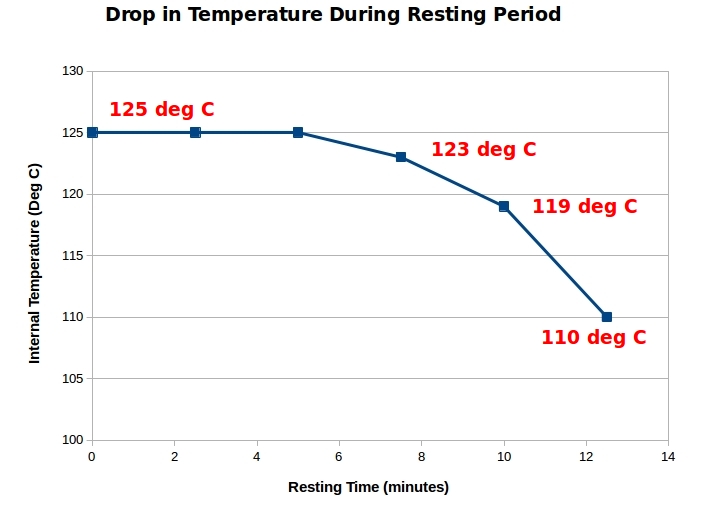 Source: Original Image - Dr. John Anderson
Weight Loss Before and After Resting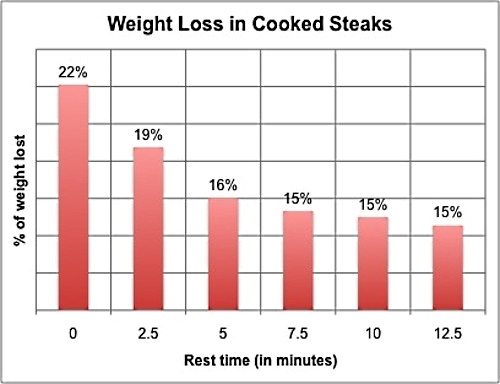 Source: Original Image - Dr. John Anderson
For a piece of steak:
► Loss during Cooking => 15% - mostly moisture by some fat loss as well
► Additional Loss When Cut Before Resting => 9%
► Additional Loss After Resting =>2%
So, resting retains more of the juices within the meat and this increases tenderness.
For larger pieces of meat, such as a roast or leg of lamb the same principle applies.
To some extent, larger pieces of meat retain more liquid internally as there is no cut surface as applies for a piece of steak. But once cut, and served, this moisture is released.
The main difference is that you have to rest a larger piece of meat for longer to allow the temperature to drop to around 125 degrees F (49 degrees C).
How Long Should Cooked Meat be Rested?
General Guides and Rules of Thumb for Cooked Meat Resting Times
There are many rules of thumb you can apply:
► 5 minutes per inch (2.5 cm) of thickness,
► 10 minutes per pound
► 20 minutes per kilo
► Half of the total cooking time
► 1 minute for every 100 g (3.5 oz) of meat.
Best method by Far By Far
► Use your meat thermometer and to allow the cooked meat to rest until the internal temperature has reached 120°F (49°C).
This very simple idea that removes the guess work for various cuts and thickness of various types of meat!
Safe Minimum Internal Temperatures for Cooking Meat and Target Resting Temperature
| Food | Min Internal Temperature (degrees F) | Min Internal Temperature (degrees C) | Resting Temperature/ Minimum time |
| --- | --- | --- | --- |
| Ground Meat and Processed Meat Mixtures | | | |
| Beef; Pork; Veal; Lamb | 160 | 71 | 125 deg F; 49 deg C |
| Turkey; Chicken | 165 | 74 | 125 deg F; 49 deg C |
| Fresh Beef; Veal; Lamb | | | |
| Steaks; roasts; chops; lamb | 145 | 63 | 125 deg F; 49 deg C / 3 minutes |
| Poultry | | | |
| Chicken and Turkey; whole | 165 | 74 | 125 deg F; 49 deg C |
| Poultry breasts; roasts | 165 | 74 | 125 deg F; 49 deg C |
| Poultry thighs; legs; wings | 165 | 74 | 125 deg F; 49 deg C |
| Duck and Goose | 165 | 74 | 125 deg F; 49 deg C |
| Stuffing (cooked alone or in bird) | 165 | 74 | 125 deg F; 49 deg C |
| Pork and Ham | | | |
| Fresh pork | 145 | 63 | 125 deg F; 49 deg C / minutes |
| Fresh ham (raw) | 145 | 63 | 125 deg F; 49 deg C / 3 minutes |
| Precooked ham (to reheat) | 140 | 60 | 125 deg F; 49 deg C |
| Eggs and Egg Dishes | | | |
| Eggs | Cook until yolk and white are firm | | 125 deg F; 49 deg C |
| Egg dishes | 160 | 71 | 125 deg F; 49 deg C |
| Leftovers and Casseroles | | | |
| Leftovers | 165 | 74 | 125 deg F; 49 deg C |
| Casseroles | 165 | 74 | 125 deg F; 49 deg C |
| Seafood | | | |
| Fin Fish | 145 | 63 | 125 deg F; 49 deg C |
| Shrimp; lobster; and crabs | Cook until flesh is pearly and opaque. | | 125 deg F; 49 deg C |
| Clams; oysters; and mussels | Cook until shells open during cooking. | | 125 deg F; 49 deg C |
| Scallops | Cook until flesh is milky white or opaque and firm. | | 125 deg F; 49 deg C |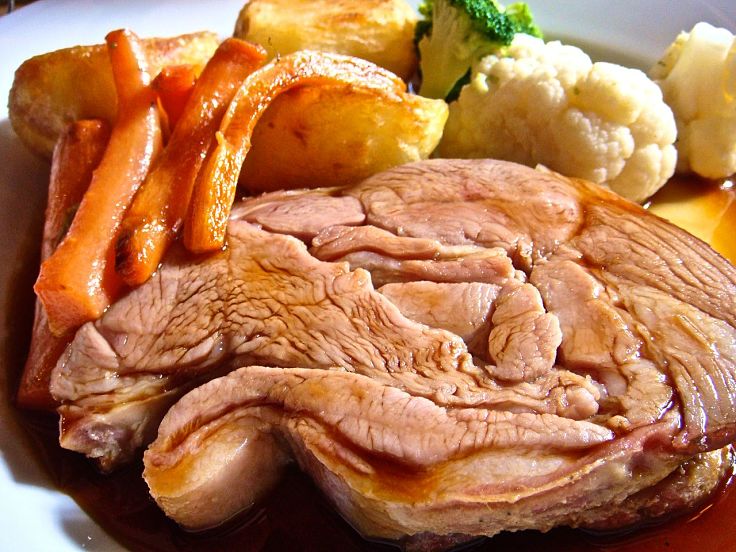 Source:
Simon Doggett [CC BY 2.0], via Wikimedia Commons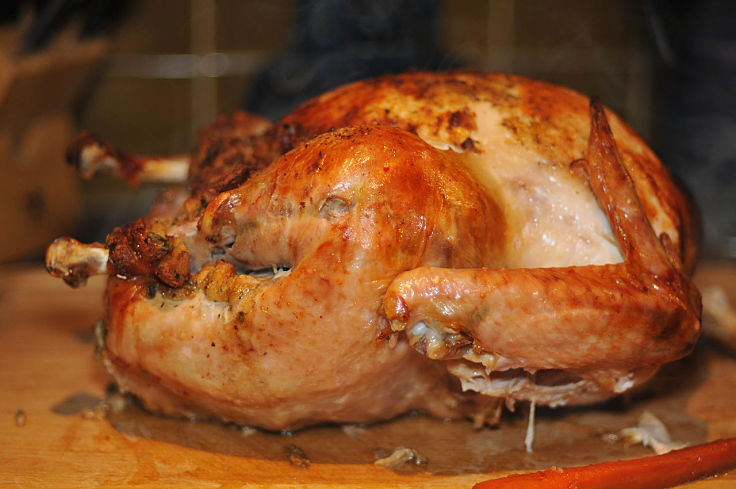 Source:
M. Rehemtulla [CC BY 2.0], via Wikimedia Commons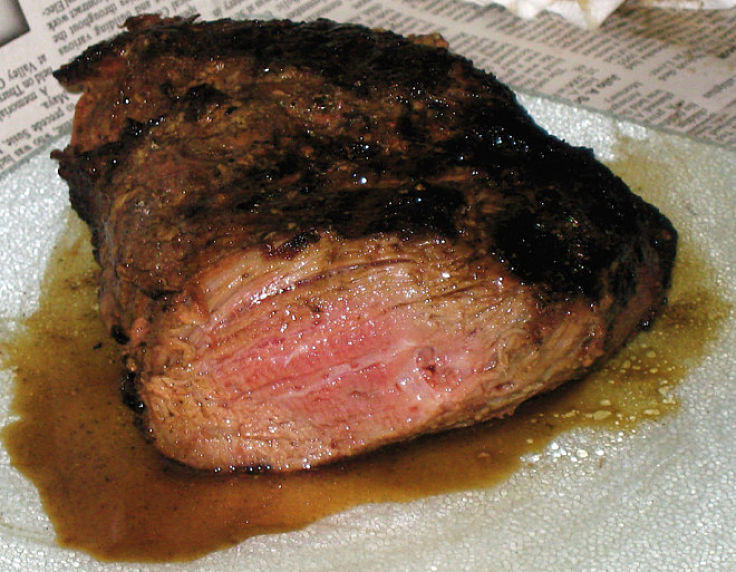 Source:
MCB at English Wikipedia [CC BY-SA 2.5], via Wikimedia Commons