Risotto with Milk Recipes - Savory Italian Riso al Latte
Italian riso al latte is a delightful rice dish with no added sugar. It savory, rather like a rice pudding, or a milky risotto rather than a sweet rice pudding.
It is served as a snack or a lunch dish rather than a dessert, though it can be done that way. The arborio rice is cooked in milk infused with lemon and vanilla. It can also be cooked with a slightly sweetened cappuccino coffee.
People who like Italian Risotto, may like to try this dish.
There are many variations from savory to bitter sweet, to sugary sweet as a dessert.
Learn how to make this wonderful dish. Several of the best ever recipes are provided for your enjoyment.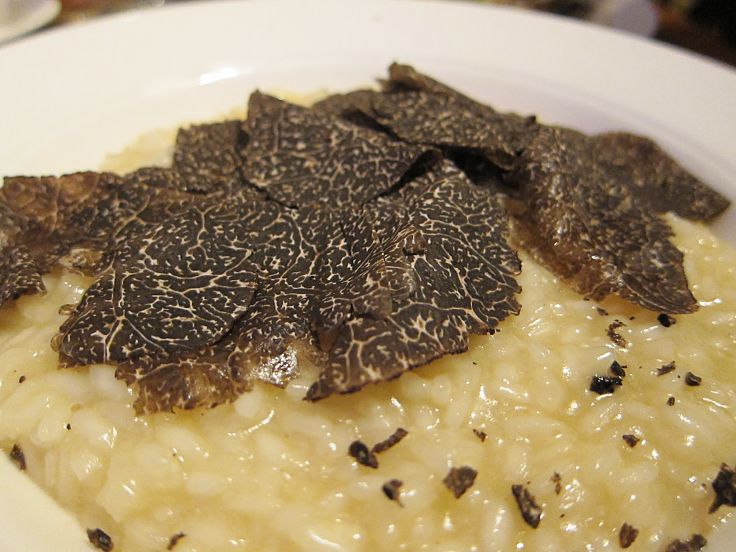 Simple Risotto Milk Recipe
Ingredients
1 large lemon
1/4 cup mascarpone
1 vanilla bean, sliced lengthwise
1 1/2 cups arborio rice or similar
1 tablespoon sugar, less or more to taste
6 cups whole milk (or low fat if preferred)
1 tablespoon olive oil (extra-virgin preferred)
3 slices or stale crusty white bread (dry in oven if not stale)
Method
Using a vegetable peeler, or or similar, removed about half of the lemon peel and add to a saucepan with the milk and vanilla bean. Heat the milk until just before it starts to simmer (bubbles appear around the perimeter). Stir and then set aside to cool for about 60 minutes to allow the flavor of the lemon and vanilla to infuse into the milk. Then, rewarm the milk a little before using. Heat the oven to 350 degrees F (175 degrees C). Place the bread on a baking sheet and toast in the oven until thoroughly dry and golden brown. Remove the bread from the oven and break into coarse bread crumbs.
Using moderate heat, toast the rice in a heavy skillet until fragrant (about 3 to 4 minutes). Mix in the oil. Remove the lemon zest and vanilla bean from the milk. Gradually add the milk to the rice a ladle at a time, waiting for the milk to be absorbed into the rice before adding the next batch. Continue until rice is al dente (generally about 15-20 minutes). Don't overcook the rice. Add a little hot water if the rice is too thick and all the milk has been incorporated. Add the sugar and mascarpone and taste to ensure it has ten texture and flavor you want. Finely add the remaining half of the zest.
To serve, spoon the risotto into bowls and sprinkle bread crumbs on top. You can add some cappuccino coffee and salt to taste.
Venetian Italian Riso al Latte Recipe
Ingredients
6 cups whole milk
1 tablespoon butter
pinch of ground nutmeg
1 1/3 cups arborio rice
salt and pepper to taste
1 shallot, finely chopped
3 tablespoons extra virgin olive oil
4 tablespoons Parmigiano Reggiano, or similar, freshly grated
Method
Using a deep frying pan, Dutch oven, or heavy saucepan, heat the olive oil over medium heat and add the shallots. Sauté the shallots until translucent. Add the rice, and cook for several minutes stirring well to coat all the rice grains. Season with salt and pepper. Meanwhile, warm the milk in a separate pan. Then add small portions of the war, milk to the rice in the pan, stirring and waiting until the milk has been absorbed before adding another portion. Keep cooking over low heat until the rice is just cooked. This will generally take about 25-30 minutes, stirring frequently. Taste to ensure the rice is cooked and add more salt if required. When cooked, add the butter, nutmeg and Parmigiano and stir well to mix through the rice. Serve immediately topped with mint, herbs or a drizzle of coffee.