Salt and Pepper Prawns, Shrimp, Squid, Calamari and Fish Recipes
Many people have tried and enjoyed salt-and-pepper squid or fish at their favorite Chinese restaurant. The good news is that you can make this delightful dish at home by using the recipes and tips provided in this article. It is easy to prepare and cook provided you know how.
The other good news is that the same method can be used for many other seafood ingredients, and also for strips of pork and chicken. The secret is how you prepare the batter, marinate the main ingredients and fry the items. Discover all the secrets here, and try the fabulous recipes provided for prawns, chicken and fish. Enjoy!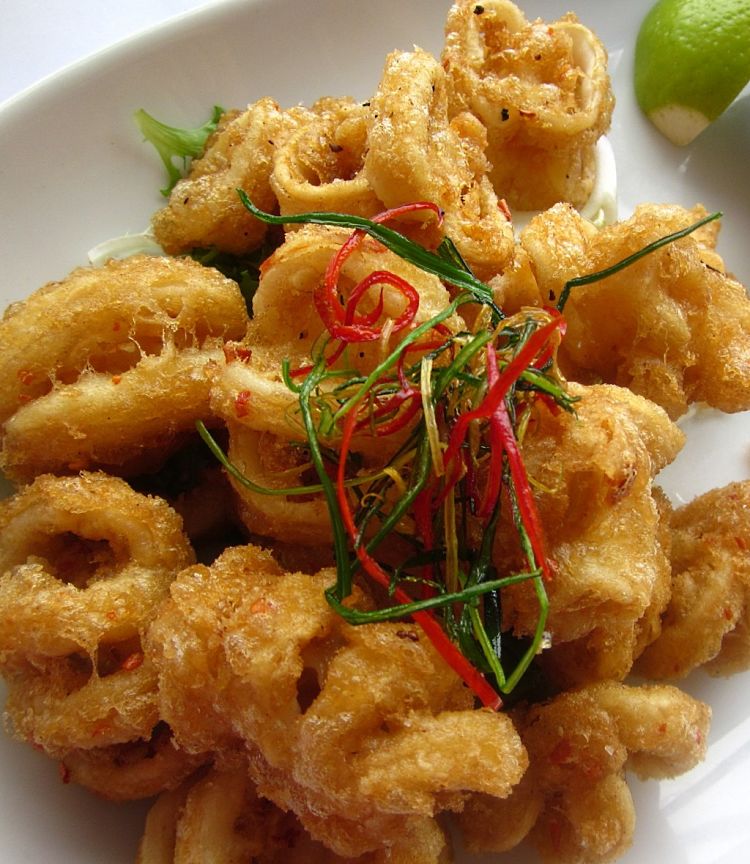 Tips for Preparing Salt and Pepper Squid, Prawns, Octopus Fish and Chicken
The test of an excellent salt-and-pepper dish, served hot straight from the wok or deep fryer is a light, thin, crisp and tangy batter with a golden appearance and a salty, sweet and spicy taste. The chicken or seafood should be tender and 'melt in your mouth'. Here are some tips:
Gently score the elongated squid pieces, so that they curl when cooked, using the classic criss-cross pattern to tenderise the flesh.
The chicken, squid or fish should be relatively firm to create the right texture, rather than mushy. This provides the right slightly 'chewy' texture to pair with the delicate and crunchy batter or coating.
The lighter batter the better. It should also bind to the squid or other meat. Using potato starch and dipping the meat portions in beaten egg before lightly flouring helps to bind the batter and ensures it is crisp.
Obviously cooking at just the right temperature with fresh oil is needed for the perfect batter. Use rice bran oil, grape seed oil or another oil with a very high smoke point and a neutral taste. Inferior oil can ruin a salt and pepper dish.
The seasoning is also critical. While it is called 'salt and pepper', it is in reality 'salt and spice'. As well as salt and pepper (white, Sichuan pepper or freshly ground black pepper), adding tiny amounts of ground ginger, Chinese five-spice, sugar and chilli adds an extra dimension to the taste. It should be 'salty, spicy and sweet' rather than 'salty, sour and too peppery'.
Marinating the squid, chicken, squid and to less extent the fish is essential for taste and tenderness. The meat should be fresh and of the highest quality. Frozen meat can be used but it will always be inferior.
The garnish served with this dish is very important for color, taste and visual appeal. Add tiny fried garlic pieces, fresh chopped chilli, spring onions and a sprinkling of fresh green herbs such as parsley, mint or coriander to improve the presentation.
When frying the oil should be fresh, at the perfect temperature and kept clean by continually use a mesh strainer or spoon to remove excess bits of batter. Fry the portions in batches using enough oil so that the temperature does not drop when the batch of items are added. If the temperature is too low the batter will absorb the oil and become soggy. Too high and the pieces will burn or be cold and uncooked in the center. The ideal temperature is 180 degrees C (350 degrees F). Use a sugar thermometer, used for making jam and confectionery to check the temperature. However, trial and error is required to get the cooking process right as it will depend on your stove, wok size, deep fryer size, amount of oil and many other factors. Once you have perfected the cooking always use the same settings, equipment and processes to ensure a consistent outcome. You can use a wok, but a thermometer is essential if the dish is deep fried. You can use a stir-fry technique after a lot or practice. The wok should be very hot and the items should be stirred vigorously in very small batches, changing the oil frequently. Always cook the squid, other seafood or chicken in small batches. Cooking times will vary depending on type of meat and thickness.
Classic Chinese Salt and Pepper Squid with Chilli and Garlic
Ingredients
rice barn or grape seed oil for frying
1 egg white, moderately whisked
1 red, hot chilli, thinly sliced
200 g (7 oz) squid tubes, cleaned
1-2 garlic cloves, finely chopped
1 spring onion, sliced very thinly
Freshly ground black pepper and salt for serving
Rice bran or grape seed oil for frying (or peanut oil)
For the Coating/Seasoning
1 tablespoon salt
1 cup potato starch
1 teaspoon white sugar
1 teaspoon white pepper
1 teaspoon ground ginger
1/2 teaspoon Chinese five-spice
For the Lemon Dipping Sauce
1/2 teaspoon salt
1 teaspoon white pepper
2 tablespoons freshly squeezed lemon juice
Method
Mix all the coating/seasoning ingredients in a small bowl. Combine all the lemon dipping sauce ingredients in a bowl. To prepare the squid, place the squid tubes on a chopping board and slice through them from the top. Open the tubes and flatten. Score the squid pieces with shallow cuts about 1/3 the way through using a sharp knife. Make the cuts in a criss-cross pattern. Next, cut each flattened squid tube in half lengthwise.

Then, slice into strips about 5-10 mm wide (1/4 inch). Place in a bowl ready for coating and cooking. Whisk the egg white in a small bowl. Pour oil into a wok or deep fryer until one-third full. Heat using high heat until temperature reaches (180 degrees C (350 degrees F). If you do not have a thermometer or a thermostat in your deep fryer, heat the oil until a small cube of bread turns golden brown in 10 seconds.

Add the squid strips to the bowl with the whipped egg and stir well to coat all surfaces. Gradually add small portions of the potato starch coating mixture until the squid pieces are well coated, and feel quite dry. But the coating should be very thin and not a batter. Fry the squid in small batches until crisp and brown in color (about 3 minutes for each batch). The batter should feel firm when tapped with a wooden spoon. Remove the cooked pieces with a slotted spoon and transfer to a colander lined with paper to drain. Place the colander in a moderate oven to keep the squid hot until all the batches have been cooked. Heat a little oil in a small frying pan until very hot.

Stir fry the garlic, onion and chilli and garlic. Remove and sprinkle over the squid. Serve immediately with the dipping sauce and topped with spring onion, fried garlic and herbs.
Salt and Pepper Shrimp/Prawns Recipe
Ingredients
1 1/2 teaspoons salt
3 tablespoons cornstarch
1 cup rice bran or grape seed oil
1 teaspoon freshly ground black pepper
1 teaspoon Sichuan peppercorns, ground
1 1/2 pounds (750 g) of large prawns with shell-on
1 hot red chilli, finely sliced (seeds removed if desired)
1/2 cup fresh cilantro leaves (or mint or other fresh herbs)
Method
Cut along the backs of the prawns, leaving the shells on to expose the veins. Remove the veins and pat the prawns dry with paper towels. Pat shrimp dry. Combine half the salt, cornstarch and black pepper in a bowl. Add the prawns and toss to coat all surfaces with the coating. Heat the oil in a large skillet or frying pan until a small cube of bread becomes crisp and brown in 10 minutes. Fry the prawns in small batches until they are golden in color, crisp and cooked in the center. This generally takes about 1 minute per side. Transfer the cooked prawns to paper towels and let drain, then toss in a medium bowl with Sichuan peppercorns and remaining 3/4 teaspoons salt. Add chilli and cilantro to bowl and toss to combine.
Salt and Pepper Fish Fillet or Pieces
Ingredients
Salt to taste
4 hot chillies
3 cloves garlic
1/2 teaspoon sugar
Freshly ground black pepper to taste
1 teaspoon fresh ginger, finely chopped
1 tablespoon of Chinese cooking wine or Sherry
Chives or spring onions for serving, finely chopped
2 tablespoons of rice bran or grape seed oil, or peanut oil
2 pieces of white fish fillet (firm thin fillets or strips)
For the Fish Marinade
1 egg white
1/2 teaspoon salt
1/2 teaspoon pepper
2 tablespoons corn flour
1 tablespoons of Chinese cooking wine or Sherry
Method
Cut the fish fillets into strips and cut into bite-size pieces. Combine the marinate ingredients in a bowl, add the fish, stir to coat all surfaces and set it aside in the refrigerator for 15-30 minutes. Put some rice bran or grape seed oil in a heavy frying pan or wok and fry the fish on high temperature setting until golden brown. Remove and drain fish pieces using paper towel. Using the same frying pan, stir-fry the chilli, garlic and ginger, until fragrant. Add in the fried fish to the pan and sprinkle the salt, pepper and sugar over the fish. Stir and fry briefly. Finally, add a dash of Chinese cooking wine or sherry and toss. Serve immediately sprinkling the fish with finely chopped red chillies, chives, spring onions or mint.
Salt and Pepper Baby Octopus Recipe
Ingredients
2 tablespoons salt
2 cups tapioca starch
2 tablespoons fish sauce
1 teaspoon dried chilli flakes
1 tablespoon crushed coriander seeds
2 tablespoons freshly squeezed lemon juice
1 tablespoon crushed white or green peppercorns
1 kg (2 lb) baby octopus, cleaned and sliced into small pieces
Method
Place the baby octopus pieces, fish sauce and lemon juice in a bowl, mix well and set aside to marinate for 30 minutes. Then, drain and pat dry the octopus. Add the salt, pepper, chilli, coriander and cornflour in a large sealable plastic bag (freezer bag). Toss to combine and then add the octopus and shake well to coat all the surfaces of the octopus. Transfer the octopus to a sieve or colander and shake well to remove any excess flour. Heat the oil in a wok or deep-fryer to a temperature of 190 degrees C (375 degrees F). Fry the octopus in small batches for only 1-2 minutes, until crisp and brown on the outside, and tender and cooked inside.
Salt and Pepper Chicken Breast Strips Recipe
Ingredients
1/4 cup plain flour
1 1/4 teaspoon salt
2 sprigs onions, finely sliced
1 teaspoon dried chillies or flakes
3 medium size chicken breast fillets
1/4 teaspoon Chinese five-spice powder
1/2 cup rice bran, grape seed or peanut oil
2 cloves of garlic, finely chopped or crushed
3/4 teaspoon freshly ground white, green or black pepper
Method
Combine the flour and spices in a small bowl. Slice the chicken into 1 cm (1/2 inch) strips. Toss in the flour and spice mixture to coat all surfaces. Then, transfer the chicken to a colander or sieve and shake to remove any excess flour. Heat a wok or heavy frying pan to a high temperature. Add enough oil to thinly cover base and heat to very high temperature (just starting to smoke). Fry the chicken pieces in small batches using high heat until golden and cooked inside. Add the garlic, chilli and chopped shallots to pan, toss through and stir-fry for 1 minute. Remove and drain on paper towels. Serve hot with chopped herbs, chopped red garlic and finely chopped onion.