Seafood San Choy Bau Recipe with Pine Nuts, Mushrooms, Coriander
This is a delightful alternative to the traditional san choy bau that features seafood to replace some or all of the traditional pork mince. The recipe also includes pine nuts, mushrooms, coriander, ginger and garlic that add a kaleidoscope of flavours to this dish.
It is a fabulous appetiser or can be served as a light meal for lunch and dinner with other dishes. Choose fresh seafood items that you like and are readily available locally. Various herbs can be used instead of the coriander (cilantro) and chillies can be added to make a spicy version that accentuates the delicate flavour of the pork and seafood.
Ingredients
1 egg white, beaten
1 teaspoons sesame oil
2 tablespoons pine nuts
2 tablespoons rice wine
2 garlic cloves, crushed
2 tablespoons oyster sauce
2 tablespoons vegetable oil
2 tablespoons light soy sauce
6 small dried Chinese mushrooms
2 teaspoons cornflour (cornstarch)
3 spring onions (scallions), finely chopped
2 teaspoons fresh ginger root, finely shredded
225 g (8 oz) can water chestnuts, drained, finely chopped
Coriander (cilantro) leaves, to garnish (or other fresh herbs)
350 g (12 oz) skinless ocean trout fillet, bones removed, diced
600 g (1 1/3 lb) raw king prawns (shrimp), peeled, de-veined and diced
Iceberg lettuce leaves for serving, with a bowl shape. Remove the thicker ribs, wash and drain off extra water

Method for Cooking and Preparation
Place the dried mushrooms into a small bowl, just cover with boiling water and set aside to soak for about 30-45 minutes, until soft. Drain, but keep about 2 tablespoons of the liquid. Then finely chop the mushrooms.
Toast the pine nuts to release their flavour by heating over moderate heat in a small, dry heavy-based frying pan, shaking frequently. This generally takes about 2–3 minutes for the pine nuts to become golden brown in color, but take care not to burn them. Set aside to cool.
Next, using a fork, combine the cornflower, egg white, fish and prawn meat in a bowl. Add the oyster sauce, soy sauce and rice wine and mix well. Using another small bowl, combine the chopped mushrooms with the garlic, water chestnuts, ginger, spring onions and sesame oil.
Heat a wok over a high heat, add the vegetable oil, and stir fry the mushroom mixture for 3-4 minutes, or until the spring onions have begun to soften. Add the fish and cornflour mixture to the wok and cook, stirring frequently. Cook for about 3 minutes, until the fish and prawns are just cooked. Add a some of the reserved mushroom liquid if the mixture becomes dry.
Serve the fish and seafood mixture on a platter and top with the pine nuts and coriander (or other chopped herbs). Provide the lettuce leaves on another platter for the diners to assemble for the san choy bau.
Fabulous seafood San Choy bau is easy to make using this recipe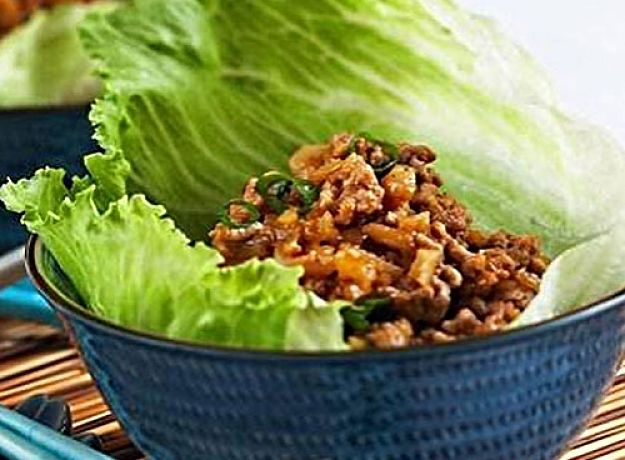 Seafood San choy bau is good to try as a variation to pork mince, especially with added herbs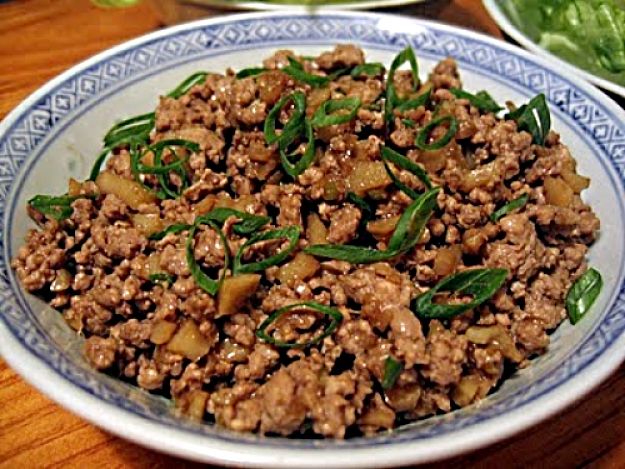 San choy bau is a lovely dish as an entree or as a light meal for lunch or dinner