Easy and Simple Tips for Making Perfect Homemade Rice Paper Rolls
Rolling food in rice-paper squares is not rocket science. But there are four tricks for making the perfect rolls at home, every time.

You can roll a whole range of foods in rice wrappers from savory to sweet. Think beyond the traditional Thai rolls and use your imagination.

They are great for all sorts of cold meats, seafood and vegetables, and even left overs like salads. Mango strips, strawberries and berries are ideal.

Fresh herbs are a must and adding crunchy vegetable strips and fruit such as pears and apples makes a delightful texture that adds to the appeal.
Four Tips for Making Perfect Rice Paper Rolls
1. Make sure that the filling is to not too moist (dry on paper towels).

2. Always roll the ingredients after placing the soften roll on a tea towel. This helps to absorb excess moisture and gives that non-slippery texture that most people prefer.

3. Soften each rice paper wrapper in bowl of warm water (not hot), for about 1 minute, or until they are soft and pliable. Don't leave them too long or they will tear easily.

4. Add the filling in layers and cut the ingredients into long strips. This helps retain the roll shape and contents intact when they are being eaten.

Below is one recipe idea.
Tempeh, Tomato, Avocado and Lettuce Rice-Paper Rolls
1 cup shredded lettuce
1/2 ripe avocado, thinly sliced Salt and freshly ground pepper to taste
1/3 cup of fresh mint or coriander leaves
1 large tomato, sliced and then halve each slice
3 oz tempeh, sliced and lightly fried in olive oil until brown
8 square rice-paper wrappers, individually soaked in warm water for about 1 minute

Soften each wrapper in warm water for a minute just before using. Place each wet wrapper in turn on a clean, dry tea towel to absorb excess moisture. Beginning close to one edge, add the ingredients in layers, leaving a margin of 1/2 inch (1 cm) around the ends. Fold in the side and roll tightly. Serve with a sauce or vinaigrette. The contents should be densely packed and the outer surface of the roll quite dry, and definitely not slippery or soggy.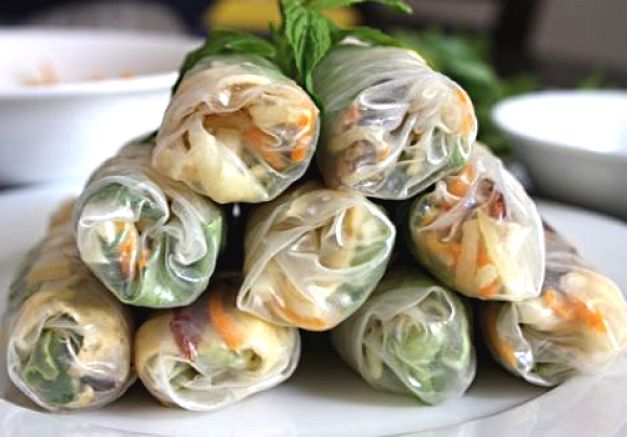 You can make delightful and healthy paper rolls using this recipe and tips - so easy!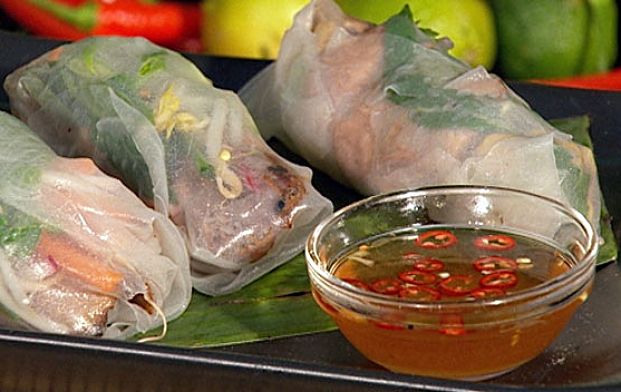 Discover four tips for making perfect rice paper rolls at home!