Slow Cooked Lamb Shanks Masala Recipe with Ginger and Spices
Lamb shanks, slow-cooked is one of the most favorable, tender meats imaginable. The dense meat falls off the bone to yield a tenderness that is not possible with other cuts of lamb.
This recipe is unusual in having an array of spices combined with ginger, tomatoes and coriander leaves. It is a delightful dish that the entire family will love. You can adjust the chillies and pepper to suit your diner's preferences.
The dish best cooked in a crock pot or slow cooker appliance, but you can use a deep pan with a lid or a Dutch oven set over a hot plate at very low temperature or suspended on a wire frame. You can also cook it in a slow oven.

The lamb should be cooked until it starts to slip off the bone, or when a thin skewer inserted into the thickest part runs clear or with a faint tinge of pink. However, don't overcook the meat.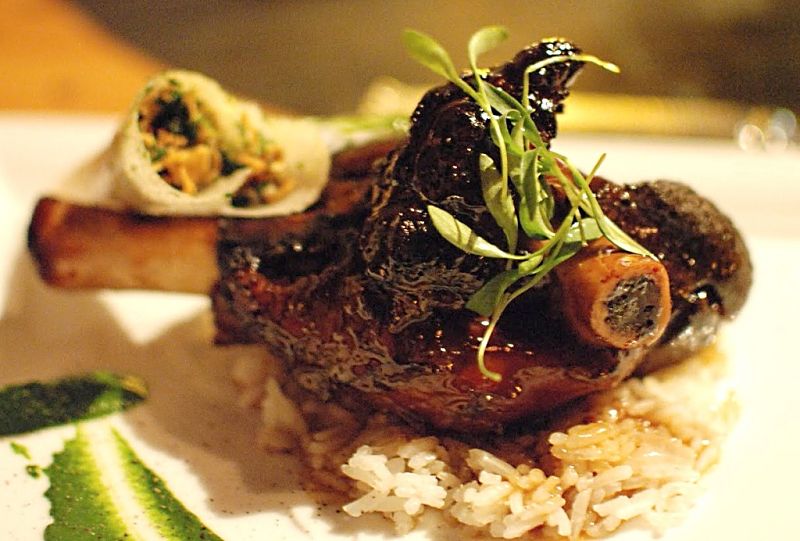 Lamb Shanks Masala Recipe
Ingredients
1 tablespoon coriander seeds
4 green cardamom pods, split
1 teaspoon black peppercorns
50 g (2 oz) fresh ginger, roughly chopped
2 pieces 2.5cm long (1 inch) cinnamon sticks
250 g (8 oz) fresh tomatoes, roughly chopped
6-8 large red chillies, cut into small pieces
2 tablespoon coriander leaves, roughly chopped
1 1/2 kg (3 lb) of lamb shanks (or the outer end of a leg of lamb), with fat removed
Method
Roast the coriander seeds, cumin and red chilli over a low heat in a dry frying pan for 30-45 seconds to release the flavors and aroma. Transfer to a plate to cool.
Using a mortar and pestle or a small food processor, grind the garlic and ginger together. This add the roasted spices and a splash of water to make a thick paste. Set aside while preparing the other ingredients.

Peel the potatoes and set aside covered in cold water. Using a large pot or frying pan, with a little oil, brown the lamb on all sides until a deep brown i color on all sides. This brings out the flavor and helps seal the lamb.
Remove the lamb from the pan and briefly fry the cardamom pods, cinnamon, cloves and black peppercorns. Add the onions with a little extra oil if required. Cook the onions for about 5 minutes until starting to become transparent and soft. Add the paste made previously.

Next, preheat the oven to 150 degrees C (300 degrees F). Cook the lamb in the oven covered for 30 minutes then turn the meat over, adda little water and cook for another 15 minutes. Coat all pieces of lamb with the paste and cook for another 30 minutes. The lamb should be approximately half cooked.
You can also cook in a slow cooker using the lamb settings for about 2/3 of the recommended time. remember that the lamb pieces are thinner than a leg of lamb and will take much less time to cook. Add extra water if required.

Next add the potatoes can cook for about 15 minutes, then add the tomatoes, stir and cook for 20-30 minutes until the meat is cooked (test with a skewer). Adjust the seasoning, add the chopped coriander and serve with steamed rice and vegetables.