Slow-Cooked Moroccan Lamb Tagine Recipe with Dates, Raisins and Spices
The secret to a Moroccan Lamb stew or tagine to choose the more flavorsome cuts of meat and to slow-cook it to just the right stage. The best meat is lamb shanks, but you also use leg, lamb chops, shoulder and even bone-free lamb steaks.
The meat should be cooked until it is almost falling off the bone. Stews can be overcooked. The meat will become stringy and too soft. So while most slow-cookers are set and forget, you need to test the meat regularly to check whether it is done.
This recipe combines the sweet taste of the dates, raisins and onions, with the spicy, Umami taste (savory) taste of ginger, cayenne pepper, paprika and cumin. Moroccan Lamb Tagine is usually served with whole wheat pita, Indian breads or Arabian style flatbread. It can also be served with mashed potatoes or couscous.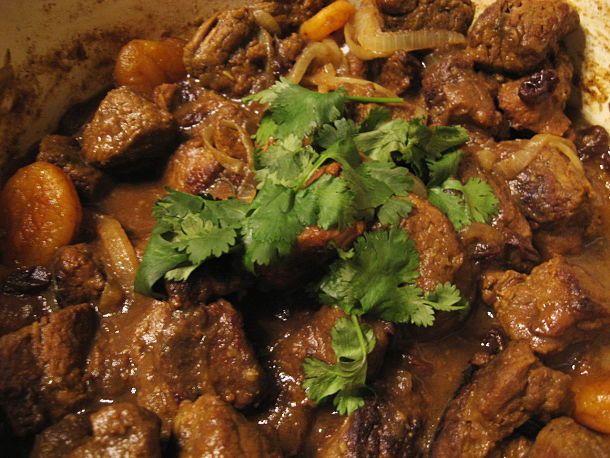 Slow-Cooked Moroccan Lamb Tagine Recipe
Ingredients
1 tablespoon tomato paste
1/2 cup pomegranate seeds
1/2 cup finely chopped dates
6 cloves of garlic, finely chopped
Salt and freshly ground pepper to taste
1-2 tablespoon freshly grated ginger root
1 piece cinnamon stick (about 2 inches; 5cm long)
1 large onion, finely sliced into rings (about 2 cups)
3 large lamb shanks, or about 4.5 pounds (2.5 kg) of other lamb meat
1/2 cup raisins, soaked in hot water for 30 minutes to soften, and then drained
Method
Trim the lamb shanks (or other lamb meat) of excess fat. Rub generously with salt and pepper and set aside. Mix together the paprika, cumin, garlic and chopped fresh ginger in a small bowl and rub it all over the shanks. Cover and set aside at room temperature, as a marinading process for 60-90 minutes, or overnight in the fridge.

Using a deep, heavy frying pan of Dutch oven, fry the onions until that have started to soften in the butter. Add the salt, saffron and tomato paste, then mix and cook for one minute. Lower the heat under the pan to medium. Add the seasoned shanks and cook for about 10 minutes, until both the meat and onions have browned. Add the chopped dates, cinnamon stick, dried ginger and enough warm water to barely cover the lamb in the pot. Bring to the boil, then lower the temperature to a simmer and cook for 10 minutes.

Heat oven to 400 degrees F (200 degrees C). Cover the pot with the lamb stew and bake for about 30 minutes. The reduce the heat to 350 degrees F (173 degrees C). Add more water if required and then bake for another 60 minutes. Test the meat for doneness with a skewer or knife. The lamb should be tender and just about to start falling off the bone. Add the raisins, dates, cilantro sprigs and pomegranate seeds at the last moment, and serve.

Note: This dish can also be cooked in slow-cooker.
Related Articles on Cooking Lamb and Recipes
=> Q&A: How to Slow Cook Pork, Beef, Chicken, Lamb, Beans - Recipes
=> Kabob Marinade Recipes and Sauces for Lamb, Beef, Pork, Chicken, Shrimp
=> Best Mulligatawny Soup Recipes for Lamb, Chicken, Vegetarian Varieties
=> Jamaican Jerk Spices Rub Recipes for Pork, Beef, Lamb, Turkey, Chicken and Fish
=> Slow Cooked Lamb Shanks Masala Recipe with Ginger and Spices
=> Best Lamb Fillet Recipe Options - Spiced, Herbed, Moroccan, Garlic and Rosemary
=> Health Benefits Chicory, Nutrition Chart and Chicory Lamb Recipe
=> Braised Beef, Pork, Lamb and Chicken - Tips, Guides and Recipes