Spanish Romesco Sauce and Romescada Fish Stew Recipes
Romesco is a delicious, spicy dark red sauce that originated in the Catalan region of Spain. It is very popular as a sauce for fish and seafood, dips and for serving with cooked vegetables.
It has a unique combination of red peppers (dried or freshly grilled), wine vinegar, roasted nuts such as almonds or hazelnuts, garlic and often stale bread that has been grilled in olive oil.
These ingredients are ground together of blended to make a thick sauce with the consistency of mayonnaise. The bread provides the thickening.
The same ingredients can be used to provide the basis for a spicy fish stew.
This article shows you how to make Romesco sauce at home and includes a Romescada fish stew recipe and many other recipes and variations for enjoying this sauce.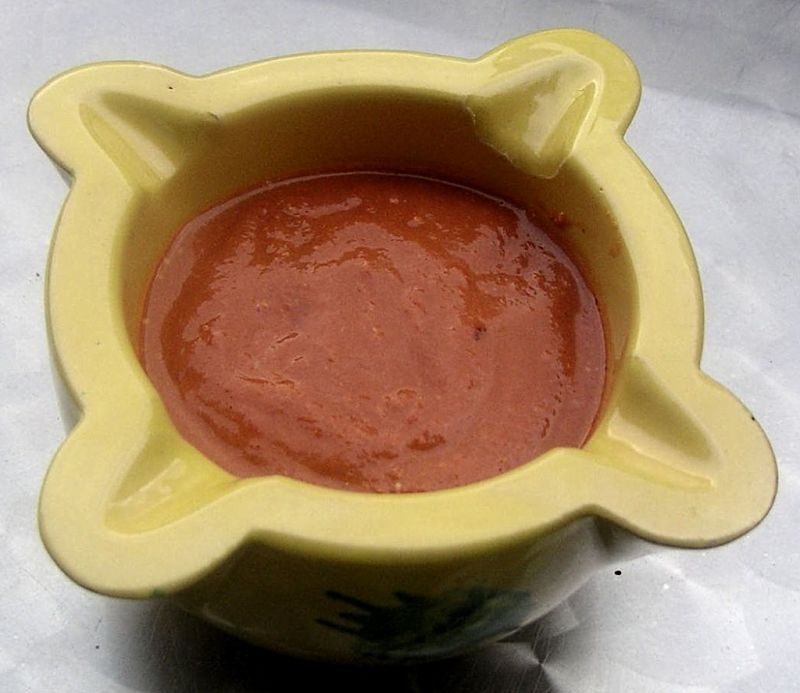 Basic Romesco Sauce Recipe
Below is the basic recipe for the sauce. There are lots of variations including adding leaves of fennel or mint or other herbs, as well as using other nuts. This sauce is very versatile and can be used with poultry, pork or lamb (grilled or roasted) and is especially suitable for all types of seafood. The following recipe is for the common variety that is based on slow-roasting garlic and tomatoes to enhance their flavors.
Ingredients
1/4 cup blanched almonds
3 tablespoons red-wine vinegar
4 ripe tomatoes (medium-size)
2 tablespoons light tasting red wine
1 teaspoon salt or a little more to taste
1 slice stale white bread, torn into pieces
1 head garlic, halved crosswise with a knife
1/4 cup peeled hazelnuts (or other similar nuts)
2 tablespoon extra-virgin olive oil (extra 1/3 cup for cooking)
1 dried ancho chili (or other chilies), cored and with seeds removed
Method
Heat the oven to 190 degrees C (375 degrees F). Place one half-head of the garlic head in a baking pan and add the tomatoes, and drizzle on about 1 tablespoon of olive oil. Roast the garlic and tomatoes until lightly caramelized but not dark. This generally takes about 90 minutes. Remove the cloves from the other half head of garlic and place in a food processor. Meanwhile heat about one tablespoon of olive oil in a small sauté pan. Add the hazelnuts and almonds, and toast until golden brown in color. Mix regularly to stop any burning. Sear the chili in a hot pan to release the flavor and add to the food processor. Allow the dried garlic and tomatoes to cool before adding them to the food processor. Remove the skins from the tomatoes. When cool add the tomatoes and garlic to the garlic and chili in the food processor bowl. Add the salt and while the processor is running, slowly add the remaining 1/3 cup olive oil in a slow, steady stream. This process is similar to making mayonnaise and ensures a smooth consistency. Add the vinegar and bread and pulse to mix in with the other ingredients. Taste the sauce and add more salt and vinegar if needed. The sauce should be quite thick and have a creamy consistency. If it is too thick add a little more wine. If it's too thin, add a little more bread.
Classic Spanish Romesco Sauce Recipe
Ingredients
for the Sauce
1/4 cup tomato purée
1 garlic clove, smashed
1 teaspoon smoked paprika
1/2 teaspoon cayenne pepper
2 tablespoons Sherry vinegar
1/2 cup slivered almonds, toasted
2 tablespoons chopped flat-leaf parsley
1 large roasted red bell pepper from a jar
For the Seasoning
1/2 teaspoon sea salt
1/2 cup extra-virgin olive oil
1/2 teaspoon of freshly ground black pepper
Method
Pulse the sauce ingredients in a food processor until finely chopped. With motor running, slowly add the oil and process until smooth. Season with salt and pepper.
Romescada Fisherman Stew
Ingredients
1 large leek (chopped)
2 cups white wine
1 medium onion, sliced
1 tablespoon of olive oil
1 small bunch of parsley or mint
4 lb (2 kg) firm-fleshed, white fish fillets (other seafood can also be used)
1/2 cup Romesco Sauce (using the above recipe)
4 fresh sprigs of thyme (or 1 teaspoon of dried thyme)
Method
Place the fish fillets in a large pot and add the onions, chopped leek greens, parsley, thyme. Pour in the white wine. Beat 2 eggs and add to the pot. Add enough water to just cover the fish. Bring the mixture to the boil and simmer gently for about 45 minutes. Next strain the broth through a sieve and set aside. Add the olive oil to a hot skillet and add 1/2 cup of Romesco Sauce. Fry while stirring for about 2 minutes to release the flavors. Take 2 cups of fish stock and mix with the sauce to liquefy it. Gently, add the fish fillets into the liquid in the skillet. Cover with a lid and poach for about 5-10 minutes until the fish is just cooked right through. When cooked, distribute the fish into serving bowls. Then heat the remainder of the broth in the skillet and add to the bowls. Sprinkle parsley on the top and serve hot.
Traditional Catalan Fish Stew Recipe
Ingredients
1 onion
1 bay leaf
1 stick celery
1/2 red pepper
1 small carrot
1 pinch saffron
1/2 small onion
1 lb (450 g) clams
1/2 cup white wine
1 1/2 cups fish stock
2 tablespoons olive oil
2 cloves garlic (large)
1/2 teaspoon dried thyme
1/2 teaspoon fennel seeds
3 tablespoons ground almonds
3 tablespoons ground hazelnuts
1 tablespoon tomato paste/puree
3/4 lb (340 g) monkfish or similar
1/2 teaspoon Spanish paprika (sweet)
1 cup fresh parsley, roughly chopped
3/4 cup finely chopped tomatoes (fresh or canned)
1/2 lb (225 g) prawns or shrimp , with the shell on
1 dried nora pepper or 1 dried ancho/California pepper
Method
Make your own stock by de-shelling the shrimp orprawns. Place the shells and heads in a pan with the onion, carrot and celery and cover with around 3-4 cups of water. Bring to a boil, then reduce the heat and simmer steadily for about 30 minutes. Meanwhile, remove the seeds from the California pepper, break into pieces and place in a small bowl. Cover with boiling water and leave soak for about 30 minutes.
Next, finely dice the onion and slice the red pepper into half-length strips. Finely chop or crush the garlic. Slice the fish into medium size cubes. Cook the onion in a heavy pan with a little oil and add the soaked dried pepper after draining. Add the garlic, chopped dried pepper, fennel seeds, red pepper and thyme to the onion and cook for 5 minutes. Then add the tomatoes, wine, bay leaf, paprika, saffron and tomato paste and stir.
Add 2 cups of homemade stock or a good quality alternative stock. Cook for around 10-15 minutes until the volume reduces a little. Next, add the almond and hazelnut flours and stir in well to thicken the sauce. Add the clams, monkfish and shrimp or prawns and cook gently until all of the fish and seafood has changed to translucent and the clams are open. Sprinkle over a little parsley and serve hot with fresh crusty bread.
Spanish-Style Stuffed Calamari with Romesco Sauce
Ingredients
1 lemon juice and zest
1 teaspoon smoked paprika
1/4 cup wholemeal couscous
1 tablespoon capers, chopped
2 tablespoons chopped parsley
2 cloves garlic, finely chopped
1 tablespoons extra-virgin olive oil
2 medium calamari hoods, cleaned and dried
1/2 teaspoon salt and black pepper to taste
300 g (6 oz) jar fire roasted piquillo peppers, drained well
2 tablespoons slivered or blanched almonds, lightly toasted
Steamed green beans or a green salad, to serve
Method
Prepare the Romesco Sauce by placing the almonds in a small food processor and process until finely chopped. Add the garlic, olive oil, piquillo peppersand half each of the parsley and paprika. Season to taste and then process to a smooth paste. Add about 3–4 teaspoons or lemon juice, tasting to enough the flavor is right. Transfer the mixture to a small saucepan. Simmer over low heat for 5 minutes. Adjust the seasoning with lemon juice and salt.
Place the couscous in a small bowl with 1/4 cup of boiling water. Stir and then set aside for 5 minutes. The combine all the ingredients with the couscous, parsley, paprika, capers, 2 tablespoons of the romesco sauce. Add the lemon rind and 2 teaspoons of lemon juice.
Next fill each calamari hood with the couscous and sauce mixture and secure the end with a toothpick. Brush the calamari with olive oil, season to taste and then bake in a hot oven or broiler about 3-5 minutes for each side until golden and tender. Serve the calamari slices with romesco sauce and fresh herbs and the green beans.
Related Articles on Sauces and Great Sauce Recipes
=> 10 Easy Butter Sauce Recipes and Cooking Tips
=> 14 Best Nut Sauce Recipes: Peanut, Almond, Pecan, Macadamia, Walnut, Cashew
=> Collection of Best Sauce Recipes for Fish Fillets
=> Homemade Horseradish Sauce Recipes, Other Uses for Fresh Horseradish
=> How to Make Lemon Curd, Recipe for Lemon Butter Sauce for Fish Sauce
=> Lemon Sauce Recipes - Sweet, Savory, Sour, Spicy, Tangy
=> Make Buffalo Wing Sauce at Home - Quick, Easy Recipes
=> How to Make Garlic Sauces, Aioli, Toum - Best Sauce Recipes, Tips, Variations
=> Pesto Sauce Variation Recipe Collection - Gremolata, Chimichurri, Parsley & Other Herbs