Spicy, Savory, Easy Pumpkin Pie with Molasses, Almond Flour, Yogurt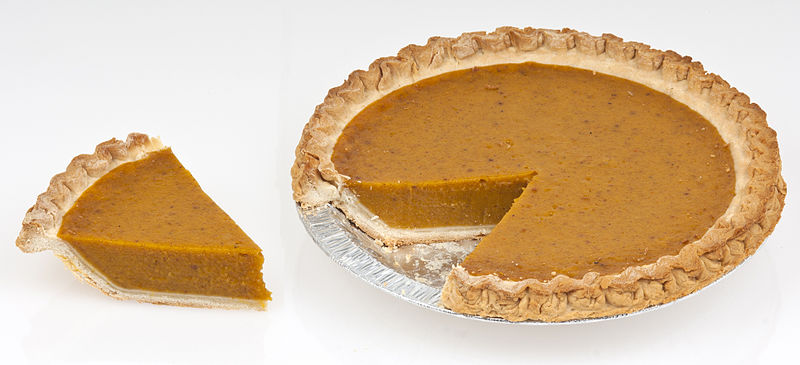 Evan-Amos (Own work) [CC-BY-SA-3.0], via Wikimedia Commons
This simple and delicious pumpkin pie is easy to make
Pumpkin pie can be too sweet and lack flavor. This recipe has lots of spices to add intrigue and the molasses reduces the sweetness. Using almond flour in the filling means this pie can be gluten free with the right homemade or bought gluten free base. Using fresh roasted pumpkin add to the taste and enjoyment of this family favorite dish. Enjoy!
Ingredients
1 1/4 cups milk
3 free range eggs
1/4 teaspoon salt
1 tablespoon molasses
2 tablespoons almond flour
1 teaspoon vanilla extract
1/4 teaspoon ground cloves
2 teaspoons ground cinnamon
1/2 cup brown sugar (packed)
2 tablespoons thick Greek yogurt
1/2 teaspoon freshly grated nutmeg
1 1/2 cups roasted pumpkin (mashed or pureed)
1/2 teaspoon ground ginger (or one teaspoon for fresh ginger finely chopped)
1 gluten-free dessert pastry shell (or a conventional crust of your choosing), (about 9-inch; 20 cm size in pie pan (unbaked).
Method
Preheat the oven down to 350 degrees F (175 degrees C). Beat the eggs in a large bowl and brush the pastry all over with the beaten egg. Place the empty pie shell in the oven on the bottom rack and pre-bake for about 5-8 minutes. Remove and set aside to cool.

Mix together the pumpkin with the almond flour, molasses, vanilla, brown sugar, cinnamon, ginger, cloves, nutmeg and salt. Transfer to a saucepan and heat gentle over moderate heat, until the mixture starts to bubble. Then reduce the heat to very low and cook for another 2-3 minutes stirring constantly. Remove from the heat, let cool slightly. Then using a hand mixer or food processor blend in the milk, eggs and yogurt until the mixture is well combined and very smooth.

Spoon the pumpkin mixture into the pie shell. Place the pie pan on a baking sheet and bake for 45 - 50 minutes, until a knife poked into the center comes out almost clean. Don't over bake the pie as it will dry out, crack and lose its soft texture. Remove from the heat and set aside on a rack to cool. Serve warm.