Steak Diane Sauce Recipes for Filet Mignon
Steak Diane is traditionally a dish made from pieces of filet mignon steak that are pan-fried over high heat. The Diane sauce is made from the seasoned pan juices, using butter, cream, shallots, beef stock and Worcestershire sauce, which is usually flambéed with brandy or cognac. This sauce is then poured over the steak prior to serving. Steak Diane has a reputation as a premiere dish served in the best restaurants. It is often being cooked directly at the table from the best finest tenderloin beef pieces known as filet mignon. However, it can be easily cooked at home. The keys to success are using high quality beef and properly prepared Diane sauce. The filet mignon needs to be pan-fried at high temperatures to retain is tenderness and flavour and is normally served medium rare.

Steak Diane has an interesting history. Cooking and serving game meat such as venison with spicy sauces has been practiced since ancient times. The description "a la Diane" was used to describe game dishes dedicated to the goddess Diana (the huntress). Steak Diane was originally a venison dish, and the distinctive sauce was designed to complement the rather sweet flavor of fresh deer meat. The original dishes, for 'Steak au Poivre' (pepper sauce), were found in both British and American cookbooks dating from the 1880s. The term Diane Sauce was first mentioned in 1907 by Escoffier in his 'Le Guide Culinare'. It describes lightly whipped of cream being added at the last moment to seasoned and reduced Sauce Poivrade, with pieces of truffle and hard-boiled white of egg.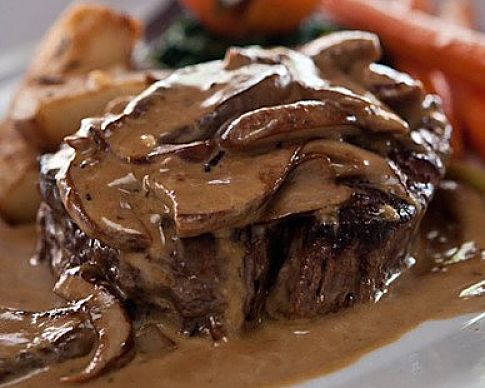 The modern version of Steak Diane made using filet mignon probably originated in America in the early 1960s, when French cooking became very popular. Rich wine sauces and flamboyant presentation became the norm for many top restaurants at this time. A recipe for Steak Diane appeared in the New York Times Cookbook 1961 edition, but the sauces was not flambéed. The French Chef Cookbook dating from 1968 has a similar recipe for 'Steak au Poivre' (pepper steak) with the option of an optional flambeed sauce.

Easy Creamy Steak Diane
4 (about 120 g each, 2 cm thick; 4 oz each, 1 inch thick ) beef fillet steaks or center-cut Beef Tenderloin (Filet Mignon) medallions
40 g (1 oz) butter
2-3 cloves of garlic, crushed
4 eschalots (French shallots), very thinly sliced
1 1/2 tablespoons brandy
1 tablespoons Worcestershire sauce
125 ml (1/2 cup) thin cream
Salt and freshly ground black pepper
Method
Take the steak from the fridge, cover and leave about 30 minutes at room temperature before cooking.
Take about half the butter and melt over medium-high heat until foaming in a large heavy-based frying pan. Place the steaks in the hot pan and cook for about 3 minutes on each side for medium-rare or longer depending on taste. The meat can also be barbequed or cooked on a ribbed griddle, but pan cooking is preferred as you use the pan juices for the sauce.
Transfer to a plate, cover loosely with foil and allow the steak to rest for 5 minutes while you cook the sauce (all the ingredients should be ready to go).
Reduce the pan heat to medium and melt the other half of the butter in the pan. Fry the eschalot in the pan for about 2-3 minutes, until eschalot softens slightly. Add the brandy, garlic and Worcestershire sauce to the pan until heated through.
Scrape the bottom of the pan to bring anything that has cooked onto the base back into the sauce. Add the cream, bring to the boil and stir for a further minute or so until sauce thickens slightly. Season with salt and pepper to taste.
Place the steaks on the serving plates and pour over the with sauce. Serve immediately with mashed potato and steamed green beans.
Variations
Cook some mushrooms along with the shallots.
A superb addition is a drizzle of white truffle oil just before serving

Steak Diane with Mustard sauce (flambéed)
4 (3-ounce) fillet steak, or centre-cut Beef Tenderloin (Filet Mignon) medallions, trimmed to remove fat
2 Shallots thinly sliced
4-6 Mushrooms thinly sliced
2 tablespoons of Worcestershire Sauce
1 tablespoon of Dijon Mustard
1 clove of crushed Garlic
3 teaspoons of butter
2 tablespoons of Cognac
1/2 cup chopped fresh parsley
1 teaspoon Olive oil
200ml cream
Salt and Pepper
Method
Melt 2 teaspoons of butter in a large heavy-based pan and fry the steaks over medium-high heat for 2-3 minutes on each for medium-rare, or longer.
Using the same pan heat up the olive oil and butter until hot.
Add the sliced mushrooms, finely chopped shallots, garlic and some salt and pepper cooking gently for a couple of minutes until soft.
Add the Worcestershire sauce and Dijon mustard and mix all the ingredients together.
Add the Cognac and flambé using extreme caution. Carefully tip the edge of the pan towards the flames to ignite the alcohol and burn it off. This will only take a couple of seconds. Flambéing intensifies the flavor of the finished sauce by the process of caramelization or the sugars. The flames heat the sauce to high temperature required for caramelization.
Add the single cream and parsley stirring.
Bring up the boil and reduce to simmer.
You should now have a thick and creamy, caramel coloured sauce.
Classic Steak Diane Recipe
Ingredients
1/4 cup heavy cream
Salt and pepper to taste
1/8 teaspoon garlic, minced
1 teaspoon dry mustard powder
4 tablespoons butter, divided
1 teaspoon Worcestershire sauce
1/2 teaspoon fresh thyme leaves
1 tablespoon chopped fresh chives
1 ounce (2 tablespoons) brandy or cognac
1 tablespoon chopped fresh parsley leaves
Salt and coarsely-ground black pepper to taste
2 tablespoons finely-chopped shallots or green onions
1/4 cup mushroom caps, sliced 1/8-inch thick
1 tablespoon fresh-squeezed lemon juice
4 (3-ounce) centre-cut Beef Tenderloin (Filet Mignon) medallions, trimmed of all fat (chilled)
Method
Work with one piece of steak at a time. Place each piece between two pieces of plastic wrap. Starting in the center and working to the edges, gently pound each piece of steak with a meat mallet to medium thick. Using a small frying pan (8- or 10-inch) over medium heat, heat 1 tablespoon butter for 1 minute. Add the pounded tenderloin steaks, sprinkle with a little salt and pepper; increase heat to medium-high and sauté exactly 2 minutes on each side. Remove them to a plate and chill in the refrigerator for 5 minutes. In a large frying pan over medium heat, melt remaining 3 tablespoons butter; stir in Worcestershire sauce. Place the shallots or green onions, garlic, and mushrooms in the centre of the pan with the tenderloin steaks around the edges. Using a spoon, stir and toss the mushroom mixture approximately 2 minutes. Add lemon juice, salt. and pepper. Turn the steaks and add the thyme, chopped parsley, and dried mustard powder. Now cook the steaks to the doneness you like. Note: You may want to slightly under-cook the steaks prior to adding the cream and brandy so that the reduction process of making the sauce does not overcook them. You can use a meat thermometer to test for doneness if you have one.
Related Articles on Cooking Steak
=> Q&A What is Broiling: Best Broiled Chicken, Salmon, Seafood, Steak Recipes
=> Wine Salt Marinade Recipes for Steak, Pork, Chicken with Herbs
=> How to Tenderize Steak, Beef, Other Meats, Steak Marinade Recipes
=> Grilled Flank Steak Recipes: Marinated, Stuffed, Barbecued with Sauces
=> Barbecued Grilled Tuna Steak Recipe, Spice-Crusted with Tahini Sauce
=> Cook Tender Juicy Steak the Best Way - Pan Fried Seared Steaks