Sticky Rice Recipes, Homemade
Many people spend lifetimes trying to make perfectly cooked rice with grains that don't stick. The idea of sticky rice may appeal to some, because this is what they are good at.
However, cooking sticky rice or glutinous rice is also an art as the rice is generally steamed rather than boiled. It can be made in a rice cooker, but that is also an art form.
Authentic sticky rice also requires a special types of rice (Thai sweet rice) that is sweet and waxy. The grains are opaque and have very low amylose content.
This type of rice is especially sticky when cooked. For the more adventurous, black rice can be used. It makes dramatic, visually stunning dishes that are very nutritious compared with using plain white rice.
Sticky rice is very versatile and while mostly used for Thai and other South-East Asian desserts, it can also be used for many savory dishes.
This article describes how to make sticky rice at home using various methods.
There are several recipes for you to try.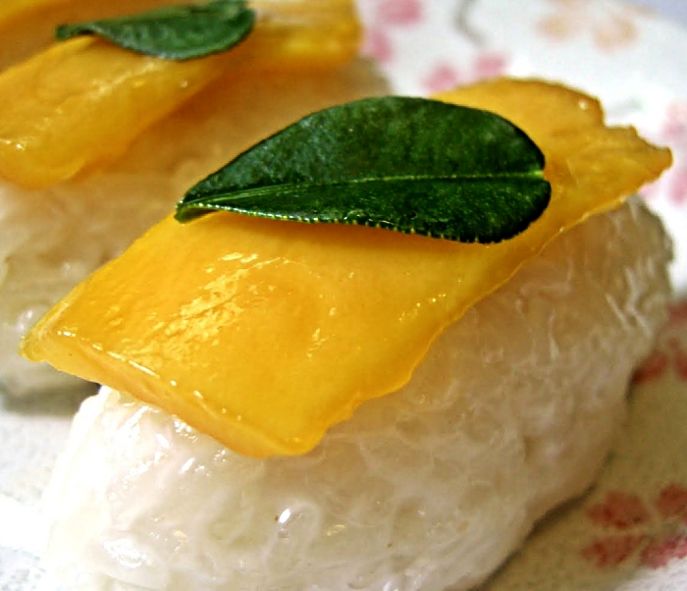 How to Cook Sticky Rice Using Conventional and Un-Conventional Methods
The traditional way of cooking sticky rice is by steaming with the rice and other ingredients placed in a Chinese style woven basket.
Standard stacked steamers can also be used or steamer devices made to fit in saucepans. In these cases, you will need to use a liner of muslin or cheesecloth if the holes in the steamer basket are too large to retain the rice.
A fine mesh strainer or sieve fitted over a saucepan of boiling water, works well, as long as you can fit a lid or other covering to ensure the steam percolates through the rice in the sieve.
It is also possible to use an electric rice cooker to cook stickly rice, but it may take some experimenting to get the amount of water, and ideal cooking time right for your cooker and type of rice.
Steaming sticky rice in a pot or saucepan, using the absorption method, can work but the texture is often less than ideal and there is often a stubborn residue left in the pot. This suits some recipes more than others. A stick-proof pan helps.
Sticky Rice is Versatile for both Sweet Dessert Dishes and Savory Creations
Most people think of desserts such as Mango sticky rice, which is available from many Thai and other Asian restaurants. But sticky rice can also be used for many savory dishes.
Wrapping sticky rice with savory or sweet ingredients in banana leaves is another popular method. Sticky rice can also be in translucent rice paper rolls and other wraps, and for various spring rolls, that are then steamed.
Sticky rice can also be used to make dim sum dishes and even as fillings for won tons and other similar dishes.
Selection of Sticky Rice Recipes
Below are a collection of stick rice recipes to get you started.
Classic Mango Sticky Rice Recipe
2 - 4 ripe mangoes, peeled, separated from the seeds and sliced (number depends on the size.
1 1/2 cups Thai sticky rice (kao niow), or similar, broken jasmine rice, or a medium grain sweet-style rice
3 tablespoons sugar
1 1/2 cups coconut milk (from a can)
1/2 teaspoon salt, or more to taste
Rinse the rice well and then soak it, covered in warm water for 1-3 hours preferably overnight. Drain the rice and then wrap in cheesecloth and put it in a steamer (various types will do) over boiling water. Steam the rice for about 30 minutes, until the grains are tender. Times depend on the rice used. After several times you will know the exact time for the rice you use and your steamer. Set aside to cool for half an hour or so. Meanwhile, gently warm the coconut milk in a pan with the salt and with sugar added. Just warm the coconut milk to dissolve the sugar, and don't overheat. Pour half the warm coconut milk mixture over the warm sticky rice and stir to mix thoroughly. Transfer the sweetened sticky rice to small serving bowls and pour over the remaining coconut milk. Add mango slices and fresh herbs such as mint and serve.
Savory Sticky Rice - Stir-Fried Sticky Rice Recipe
3 or 4 scallions, chopped or slivered
2 tablespoons Chinese sweet wine or sherry
1 tablespoon sesame oil
1 tablespoon soy sauce
2 teaspoons grated ginger
4 ounces (100g) shiitake mushrooms, finely chopped
1 tablespoon chopped dried shrimp
6 small dried red chiles or 1/2 teaspoon red pepper flakes
1 cup diced onion
2 ounces (50g) Chinese sausage, chopped
4 ounces (100g) thick-sliced smoked bacon, cut in 1/2-inch pieces
2 cups sweet Thai rice, preferably long-grain (or suitable substitute)Spring of cilantro (coriander)
Salt and pepper to taste
Rinse, soak the rice in water for 1-3 hours and steam the rice according to directions on the pack or the method described above. Fry the sausage and bacon in wok or skillet over medium heat. Add the diced onions to the pan and stir-fry until the onion is light brown in color and just softened. Add the shrimp and red chiles and fry for about 60 seconds. Add the mushrooms and stir-fry for a about 5 minutes and then season with pepper and salt. Add the soy sauce, ginger, sesame oil and wine. Scrape the bottom of pan to deglaze using a wooden spoon and then add 1/2 cup of water and simmer to create a glaze. Switch off the heat and add the cooked sticky rice and mix lightly using two spoons to combine, without homogenising. Garnish with cilantro and scallions and serve immediately.
Spicy Sticky Rice Recipe (Boiled)
1/2 teaspoon salt
1/4 teaspoon ground cloves
1/4 teaspoon nutmeg
1 teaspoon cinnamon
1 teaspoon vanilla
1 can coconut milk
3/4 to brown sugar, 1 cup palm sugar, or white sugar (to taste)
3 1/2 cups water
2 cups Thai sweet rice (or similar)
whole star anise as garnish
toasted coconut and crushed peanuts as garnish
Rinse, soak the sticky rice. Transfer the rice to a large pot that has a lid. Add 2 cups water, set aside to soak for 10 minutes, then add 1/2 cup of extra water and 1/2 teaspoon of salt. Heat to boiling and then reduce the heat to very low. Cover almost all of the pot with the lid, so some steam can escape. Steam the rice for 15-20 minutes. Turn off the heat, fit the lid tightly and allow to steam for an additional 5-10 minutes. Remove the lid, add the coconut milk (warmed slightly) and incorporate into the rice, separating the clumps with a folk. Turn the heat to low and add one cup of sugar (your choice of type) and the spices. Set aside to allow the coconut milk to be incorporated into the sticky rice. Serve into bowls and sprinkle with star aniseed, toasted coconut, cinnamon and nutmeg, add a sprig of mint.
Related Articles and Recipes for Rice
=> Korean Kimchi Fried Rice Recipes with Delicious Variations
=> Best Traditional Arancini Recipe for Delicious, Versatile Rice Balls
=> Moroccan Rice Recipes - Jewelled, Pilaf and Mixed Nut Rice Recipes
=> Homemade Fried Rice Recipe Secrets - Shrimp, Egg, Pork, Chicken
=> Flavored Rice Recipes - Quick, Easy, Homemade, Nice
=> Black Rice Nutrition Facts - Cooking Tips, Recipes and Health Guide