Sweet Potato Bread Recipes and Other Potato Breads
Potato breads are a delicious, moist and soft breads that make delightful alternatives to wheat breads. These breads are made by replacing some of the wheat with mashed potatoes, including sweet potatoes.
Potato breads can be used as general purpose breads and they are great for sandwiches and soups. Their soft texture and unique taste make these breads worth trying.
They can be easily made at home and are available from many of the major bread suppliers.
This article summarizes the health benefits of potato breads compared with wheat breads and provides several wonderful recipes for you to try.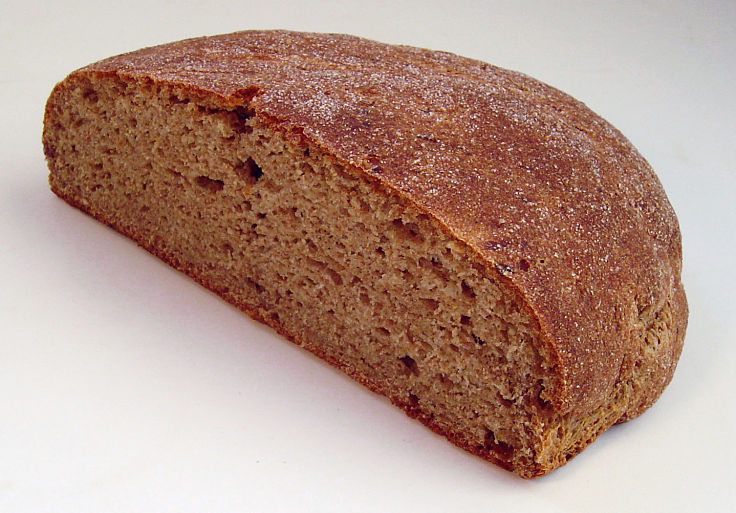 Nutritional Benefits Potato Bread versus Wheat Breads
Replacing some of the wheat flour in bread with potato provides nutritional benefits, especially compared with white breads. The table below provides a detailed comparison with data from the USDA database. Including the skin of both common potato and sweet potato would boost the nutrient even further. Similarly using whole meal flour for the potato bread boosts the nutrients as well. The key points are:
Benefits For Potato Bread
Higher protein
Higher fiber
Higher Phosphous
Higher Potassium
Higher Calcium
Similar calories
Less Fat
Less Sodium
However vitamin B-complex vitamins and folate were lower in potato bread. Similarly Vitamins E and K were highest in Whole meal bread.
Best Ever Potato Bread Recipes
Sweet Potato Bread Topped with Spiced Pecans Recipe
Ingredients
1 teaspoon salt
1/4 cup whole milk
1 3/4 cups white flour
2 large free-range eggs
1 teaspoon baking powder
1/2 teaspoon baking soda
1 1/2 cups dark-brown sugar
1 tablespoon vanilla extract
1 pound (500 g) sweet potato
Butter, for greasing loaf pan
1/4 cup chopped toasted pecans
1 1/2 teaspoons Aleppo pepper flakes
3/4 cup rice bran oil or grape seed oil (or other neutral flavored vegetable oil)
Method
Preheat oven to 400 degrees F (200 degrees C). Grease a 9 x 5 inch (20 x 12 cm) loaf pan and line with baking paper. Pierce the sweet potato all over with a sharp knife and bake in the oven until soft (generally about 50-60 minutes). This can be done ahead of time while baking other foods. Refrigerate the cooked sweet potato until it is required. Remove the flesh and transfer to a blender or food processor (discard the skin if you want). Add the milk and purée until smooth. Transfer the potato mixture to a medium-size bowl. Transfer about 1 1/3 cups of the mixture back into the blender. Add the oil, dark brown sugar, vanilla, and dark brown sugar. Then purée the mixture until smooth.
Lower the oven temperature to 325 degrees F (160 degrees C). Using a large bowl, whisk the flour with the baking soda, baking powder and salt. Transfer the potato puree into the bowl in three portions. Combine well until the batter is fully mixed, without over-mixing. Transfer the mixture to the loaf tin and bake for about 60-75 minutes, or until a skewer inserted into the center of the loaf comes out clean. Let cool on a wire wrack before removing from the tin.
Potato Yeast Bread Recipe
Ingredients
1 teaspoon sea salt
1 teaspoon caster sugar
1 teaspoon onion, finely chopped
1 teaspoon dried fast-action yeast
1 tablespoon sunflower oil, plus extra for greasing
13 oz (375 g) potatoes, peeled and sliced into medium-size chunks)
12 oz (300 g) strong white bread flour (can be replaced with half wholemeal flour)
Method
Boil the potatoes in salty water for about 15-20 minutes until they are just cooked. They need to be firm. Drain the potatoes and shake to remove excess moisture. Then mash the potatoes using a little butter or oil, but no added milk. Reserve the liquid and cool until luke-warm. Add about 5 tablespoons of the liquid to a small bowl and sprinkle the dried yeast on top. Dissolve the sugar in the liquid using a whisk. Set the mixture aside in a warm spot for about 10 minutes until it starts to froth and bubble.
Take a large mixing bowl and add the mashed potatoes and the dissolved yeast mixture and salt. Mix well and then gradually add the flour, in several batches. Transfer the dough to a bench and knead the dough for 10-15 minutes until it is elastic and pliable. Knead the dough for 10 minutes until soft and pliable. Transfer the dough bowl to a lightly oiled bowl and cover with cling wrap. Set aside in a warm place for 45-60 minutes. Then, lightly knead the dough ball and form into a round loaf shape about 1 inch thick (2 cm) on a baking sheet. Set aside in a warm place for about 20-30 minutes and then bake in a preheated oven at 400 degrees F (220 degrees C) for about 35 minutes. Use a skewer to ensure the loaf is cooked right through. Cool on a wire rack.
Potato Soda Bread with Cheese and Olives Recipe
Ingredients
Sea salt
1 large egg
1 tablespoon chopped rosemary
1 medium onion, peeled, grated
2 teaspoons wholegrain mustard
200 g (7 oz) self-raising flour
1-2 tablespoons full-cream milk
75 g (3 oz) pitted Kalamata olives
200 g (7 oz) potatoes, peeled, grated
100 g (3 1/2 oz) goat's cheese, crumbled
Preheat the oven to 350 degrees F (200 degrees C). Sift the flour and salt together into a large bowl. Add the onion, grated potato and black pepper and mix to combine well. Fold in the cheese, rosemary and olives. Whisk the egg in a small bowl and combine with the mustard and milk. Gradually add this mixture to the flour in the bowl while mixing with a wooden spoon. Well a ball of dough is formed, remove it and transfer to a floured bench or board. Knead and shape into a ball. Transfer to a greased baking sheet then flatten into a round loaf shape. Dot the top if the loaf with extra cheese and olives and sprinkle with fresh rosemary. Bake in the oven for about 45 minutes, testing to ensure the center of the loaf is cooked. It is best served warm.
Easy Potato Soda Bread Recipe
Ingredients
4 cups plain flour
1 teaspoon bicarbonate of soda
1 teaspoon salt
600 ml (one carton) buttermilk
1 potato, peeled, halved and thinly sliced
Leaves from 1 sprig fresh rosemary
Method
Preheat oven to 300 degrees F (190 degrees C). Grease and line a baking tray with baking paper. Combine the flour, salt and bicarbonate of soda and sift into a large bowl. Make a well in the center of the flour and gradually add the butter milk, mixing until the dough forms a ball. Turn the dough ball out onto a floured surface and knead for about 5 minutes until the dough ball is smooth and elastic. Form the dough into a slightly flattened elongated shape and make several deep diagonal cuts across the top with a sharp knife. Insert one or more potato slices and a sprinkle of rosemary into each of the slashes. Transfer to the preheated oven and bake for 30-45 minutes or until a skewer inserted into the center of the loaf comes out clean. Transfer to a wire rack to cool before serving warm.
Nutrient Comparison for Potato Bread Compared with Wheat Breads
| Nutrient | Unit | Potato Bread 100 g | White Bread per 100 g | Whole Wheat Bread per 100 g |
| --- | --- | --- | --- | --- |
| Energy | Calories | 266 | 266 | 252 |
| Protein | g | 12.5 | 8.85 | 12.45 |
| Total lipid (fat) | g | 3.13 | 3.33 | 3.5 |
| Carbohydrate, by difference | g | 47.07 | 49.42 | 42.71 |
| Fiber, total dietary | g | 6.3 | 2.7 | 6 |
| Sugars, total | g | 9.38 | 5.67 | 4.34 |
| Minerals | | | | |
| Calcium, Ca | mg | 188 | 144 | 161 |
| Iron, Fe | mg | 2.25 | 3.61 | 2.47 |
| Magnesium, Mg | mg | 28 | 23 | 75 |
| Phosphorus, P | mg | 369 | 98 | 212 |
| Potassium, K | mg | 718 | 126 | 254 |
| Sodium, Na | mg | 375 | 490 | 455 |
| Zinc, Zn | mg | 1.44 | 0.74 | 1.77 |
| Vitamins | | | | |
| Thiamin | mg | 0.188 | 0.533 | 0.394 |
| Riboflavin | mg | 0.106 | 0.243 | 0.167 |
| Niacin | mg | 1.25 | 4.78 | 4.438 |
| Vitamin B-6 | mg | 0.232 | 0.087 | 0.215 |
| Folate, DFE | µg | 149 | 171 | 42 |
| Vitamin E (alpha-tocopherol) | mg | 0.47 | 0.22 | 2.66 |
| Vitamin K (phylloquinone) | µg | 6.8 | 0.2 | 7.8 |
Other Articles about Bread and Recipes
=> Easy Bread Pudding Recipes - Savory, Sweet for Dinner and Dessert
=> Filled Flatbread Recipes and Easy Flat Bread Pizza Recipes
=> Easy Bread Pudding Cups Recipe with Garlic and Herbs
=> Easy Spanish Gazpachos Recipes - Meat Stew Served on Unleavened Bread
=> New Summer Blended Gazpacho Soup Recipes Made Without Bread
=> Easy Yeast Bread Recipes, Rediscover the Noble Rise for All Occasions
=> How to Make Sourdough Bread - The Starter, Great Recipes, Best Ever Tips
=> Wholemeal Soda Bread Recipes with Spices, Fruit, Herbs, Nuts
=> Best Irish Soda Bread Recipes With Grain, Fruit and Spice Options