Tips to Make Perfect Meatballs - Best Homemade Meatballs Recipes
There are many different types and uses for meatballs. They can be served as a snack or appetizer with a nice sauce, or that can be served with spaghetti, other pasta and in a variety of other dishes. Cooking the meatballs in a sauce or stock means a two-way exchange of flavors for the meatballs. There are many varieties of meatballs, but they are hard to get just right in terms of taste, texture, fat content, and appearance. This article provides fabulous tips for making perfect meatballs and some of the best ever meat ball recipes. Enjoy!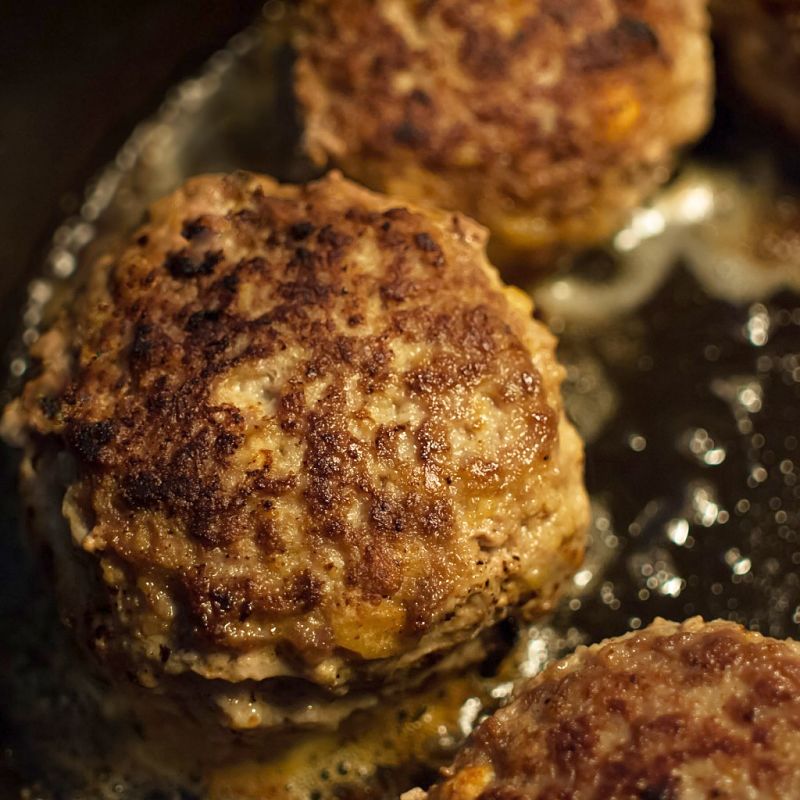 Tips for Perfect Homemade Meatballs
► Pick the Right Meat or Meats
While you can make nice meatballs using virtually any ground meat (beef, pork, chicken, turkey, lamb and fish) and using various combinations, being more selective and careful with the meat chosen can be critical for a perfect meatballs. Poor meat full of gristle and fat will degrade the taste and texture. High quality meats make better meatballs. Generally the amount of meat you need will be small and the breadcrumbs and other ingredients add bulk, so choose a high quality ground meat with a low to medium fat content. Better still mince the meat yourself. Be careful when choosing cheaper types of ground meat, which can contain all sorts of fillers and rubbish. Buy your meat from a trusted source. Meats with moderate amounts of fat such as beef, lamb, and pork will produce more tender meatballs with better flavor, but too much fat can ruin them. Leaner meats like chicken or turkey, need special care when cooking them or extra ingredients to unsure the meatballs and not hard and tough when cooked. Using a combination of meats such are beef, lamb and pork add extra taste and complexity.
► Keep the Meatballs Moist
The protein in meat shrinks when it cooks and this can squeeze out the moisture producing tough meatballs, especially if the meatballs are overcooked. You need ingredients that help retain the moisture or to cook the meatballs in the sauces itself. Adding just enough fat helps. Eggs and binders, such as polenta and breadcrumbs help to make the meatballs moist when cooked.
► Test you Mixture by Cooking a Tiny Sample and Adjust the Seasoning
After you have prepared your meatball mixture, shaped them into balls and cooked them, it is too late to adjust the seasoning or to balance the taste. You obviously do not want to taste the raw meat. The best way is to cook a little test pattie. Cook and taste it and then adjust the seasoning accordingly. You may need more salt and pepper, or to adjust the spies and herbs.
► Keep the Meatballs Loose and Do not Squeeze Them Too Tightly
When shaping the meatballs, do not pack them too tightly, nor squeeze them too much as this will mean they could be tough, rubbery, and chewy. Use a small ice-cream scoop or a large spoon to make uniform size balls. Only use your hands to gently shape them into round balls or elongated shapes.
► Onions, Garlic, Cheese and Herbs
There are many different opinions about these ingredients. It partially depends on the type of meatball dish being cooked. 'Herbs Galore' version suit dishes where the meatballs are served in a sauce. Dry meatball snacks are probably better with minimal; herbs so that the meat-taste shines through. Some people love to include cheese in meatball such as Pecorino Romano, Parmesan or Parmigiano-Reggiano other prefer no cheese. Onions can be very problematic because they can easily burn when the meat balls are dry fried. This can be avoided by chopping the onions very finely.
► Breadcrumbs or Polenta
Many people consider breadcrumbs to be essential for meatballs, but while breadcrumbs or polenta help to bind the meat and ingredients, they can tend to dry out the meatballs and make them hard. One trick is to soak the breadcrumbs, or slices of bread in a little milk before adding to the mixture. Soaked bread works just as well as breadcrumbs, which you may not have available, provided the bread is broken up into tiny pieces. You can add a whisked egg to the milk and bread mixture which helps to evenly distribute it through the meat.
► Browning Meatballs Before Adding to the Sauce
While browning the meatballs is a good idea, it is not essential, especially when the meatballs are being added to a sauce. Browning can leave the meatballs hard and tough and it can also stop the sauce from penetrating into the meatballs. It is a compromise, because browning can add extra flavor. Perhaps a light browning is best
► Cooking Time for Meatballs
Once again this is a compromise between texture, moisture content and taste. Don't overcook the meatballs to keep then tender and juicy.
► The Sauce for Perfect Meatballs
Although smooth tomato sauce is traditional with meatballs, there are many other options you can try including a more chunky tomato sauce. Having several sauces available for snack or appetizer meatballs is a good ideal as this can satisfy a wide range of taste preferences. One trick is to add a meaty taste to the sauce using bacon.
► Herb Options for Meatballs
Some of the best herbs to include in meatballs, singly or in various combinations are:
Finely minced onion
Finely minced garlic
Hot chillies
Parsley, chopped adds a fresh flavor.
Fresh or Dried oregano
Coriander
Cellery, very finely chopped
Green and red sweet chili peppers, very finely chopped
Salt , Spices and Freshly Ground Black Pepper for seasoning
Salt and other seasoning are essential to enhance the flavors. just the right amount of seasoning for this amount of meatball mixture. As suggested above, cooking a tiny portion before you start rolling the balls is a good way to ensure you have the right seasoning when the meatballs are cooked.
The Right Mixture and Consistency for Meatballs
The panade (milk-soaked bread) or dry breadcrumbs are hard to mix with the meat, especially when you want minimal mixing. The same applies to the egg if your recipe includes one. One trick is to whisk the egg and to mix this with the panade or breadcrumbs. Dry breadcrumbs are very hard to mix in. Another trick is not to do the mixing all at once, but to do it in several small stages. This makes the mixing easier. Do the final mixing with your hands, but be gentle, and roll the balls lightly to stop them being too hard.
Cooking Methods for Meatballs
There are many ways to cook meat balls:
sautéing
deep frying
pan frying
steaming
grilling
broiling
barbecuing,
baking in the oven
slow cooking
smoking
poaching the sauce
The most tender meat balls are cooked by poaching in the sauce. If you choose the latter option you may have to compromise the loss of flavor when the meatballs are not browned, with the aim to create soft meatballs that really soak up the flavors of the sauce. Pan frying can be very messy and round balls are hard to cook. Flattening the balls slightly into disk shaped patties makes them easier to cook.
The Best Sauce for Meatballs
There are many options for the sauce. One trick is to add the meatballs to the sauce immediately they have been cooked and browned. This stops the outside layer from becoming hard. Fresh ingredients such as tomatoes and herbs make the best sauce.
Best Ever Meatball Recipes
Simple American Meatball Recipe with Egg, Panko Breadcrumbs (Fried or Broiled)
Ingredients
1 free range egg
1 teaspoon kosher salt
1/2 cup panko bread crumbs
Freshly ground black pepper to taste,
2 teaspoons of chopped basil, parsley or cilantro, finely chopped
Rice bran or grape seed oil, for frying (or greasing pan broiling)
2 teaspoons each of onion, garlic, scallions or shallot, all finely chopped
Spices of choice such as ground cumin, chili flakes, curry powder, garam masala, and others, to taste
1 pound (500 g) ground good quality meat meat with a little fat (beef, veal, pork, chicken, turkey or any combination)
Method
Mix together all the ingredients in a large bowl. Using a spoon take portions of the mixture and gently roll into 1 1/2 inch (4 cm) balls. Fry in the oil or transfer to a baking sheet and broil until the meatballs are firm, golden brown in color and a little firm. Sprinkle with more salt and pepper before serving.
Italian Style Tender Meatballs, Cooked in Tomato Simmer Sauce
Ingredients
For the Meatballs
1/4 cup milk
1 1/2 teaspoons salt
2 large free range eggs
1 teaspoon cayenne pepper
4 cloves of garlic, minced
1/2 lb (250 g) ground pork
1 lb (500 g) lean ground beef
1/4 cup fresh parsley, chopped
1 teaspoon fresh basil, chopped
1 cup onion, chopped very finely
1/3 cup Italian style breadcrumbs
1 tablespoon Worcestershire sauce
2 teaspoons anise seeds (optional)
1 1/2 teaspoons fresh oregano, chopped
1/2 cup red bell pepper, finely chopped
3/4 cup fresh Parmesan cheese, finely grated
For the Simmer Sauce
6 cloves
2 cloves garlic
1 teaspoon basil
2 tablespoons sugar
1 small onion, diced
1 teaspoon kosher salt
1/4 cup grated Parmesan cheese
1/4 cup extra virgin olive oil
1/4 teaspoon fresh ground pepper
2 (28 ounce; 750 g) cans tomato puree
1 (28 ounce; 750 g) can peeled plum tomatoes
Method
To make the sauce, sauté onion and garlic in olive oil in a large pot. Pour the plum tomatoes into large bowl and squash with a wooden spoon or your hands. Add the remaining sauce ingredients to pot and simmer for 15 minutes to combine the flavors.
To make the meat balls, mix all the ingredients gently together in a large bowl. To cook, drop the meatballs into the simmering sauce, set to a very slow simmer. Cook for 20-25 minutes without stirring, otherwise the meatballs will disintegrate. This will allow the meatballs to firm up enough as not to break up in the sauce. Check regularly and serve when the meatballs a just cooked right to the center.
Easy Baked Meatballs Recipe with Mixed Meats
Ingredients
For the meatballs
1/2 cup water
Salt to taste
1 cup breadcrumbs
2 large fresh range eggs
1/2 pound (250 g) ground veal
1 teaspoon crushed red pepper
1/2 pound (250 g) ground beef
1 large onion, finely chopped
1/2 pound (250 g) ground pork
2 cloves garlic, finely chopped
Extra-virgin olive oil for cooking
Freshly ground black pepper to taste
1 cup grated Parmigianoor other strong flavor cheese
1/4 cup fresh Italian parsley leaves, finely chopped
For the Marinara Sauce
1/4 pound diced pancetta
1/4 cup extra-virgin olive oil
4 large garlic cloves, finely chopped
2 large Spanish onions, finely chopped
Salt and freshly ground black pepper to taste
4 (28-ounce; 750 g) cans Italian plum tomatoes
Method
Prepare the Marinara sauce, by first frying the pancetta in a little olive oil for 5 minutes. Add the onions and cook for 5-6 minutes until the onions are soft. Add the garlic and cook for another 2-3 minutes stirring frequently. Break the tomatoes apart and add to the onions and garlic. Add enough water to create fairly thick sauce.
Add a little olive oil to a large sauté pan and heat to moderate-high. Season the onions with plenty of salt and freshly ground black pepper cook for about 5-7 minutes, until the onions are soft and aromatic, but are not browned. Add the garlic and the crushed red pepper and sauté for another 2-3 minutes. Remover the pot from the stove and allow to cool. Preheat the oven to 350 degrees F (175 degrees C).
Combine the Parmigiano, eggs, meats, parsley and bread crumbs in a large bowl. Mix with a wooden spoon, and then gently with your hands. Add the cooked onion mix, water and season generously with salt and pepper. Mix again to incorporate the onions into the mixture. Shape the meat gently into meatballs of the desired desired size. Add some olive oil to a large sauté pan set over medium-high heat. Fry the meatballs quickly to brown on all sides. Brown the meatballs on all sides. Then, place the meatballs on a baking sheet and finish the cooking in the oven for about 15-20 minutes. Test for doneness and then add the meat balls to the Marinara sauce and simmer for 5-10 minutes to soften the meatballs. Serve immediately.
Aromatic Spicy Lamb Meatballs Recipe
Ingredients
1 teaspoon salt
1 free range egg
3 tablespoons semolina
1 teaspoon ground cumin
1 pound (500 g) ground lamb
1/2 teaspoon ground cinnamon
1/4 cup scallions, finely chopped
Rice bran or grape seed oil, for frying
1 teaspoon ground allspice (other other spices)
Method
Place the lamb into a large bowl and break apart with a wooden spoon. Then, add the scallions and mix through. Sprinkle the salt, spices and semolina over the meat, and then add the beaten the egg to the bowl. Mix all the ingredients together using your hands and then cover the bowl with plastic wrap and set aside in the refrigerator for 30-45 minutes. Shape potions of the mixture into medium size meat balls. To cook, heat about 1/2-inch (1 cm) of oil in a frying pan using medium to high heat. Fry the lamb meatballs in small batches to avoid overcrowding the pan. Cook them for several minutes until they are cooked all the way through and medium brown in color.
Moroccan Lamb Meatballs Recipe
Ingredients
Juice of 1 lemon
1 egg, lightly beaten
2 teaspoons cumin seeds
2 oz (50 g) breadcrumbs
1 garlic clove, crushed
1 lb (500 g) lamb mince
2 tablespoons coriander seeds
150 ml (5 fl oz) Greek yogurt, to serve
2-3 tablespoons rice bran oil or grape seed oil
4 oz (20 g) fresh mint or coriander, finely chopped
Method
Heat a heavy pan or Dutch oven a low heat. Add the spices and dry fry for 2-3 minutes until fragrant. Transfer the spices to a pestle and mortar and grind to a powder, and set aside. Mix the breadcrumbs with 2 tablespoons of water. Add the garlic and combine well. Add the lamb, mint, lemon juice, and beaten egg. Then, add the ground spices and season with salt and pepper. Mix well, and then shape gently into about 16 balls. Set aside to chill in the refrigerator for 30-45 minutes. Heat the oil in a frying pan over moderate to high heat. Fry the meatballs for 5-7 minutes, turning to cook evenly and brown them on all sides. Serve with couscous, harissa and yogurt.
Chicken Meatballs Recipe with Sourdough Bread
Ingredients
1 free range egg
1 teaspoon of salt
175 ml (3/4 cup) milk
2 teaspoons dried dill
50 g (2 oz) butter, softened
Fresh ground black pepper to taste
1 medium onion, peeled and finely chopped
2 large cloves garlic, peeled and finely chopped
150 g (5 oz) sourdough bread, diced with crusts left on
750 g (1 1/2 lb) chicken breast fillets or thigh fillets, with bones removed and chopped
Method
Place the milk in a saucepan, add the bread pieces and boil while stirring until the bread is soft. Remove from the heat, mix in the chopped onion, Then, add the mixture to the bowl of a food processor. Add the salt, butter, whisked egg, and dill and pulse in the food processor until the mixture is smooth. Add the chicken breast and pulse briefly to partially chop the chicken and combine with the other ingredients. Take portions of the mixture with a spoon and shape into balls using your hands. Preheat the oven to 350 degrees F (180 degrees C). Grease and line a large shallow baking tray with baking paper. Place the meatballs onto the prepared tray and bake for about 15-25 minutes (depending on the size, or until the center of the meatballs is just cooked. Serve with topped with homemade tomato sauce and sprinklings of fresh herbs.