10 Best Homemade Thai Tom Yum Soup Recipes
Homemade Thai Tom Yum soup is a delight, being hot, sour, aromatic, full of flavor and very nourishing. It is very easy to make at home and very adaptable in terms of ingredients, but you need to get the basics right for a perfect Thai soup dish.
There are several vital tips you need to know to make it special and memorable.
The most important part is the liquid base, made with chicken or vegetables, though stocks made from prawn, prawn heads and shells, and fish are the more authentic.
Homemade stocks are best and coconut milk is optional. It gives the soups a cloudy rather than a clear appearance.
The subtle combination of spices and herbs added to stock gives the stock its sour taste with the herbs adding aroma and fresh flavors that lighten the taste, and add zest and zing to the soup.
Learn the secrets making delightful Tom Yum soups at home and try some of the enclose recipes.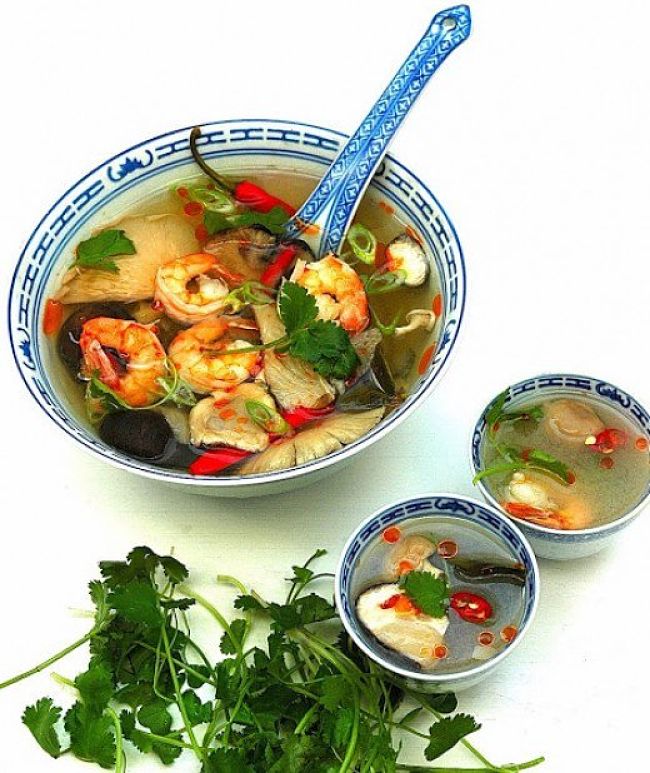 Tips for Making Tom Yum Soup at Home
The first tip is that you need lots of prawn and shrimp heads and shells to make the homemade soup base. They should be simmered for 20-30 minutes in a good quality fish stock to create the depth and complexity of flavors for the soup base. A good general purpose fish stock recipe is provided below. Just add the prawn heads and shells about 20-30 minutes before the stock is cooked.

Another tip is the use of nam prik pao (Thai roasted chili paste) and other Thai spices. You can substitute other spice and herb combinations such as lemongrass, galangal, kaffir lime leaves, and various fresh chilies. However the authentic paste add a special aroma that is very hard to replace.

Tom Yum soups can be made with chicken, a combination of seafoods such as shrimp, scallops, squid, green-lipped mussels, fish and crab. You can also make a vegetarian version. However the most popular Thai Tom Tum soups is made with prawns Tom Yum Goong.
Tom Yum Soup Ingredient Substitutes
If you cannot find suppliers for the genuine ingredients these are some alternatives:
galangal - use fresh ginger
kaffir lime leaves - use dried leaves if no fresh one are available.
lemon grass - fresh is preferred
fish sauce - genuine Thai fish sauce is widely available and is required for the dish
palm sugar - brown sugar can be used as a substitute
curry paste - red or green Thai paste is suitable, or you can make your own
Thai basil - sweet basil can be used as well
fresh limes - lemons can be used instead, but limes impart a different taste
rice noodles - widely available in various forms
General Purpose Fish Stock Recipe
2-3 quarts (litres) cold water
1/4 cup vinegar
3 4 whole fish carcasses, including head. Non-oily fish like sole, rockfish, turbot or snapper are preferred
1/2 cup dry vermouth, white wine or Chinese wine
1 carrot, coarsely chopped
2 onions, coarsely chopped
2 tablespoons unsalted butter
few sprigs of fresh parsley
few sprigs of fresh thyme
1 bay leaf
Melt the butter in the base of a large pot that has a lid. Add the carrot and onions and cook for about 20 minutes or until they are soft. Add the wine and bring the mixture to the boil. Next add the vinegar and fish, and cover with the cold water. Bring liquid to a boil. Remove any scum that forms on the top. Add the herbs, tied together to the pot. Lower the heat, cover and gently simmer for 4 - 6 hours. Strain the stock to remove the bones, vegetables and herbs. Allow to cool thoroughly, and then refrigerate.
Recipe for Tom Yum Goong - Version 1
1/2 tablespoons palm sugar or brown sugar
3 tablespoons lime juice
3 kaffir lime leaves
2 stalks lemon grass
2 spring onions, chopped
80g (3oz) oyster and shiitake mushrooms
8 cherry tomatoes
4 birds eye chillies (less or more according to taste)
1 tablespoon fish sauce
l 1/2 teaspoons salt
4 cups fish stock
12 green prawns (500g; 1pound, uncooked)
fresh coriander
Grill the tomatoes until they just pop and blister. Peel the prawns and de-vein, reserve the shells. Rinse the shells and place in a pot with the fish stock and the salt. Cook for 15 minutes and then remove the shells, keeping the stock. Transfer the stock back into the pot and bring to the boil. Add the fish sauce, lemongrass, crushed chilies to the stock, along with all the remaining ingredients. Simmer until the prawns have become opaque and then remove from heat. Add the lime juice and the palm sugar. Test and adjust the taste by adding more lime juice or fish sauce. Serve into bowls and garnish with fresh coriander and a few drops of chili oil.
Recipe for Tom Yum Goong - Version 2
6 fresh oyster or shiitake mushrooms, chopped
1 stalk lemongrass, cut into short lengths
3 teaspoons fish sauce
2 tablespoons oil of nam prik pao
2 tablespoons nam prik pao (Thai roasted chili paste)
6 kaffir lime leaves (crushed or pounded)
3 large slices of galangal (or ginger)
6 bird's eyes chilies (crushed)
3 1/2 tablespoons lime juice
10-12 shrimp (8 oz; 250g) (with the head and shells on; de-vein after peeling)
2 1/2 cups fish/shrimp stock
Add 3 cups of water to a pot and bring to the boil. Add a large handful of shrimp heads to the pot and boil until the water turns orange. Squeeze the shrimp heads to release the flavor, and them filter to remove the heads and shells. Add the kaffir lime leaves, lemongrass, galangal, chilies, mushrooms and nam prik bao to the shrimp stock and heat to boiling point. Add the fish sauce and shrimp. Next add the lime juice and simmer until the shrimps are opaque and cooked. Serve into bowls and add sprigs of herbs.
Tom Yum Gai Recipe (Thai Soup with Chicken and Coconut Milk)
3 spring (green) onions, sliced
1/2 to 1 teaspoon of sugar, to taste
1 tablespoons light soy sauce
2 tablespoons fish sauce
2 tablespoons lime juice
1 can coconut cream (thick)
1 red bell pepper, sliced (optional)
1 tomato, chopped into chunks or small wedges
2 fresh green or red chilies, finely sliced
4 cloves garlic, minced
1 large piece of galangal or ginger, finely chopped
1 stalk celery, sliced
8 shiitake mushrooms, sliced
4 kaffir limes leaves (fresh or dried), if unavailable use the zest of a lime
1 fresh lemongrass stalk
3-4 thighs or 1-2 boneless chicken breasts, sliced
6 cups good-quality chicken stock (homemade, preferred)
fresh coriander and basil for a garnish
Pour the chicken stock into a large pot. Add the lemongrass and bring to a boil. Add fresh chicken, garlic, chili, kaffir lime leaves, galangal or ginger, mushrooms and celery. Bring to the boiling and then lower the heat and simmer for 6-8 minutes (check that the chicken is cooked). Add the bell pepper and tomato pieces and simmer for another two minutes. Lower the heat and add the soy sauce, lime juice, coconut milk, fish sauce and sugar. Simmer gently for 1-2 minutes. Adjust the taste of the soup by adding more fish sauce or lime juice. Add some Thai chili sauce to make it more spicy. Serve into bowls and sprinkle with a little fresh basil or coriander. Add noodles as an option.
Related Soup Articles and Recipes
=>10 Best Vietnamese Pho Soup Recipes
=> Best Easy Homemade Stock Recipes for Soups, Stews, Curries and Drinks
=> Best Spicy Shrimp, Fish and Seafood Soup Recipes - Hot, Sweet and Sour Flavors
=> Best Vegan Vegetable Soup and Stew Recipes Showcasing a Wealth of Vegetable Tastes and Textures
=> New Summer Blended Gazpacho Soup Recipes Made Without Bread
=> Quick and Easy Soup Recipes Made with Whole Foods
=> Seafood Chowder Soup Recipes - Homemade, Simple, Tasty
=> Best Wonton Soup Recipes - Easy to Make Homemade Won Tons