Top 10 Best Dip Recipes Ever - Favorites for Parties, Snacks, Entrees
Homemade dips are perfect for entertaining, as you can add a special touch to make them unique and memorable. Dips are ideal for a wide variety of event as entrees, starters, snacks, and as lovely things to eat with drinks.
But what make the perfect dip? How do you choose your top 10 favorite dips? It's a matter of contrast and balance, taste and texture, lightness and color, and food that complements the bread, chips and other items served with the dips. Dips should be creamy, but have variations in texture with crunch and chewy bits. Dips should be light, not stodgy and dense.
Dips should busting with flavor but not blended into a homogeneous mass. You should be able to taste the individual ingredients. There should be little bliss bombs of flavor distributed throughout the dip to surprise you.
Dips should have zing and tang and just the right amount of chili and spices to make your taste buds stand up and take notice. Dips should have a lovely appearance and aroma and sit nicely on the bread, chips and biscuits they are served with and complement their taste.
Great dips should be memorable and prompt people to request the recipes. Well, that is the exact process that has been used in choosing my top 10 best dip recipes ever! I hope you enjoy them as much as I have.
Feel free to modify and embellish the recipes to suit your own style and taste preferences. This particularly applies to the herbs and spices. ENJOY!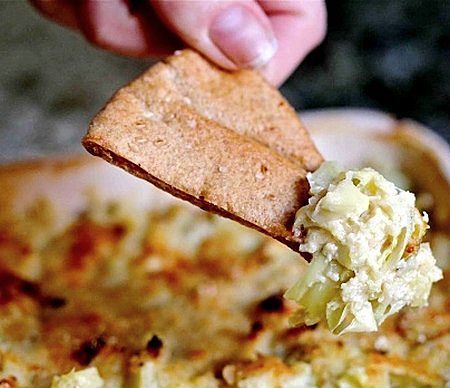 1. Baba Ganoush (Eggplant and Tahini Dip)
This is a very popular Middle Eastern dip made with eggplant and tahini (paste made from sesame seeds). For the traditional recipe, the eggplant is roasted in an oven and the cooked, soft but firm flesh is scooped out, squeezed gently to get rid of excess water. The flesh is combined with tahini and pureed. Optional seasonings include garlic, salt, lemon or lime juice, ground cumin, mint and parsley.
2 large eggplants (about 430g; 15 oz each)
250 g ( 8 oz) natural yogurt (Greek preferred)
2 tablespoons tahini (sesame paste)
2 garlic cloves, crushed
2 tablespoons fresh lemon or lime juice
Pinch of salt
Pinch of paprika, to garnish
1 tablespoon finely chopped parsley, to garnish
Served with Toasted Turkish bread pieces
Preheat oven to 220 degrees C (430 degrees F). Place on a baking tray and using a skewer, pierce the eggplants all over. Roast the eggplants for 45-50 minutes or until soft, but still form. Remove from oven and cool. Scoop out the flesh and squeeze to remove excess moisture
Place eggplant, tahini, garlic, yoghurt and lemon juice a bowl of a food processor or blender and process to combine, but leave a little chunky. Season to taste with salt. Transfer to a serving bowl. Sprinkle with Italian or Continental parsley and paprika (or other spices) and serve with toasted Turkish bread pieces.
2. Fresh Shrimp and Cheese Dip
Shrimp (or prawn) dips are fabulous but don't ruin them by blending the lovely prawns in with the other ingredients to make a paste. Instead leave them as half prawns or bite site pieces so that they can be enjoyed separately and retain their delicate taste. The chopped onions and celery add another layer of texture to this creamy dip. The cream cheese is not overpowering.
1/2 lb (250 g) cooked and peeled shrimp (chop to bite size pieces)
1/4 cup chopped celery ( to add crunch)
1/4 cup chopped onion
1 cup mayonnaise (homemade is best)
1package cream cheese (about 8 oz; 250 g), softened
freshly ground black pepper, herbs and spices to taste
In a medium bowl, mix together the mayonnaise and cream cheese. Mix in onion, celery and shrimp pieces. Cover the bowl, and chill before serving.
3. Grilled Red Capsicum Dip with Crisp Fried Tortillas
This is a classic dip based on flame grilled red capsicums, best done on a barbecue.
3 large red capsicums, quartered, with seeds removed
2 green spring onion stems, trimmed, thinly sliced
75g (1/4 cup) sour light cream
3 enchilada tortillas
Pinch of salt
Large pinch of cayenne pepper
1 garlic clove, crushed
1 1/2 tablespoons olive oil
Preheat a grill or a barbecue set on a high setting. Position the capsicums under a preheated grill, skin-side up, grill for about 7-8 minutes. They should be charred and blistered and this imparts a lovely smoky taste to the capsicums. Transfer the cooked capsicum pieces to a plastic bag and seal shut for 10 minutes. This helps to make them easier to peel. Remove the charred skins from the capsicums. Assemble the capsicum flesh, cayenne pepper, garlic, salt in the bowl of a food processor. Add one tablespoon of oil. Chop the ingredients using 2-3 short bursts of the food processor. You want a rough and chunky puree, not a smooth paste. Transfer to a serving bowl.
To prepare the tortillas, cut each into quarters. Using high heat and the remaining oil fry the tortillas quarters for about 45 seconds each side or until they are crisp and golden brown. Cool for about 3-4 minutes to allow them to become firm and brittle.
Serve the dip with the fried tortillas. Top with and sour cream, and chopped chives or spring onions.
4. Carrot and Cumin Dip
The is a very simple vegetarian dip that is surprisingly tasty
1 kg (2b) carrots, peeled, coarsely chopped
2 teaspoons ground cumin
60 ml (1/4 cup) olive oil
3 garlic cloves, crushed
Salt freshly ground black pepper and Salt to taste
Serve with Turkish bread serve
Boil the carrot in salted boiling water for about 30 minutes, until just tender. Drain and transfer the carrots cumin, garlic and oil to the bowl of a food processor, Pulse several times until smooth with small chucks of carrot remaining. Season with salt and pepper to taste. Transfer to a serving bowl and serve with Turkish bread.
5. Tzatziki (Cucumber and Yogurt Dip)
This is a classic dip that is tangy and has the crunch of cucumbers and green beens
2 telegraph cucumbers (about 600g; 1 lb)peeled, then halved lengthways. Remove the seeds
500 g (1 lb) green beans, topped
Freshly ground black pepper
1 teaspoon ground cumin
2 teaspoons olive oil
3 garlic cloves, crushed
520g (2 cups) Greek-style natural yogurt
1/2 teaspoons salt
Grate or finely chop the cucumbers. Transfer the cucumbers to a small bowl and sprinkle with salt and pepper. Then place in a sieve and gently squeeze out the excess moisture. In a small bowl, mix the yoghurt, garlic, oil and cumin. Add the cucumber pulp and mix. Taste and season with salt and pepper as required. Set aside. Boil or steam the green beans for about 1-2 minutes or until they turn bright green, crisp and tender (do not cook to much) You can use the green beans as sticks for dipping into the dip, or chop and add to the dip mixture.
6. Classic Guacamole Dip Recipe
4 medium size avacadoes, peeled, pitted, chopped
1 (or 2) jalapeno or serrano peppers, finely chopped fine
2 Roma tomatoes, washed and chopped
1/2 cup red onion, chopped fine
1 teaspoon lime juice
Transfer all the ingredients to a blender or food processor. Pulse or blend until the guacamole is smooth, but with chunky bits (don't turn it into a boring paste). Add salt if required and extra lime juice to give it a more acid taste.
7. Fabulous Homemade Seven Layer Dip
This recipe uses the guacamole recipe above for a homemade version of a classic dip. So much better when you make it yourself.
1 (6 ounce; 170 g) can sliced black olives, drained
1 1/2 cups Mexican-style cheese blend or shredded sharp cheddar
3 - 6 scallions, sliced
1/2 small head iceberg lettuce, shredded
1 1/2 cups prepared guacamole (see previous recipe)
1 1/2 cups salsa
1/2 cup (4 ounces; 100 g) cream cheese, softened at room temperature
1 1/2 cups reduced-fat sour cream
1 (16 oz; 450 g) can fat-free refried beans
1/2 packet taco seasoning mix
Mix the refried beans with 1/4 cup of sour cream and the taco seasoning mix in a medium size bowl. Spread the mixture as the bottom layer in a serving dish. Combine the cream cheese and remaining sour cream and spoon onto the refried beans layer as dollops and then spread out as the second layer.
Do the same with the guacamole, dropping spoon fulls as dollops over the sour cream layer and the spreading out as the next layer. Drain the salsa in a sieve or colander and spread out forming the next layer. Then place a layer of scallions and lettuce over the salsa. Top with the cheese and garnish with black olives and fresh herbs. Serve with tortilla chips.
8. Rich Spicy Baked Chicken Dip
The shredded chicken provides a nice texture to this baked dip that can be eaten with celery sticks and firm dip crackers or chips ( the mixture is quite dense)
4 boneless skinless chicken breast halves (2 pounds; 1 kg), or the equivalent of chicken thigh meat) cooked by boiling, slow cooking in a crock pot or frying. Shred the chicken with 2 forks
8 oz (250 g) Monterey Jack cheese, shredded sharp cheddar cheese or other type of cheese
1/2 cup chopped celery
16 oz (450 g) bottle Ranch dressing
16 oz (450 g) cream cheese, softened
12 oz (340 g) Hot Sauce
Preheat oven to 375 degrees F (190 degrees C). Spread the chicken out onto a baking pan to form an even layer and sprinkle with the bottle of hot sauce. Combine the cream cheese with all of the Ranch dressing in a saucepan. Using medium heat blend the cheese and dressing until smooth, well mixed and hot and smooth. Pour the mixture onto the chicken on a baking dish (that can be used as a serving dish) and spread to form a layer. Sprinkle the chopped celery on top. Bake the dip uncovered for about 20 minutes. Next spread the shredded cheese on top and bake again for an additional 20 minutes (the cheese should be bubbly but not brown and hard). Serve with celery pieces, cut cross-wise as 'spoons' and firm dip crackers or chips.
9. Artichoke and Spinach Vegetarian Dip
1/4 cup grated Parmesan
1 (8 oz ; 225 g) jar of artichoke hearts, drained and chopped
1 cup grated Monterey Jack cheese or similar
4 strips bacon, chopped and fried crisp, and then drained
1 cup of Brie cut into bite-size cubes
2 teaspoons fresh lemon juice
1 cup heavy cream
1 cup whole milk
1/4 cup general purpose flour
1/4 teaspoon cayenne
1/2 teaspoon ground black pepper
1 teaspoon salt
1 tablespoon minced garlic
1 cup chopped yellow onions
4 tablespoons unsalted butter
2 (10-ounce; 300 g) packets fresh spinach, well rinsed and stems trimmed
Preheat the oven to 350 degrees F ( 190 degrees C). Lightly grease a 9-in ( 20 cm) round ceramic baking dish. Boil the spinach in small batches and cook until just wilted (only about two minutes). Rinse under cold running water to heighten the color. Drain to eliminate any excess moisture and then chop and set aside. Melt the butter in a medium pot over medium heat. Add the onions and sauté for about 3 minutes. Then add the garlic and sprinkle with pepper, salt and cayenne, and fry for another minute. Add the flour, stir and cook, while stirring continuously, to make a light roux. Add the cream and milk, slowly while stirring constantly to form a thick, smooth and creamy sauce. Blend in the cooked spinach and add the lemon juice. Add the artichoke hearts, the gated and cubed cheeses, and the fried bacon pieces, and stir to combine well. Remove from the heat and transfer to the greased baking/serving dish. Sprinkle the Parmesan cheese on top and bake until bubbly ( about 10-15 minutes). Remove the dip from the oven and serve hot with crackers, bread or sturdy chips.
10. Hot, Baked Seafood, Artichoke and Cheese dip
8 oz (225 g) shrimps, cut into bite size pieces (fresh or canned)
8 oz (225 g) crab meat (fresh or canned)
1 small jar pimentos, drained
Juice from 1/2 lemon or one lime
1/2 cup roasted red pepper, peeled and chopped
1/2 cup chopped spring onions or chives
2 cloves garlic, crushed or finely chopped
1 1/2 cups mayonnaise
8 oz (225 g) packet of cream cheese, softened at room temp
1 cup shredded fresh Parmesan Cheese
1 1/2 cups Monterey Jack Cheese
2 cans artichokes, well drained.
Tabasco sauce, Chili or Pepper Sauce to taste
Chop artichokes or break into pieces and add with all the other ingredients into a shallow casserole dish and bake for about 20 minutes in an oven set at about 375 degrees F (190 degrees C). Check at intervals - the cheese should be bubbly and just starting to brown lightly. Serve with your favorite chips, crackers or bread pieces.
Related Articles and Recipes for Dips
=> Homemade Chicken Nuggets Recipe for Kids, Baked with Delicious Dips
=> Best Blue Cheese Recipes for Dips, Sauces, Bakes, Pasta and Meat Dishes
=> Grilled Smoky Eggplant Yogurt Dip Recipe
=> Homemade Dukkah Recipes – Egyptian Seasoning for Rubs, Dips with Nuts, Seeds, Spices
=> Crispy Coconut Shrimp Batter Recipe, with Yogurt, Mango, Chive Dip
=> Homemade Hummus Recipes - Easy, Healthy Options with Nutrition Facts
=>