Torrone and Nougat Recipe Ideas for Homemade Edible Gifts
Torrone is the Italian version of 'Nougat', which is the more common name in France and Britain for very similar sweets. Torrone is a lovely sweet or candy made from honey, sugar, well-whipped egg whites, vanilla, and walnuts, pistachios, hazelnuts, almonds or other nuts. It is an ancient sweet that is a challenge to make at home, but can be done by carefully following the recipe outlined below. It is very popular in Italy and Sicily.
The best time to make torrone is in winter, when temperatures are cooler and the atmosphere is drier. On a warm, humid days, torrone and nougat may become sticky and not set properly. These items make perfect gift as they last for about three weeks after being made. Torrone is popular for kids parties and as a special sweet for a dinner parties.

There are two types of torrone: morbido (soft), which is easy to chew and not crumbly, and duro (hard), which is crunchy and crumbly. The same ingredients are used for both, with the quantity of honey, sugar and nuts producing the difference is hardness.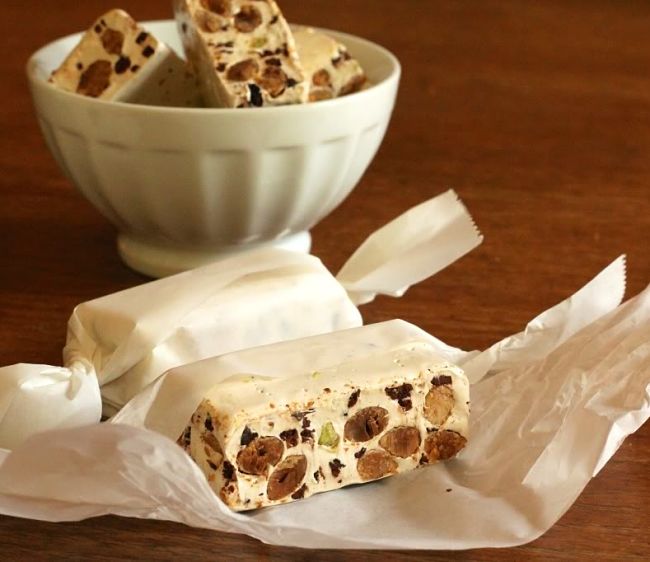 What is Torrone and Nougat?
What is the history of torrone and nougat? Various sources show that the ancient Romans made 'cuppedo' o 'cupedia', which resembled torrone and was made out of honey, cooked wine, flour and sesame. It is likely that the sweet had an Arabic origin as 'cubbaita', which is a sweet. The Arabs similar sweets to the Mediterranean countries such as Italy, the South of France and Spain. Torrone was produced in the 16th century in Spain, particularly in the area of Alicante. Torrone appeared as 'Montélinar Nougat' in France in the Middle Ages.

The famous legend of Cremona in Italy proposes that the sweet 'torrone' was created in the township of Cremona in 1441, to mark the marriage of Francesco Sforza and Bianca Maria Visconti. The Court pastry chefs made the first 'torrone' to resemble the 'Torrione' or 'Torrazzo', which is the cathedral tower of Cremona. The legend contends that the name 'torrone' arose from the name of the tower. However it appears that the legend was only a story created by the painter Massimo Galelli, as an advertising gimmick in 1918. However, the sweet appears in documents from Cremona dating from the 1500s and so there maybe some truth to part of the story.
Torrone Recipe (Simple version with sugar and honey combined)
Preparing torrone at home is not easy and it requires considerable care in the cooking, good temperature control and continuous stirring the ingredients to generate a well-amalgamated mixture that will set properly. It is probably no coincidence that torrone was originally made by chemists rather than chefs.
Ingredients
Cornstarch for dusting
3 whites of large eggs, at room temperature
3 cups whole almonds, blanched or pistachios, cashews, hazelnuts or other nuts
3 cups sugar
1/4 teaspoon kosher salt
1/2 cup confectioners sugar
1 cup clover honey
Finely grated zest of 1 large orange
1 teaspoon vanilla extract
Special equipment: parchment paper; a candy thermometer
Method
Lightly dust a clean part of a bench with cornstarch.
Line a 9- x 13- inch ( 22 - 33cm) baking dish with parchment paper, with excess paper hanging over edges.
Heat oven to 350 degrees F (175 degrees C). Spread nuts on a edged baking sheet. Bake the nuts until fragrant and golden (about 10-12 minutes). Put the pan on a rack to cool completely.
Place the salt and 3 egg whites into the bowl of an electric mixer fitted with whisk tool and set aside.
Combine the sugar and honey in a heavy 4-quart ( 4 litre) saucepan and add a candy thermometer. Heat the mixture over medium heat stirring with a plastic spatula or wooden spoon until the sugar is dissolved and the mixture starts to simmer becomes more liquid and starts to turn cloudy).
Continue cooking and heating, stirring every now ands then, until candy thermometer registers 315 degrees F (160 degrees C). Generally it will take about 15 minutes to get to this temperature. The mixture will start to foam and get darker in colour as temperature increases.
Quickly beat egg whites on medium speed until firm peaks form. Add the confectioners sugar and beat until the sugar is fully incorporated. Turn off mixer, leaving bowl in place.
Stir the sugar and honey mixture until the temperature falls to 300 degrees F ( 150 degrees C) and remove candy thermometer.
With mixer on medium rate, slowly pour sugar and honey mixture down the side of the bowl in a gentle stream. The egg mixture will initially double in volume and them start to shrink. Continue beating for about 5 minutes until mixture has cooled to a warm temperature and starts to lighten in color.
Add vanilla and zest and beat the mixture for about a 1 minute more. Then fold in nuts using a wooden spoon. The mixture will thicken and become very sticky as it cools.
Turn out the torrone onto the cornstarch dusted work surface. Knead the mixture for about 5 to 6 turns, then place it into the prepared baking dish and press it to flatten and partially fill the pan.
Put the pan on a wire rack to cool for about one hour.
Using the overhanging parchment paper, take the torrone out of the pan and cut candy into pieces.
Layer the pieces between sheets of parchment paper in a sealed container let stand overnight at room temperature for at least 8 hours or overnight to dry the torrone pieces. The torrone can be stored in this way layered between sheets of parchment paper, in a sealed container at room temperature, for up to 3 weeks.
Soft Nougat (torrone morbido) Recipe
Packed with almonds, pistachios, cherries and a layer of white chocolate, this is a wonderful recipe.
Ingredients
3 egg whites
1/2 cup water
500 g (16 oz) sugar
confectionery rice paper
100 g (4 oz) pistachios
400 g (14 oz) raw almonds
50 g (3 oz) liquid glucose
100 g (4 oz) white chocolate
450 g (15 oz) orange blossom honey or similar tasty honey variety
60 g (2 oz) marasche cherries (Italian cherries in syrup), or glacé cherries if unavailable
Method
Preheat oven to 180 degrees C (350 degrees F). Lightly roast the almonds in the oven. Butter the sides of a flat tray and line the base with rice paper. Place the glucose, sugar and water in a saucepan, and stir to dissolve and then bring the mixture to the boil and cook until it reaches 150 degrees C (300 degrees F) measured with a sugar thermometer. Place the honey in a separate saucepan and heat until it reaches 120 degrees C (250 degrees F). Next, beat the egg whites in a small electric mixer bowl to soft peaks. With the sugar and honey at the specified temperatures, gradually start pouring the hot honey down the side of the mixing bowl into the egg whites with the beaters running. Then, gradually add the sugar syrup in a similar way. Keep beating the mixture for another 5 minutes ( until the mixture starts to thicken and firm up). Next fold in the cherries, almonds and pistachios.
Pour the mixture into the greased and lined tray and spread to the corners. The mixture should be quite stiff by this stage. Smooth the top by covering with a sheet of baking paper and rolling with a rolling pin. Place a large rectangular tray on top and weigh down with a heavy object, such as a bag of sugar or flour. Leave overnight for the nougat to set.
The next day, melt the chocolate in the microwave or over steam. Remove the baking paper from the nougat in the pan and spread the chocolate over the top. Cover with another sheet of baking paper. Leave for 5-10 minutes or until the chocolate sets firm or hard. Remove the baking paper and cut the nougat into bars.
Torrone Recipe with Pistachios and Honey
Ingredients
1/2 cup water
1 1/2 cups sugar
1/4 teaspoon salt
3 large egg whites
3/4 teaspoon pure almond extract
1 1/2 teaspoons orange-flower water
2 1/2 cups salted roasted pistachios
1 1/2 cups clover or other mild honey
1 tablespoon cornstarch plus additional for kneading
Equipment: a candy thermometer; an 8-inch (18 cm) square metal baking pan with low sides; edible wafer paper; a stand mixer fitted with whisk attachment.
Method
Grease the baking pan, then line bottom and sides with pieces of edible wafer paper, trimming it to fit. Heat honey, sugar in the water in a large heavy pot over low heat, stirring, until sugar has dissolved. Then bring to a boil over moderate heat, without stirring, brushing any sugar crystals on the sides of the pan with a pastry brush dipped in cold water. Using the thermometer, heat the syrup, stirring occasionally, until it registers 310 to 315 degrees F (157 degrees C) (the upper end of hard-crack stage). Just before the mixture reaches this temperature, start beating the egg whites with salt in the mixer, until they hold soft peaks. Remove the syrup from heat and let stand until bubbles dissipate.
With mixer running at low speed, slowly pour the hot syrup into the beaten egg whites in a thin stream down side of bowl. Increase speed to high and beat until mixture has cooled to warm. The mixture will rise, then fall. This generally takes about 15-20 minutes. Add the flower water and almond extract, beating for an extra minute. Fold in the pistachios. Sprinkle a work surface with cornstarch (about 1 tablespoon). Then transfer the torrone mixture onto cornstarch and gently knead a few times with hands dipped in cornstarch. Transfer the torrone mixture into the prepared baking pan and top with a square of wafer paper, trimming to fit. Let stand at room temperature at least 8 hours.
Then, run a sharp thin knife around edges of pan, then invert torrone onto a cutting board. Leaving wafer paper on, trim ends and cut torrone into 1 inch (25 mm) wide strips. Wrap each torrone strip in parchment paper.
Chocolate Torrone Recipe with Hazelnuts
Ingredients
for the Coating
12 oz (350 grams) ounces dark chocolate
for the Filling
3 oz (100 grams) dark chocolate
5 oz (150 grams) milk chocolate
3 oz (100 grams) white chocolate
2 cups Hazelnuts (whole peeled and toasted)
1/2 cup (150 grams) Nutella or similar hazelnut spread
Method
Prepare the Coating - Using a small saucepan over low heat, melt the chocolate over steam until it is dissolved and smooth. Remove from heat and coat a 8 x 4 inch (21 x 10 cm) well-greased pan with the melted chocolate, swirling or brushing to coat evenly, drain any extra chocolate back into the bowl. Freeze the pan with chocolate for 10-20 minutes until hardens, coat one more time with melted chocolate and freeze one again for 10 minutes.
Prepare the Filling - While the coating is in the fridge, melt the milk, white and dark chocolate as before. Then, remove the pan from heat and mix through the Nutella, stirring until smooth. Fold in the hazelnuts, remove loaf pan from fridge and add the hazelnut filling. Refrigerate for approximately 30 minutes, remove and cover with the remaining dark chocolate coating. Cover lightly with foil and refrigerate for about 3-6 hours. Remove from loaf pan and slice or chop into pieces.
Related Articles about Cookies and slices
=> How to Make Toffee Apples, Candy Apples and Easy to Make Toffee Recipe
=> Are Snack Bars Healthy - Cereal, Protein, Fruits, Granola - Myths and Facts
=> Best Homemade Marshmallow Recipe Collection for Slices and Desserts
=> Smart Healthy Snacks - Ideas, Tips and Best Food Choices
=> Dark Chocolate is a Healthy Choice with Many Proven Health Benefits
=> Easy Chocolate Truffles Recipes with Liqueurs, Mint, Nuts and Spices
=> Chocolate Truffles Recipes with Liqueurs, Mint, Nuts and Spices
=> Dutch Chocolate Pastry Balls Recipe, Cream Filled