Turkish Gozleme Recipes - Variations with Feta, Spinach, Meat, Vegetables, Herbs
Gözleme is a traditional and favorite Turkish pastry dish that resembles and Lebanese style filled flat bread. You make it by rolling dough out into a flat thin circle or rectangle, brushing it with eggs and butter, adding a savory filling, rolling or folding over and cooked over a griddle or in the oven.
The name 'Gozleme' is derived from a Turkish word for 'compartment', which clearly describes it. It is a filled flat bread than a conventional pastry, and quite thin. A huge variety if fillings can be used, which is part of its appeal, as either a main meal, or a snack.
Gözleme is suitable for the whole family at any time of the day, even breakfast. Meats for the fillings can include chopped lamb, minced beef, chicken or pork and also seafood.
Vegetarian Gözleme are also an option. Fresh vegetables can also be included in the filling such as radish, yams, potatoes, mushrooms, garlic, shallot, scallion, onion, various peppers, chard, leek, eggplant, zucchini and spinach.
You can also use sweet fillings such as fresh and dried fruit, and chocolate.
A variety of cheeses can be used, but feta is the favorite. Finally, various spices and fresh herbs can be added to enhance the flavor.
This article provides tips for making delicious Gozleme at home includes several recipes to get you started.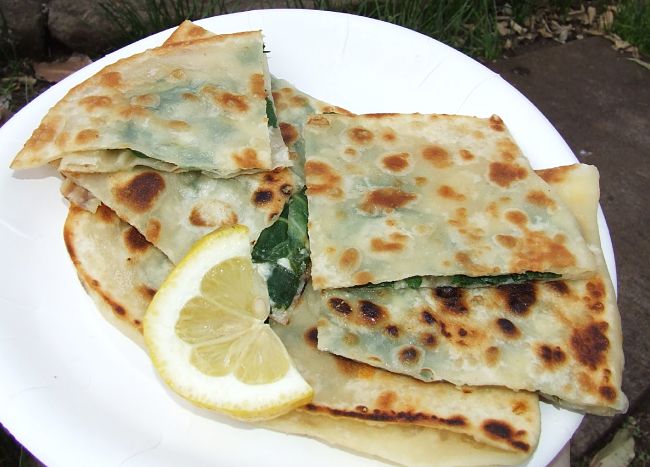 Great Tips for Making Gozleme at Home
For the dough, try a mixture of both wholemeal and plain flour, combined with salt and water and kneaded well. The best dough is made it the day before and left overnight before rolling and assembling.
Use the rolling process to not only to flatten the dough, but also to mix it to the right consistency. Add a little flour to the dough and roll, wrapping the sticky dough around the rolling pin. Peel it back off, and keep doing this to bring the mixture to the right consistency and gradually make it into a thin oval or rectangle. Roll dough as thinly as possible (without tearing the dough or making holes)
Spread the filling over one half the of the rolled-out dough. Add chopped spinach and herbs and then add chunks of feta cheese, or other cheeses on the top of the spinach. Drizzle with a little olive oil and then fold the other half of the dough over to enclose the filling. Press edges firmly together to seal. Press down flat.
Cook the gozleme on a hotplate, griddle, barbecue hot-plate or heavy-based frying pan, turning once, until golden on both sides. Slice into pieces to serve.
Turkish Gozleme Recipes
Classic Spiced Lamb Gozleme with Feta and Homemade Tomato Sauce
Ingredients
For the dough
One sachet dried yeast (fast acting)
2 tablespoons virgin olive oil
250 g (9 oz) plain flour
1 teaspoon golden caster sugar
For the filling
100 g (3.5 oz) feta cheese
50 g (2 oz)toasted pine nuts
3 spring onions, finely sliced
zest 1 lemon
50 g (2 oz) raisins
1 teaspoon mild chilli powder
1 teaspoon ground cinnamon
2 teaspoons ground coriander
2 teaspoons ground cumin
2 garlic cloves, crushed
500 g (1.1 lb)lamb mince
1 tablespoon olive oil, plus extra oil to finish
For the Tomato Sauce
8 tablespoons tomato ketchup
1 tablespoon very finely chopped red onions
2 tablespoons pomegranate molasses (or other molasses)
To make the dough, combine the yeast with 3/4 cup lukewarm water and the sugar in a small bowl. Mix to dissolve the yeast and then set the bowl aside for about 10 minutes to allow the yeast to grow and froth the liquid. Add the flour and a teaspoon of salt to a large bowl. Make a cavity in the center of the flour and pour in the yeast mixture. Add the olive oil and mix to form a dough. Knead the dough for about 10 minutes, then put it in an oiled bowl and leave it in a warm place to doubled in size.

To make the filling, heat the oil in a frying pan and fry the mince until cooked and well browned. Add the spices, garlic and raisins, and fry for a couple of minutes. Turn off the heat below the pan. Add the spring onions, lemon zest, pine nuts and season to taste. Mix then set aside to cool.

Divide the dough into 4 even sized pieces. Roll out each piece on a lightly floured surface to an oval or rectangular shape of 25 x 30cm (10 x 14 inches). The dough should be very thin, but without any holes of breaks. Spoon some of the mince on one half of the dough leaving a border all the way round (2 cm; 3/4 inch). Crumble the feta on top. Fold the clear half of the dough over the filling. Pinch the edges to seal.

To cook heat a large heavy frying pan over high heat or use a barbecue hot plate or a metal plate placed over an open fire. Brush each of the gozleme all over with a little oil. Cook one or two at a time for 3-5 minutes per side. Turn over when the lower surface has browned. Combine the tomato sauce ingredients and serve in a jug with the hot, crispy gozleme.
Basic Gozleme Recipe (Often served at Markets)
Ingredients
For the Dough (for 5-6 gozleme)
1/2 cup canola oil
1 teaspoons salt luke-warm water
(extra plain flour for dusting)
2 cups wholemeal flour
2 cups plain flour, unbleached
For Vegetarian Filling
1 teaspoons mixed dried herbs (e.g. oregano, sage)
1 teaspoons allspice
1 teaspoons white pepper
1/2 cup diced brown onion
1/2 cup chopped spring onion
1/2 cup chopped flat leaf parsley
1/2 cup chopped fresh mint leaves
2 cups chopped spinach leaves (or similar)
2 cups grated mixture of feta, cheddar, mozzarella and / or ricotta cheese
For minced Lamb Filling
1/2 cup of canola or olive oil for frying
1 medium carrot finely grated
1/2 teaspoons paprika (hot or mild)
1/2 teaspoons ground cumin
2 cloves minced garlic
1/2 kg (1 lb) minced lamb
fresh red chillies (to taste)
Method
To prepare the dough sift the salt and flours into a bowl and add 1.5 cups of warm water. Mix by hand or using a food processor fitted with a dough hook. When the dough forms a ball, remove to a board and knead by hand for 10-15 minutes. Add extra water or flour to get a dough that is pliable and elastic, but not sticky. Set the dough aside covered for at least 8 hours or overnight.

Divide the dough into six round balls. Dust each with flour and roll flat and very thin using a rolling pin. Roll into rectangle shapes, as thinly as possible. Take one of the folded dough squares and add some of the the filling sparingly (similar to a pizza filling) to one half of the square. Start adding the filling using a layer of cheese. Then add some spinach, spring onion, mint and parsley as the next layer. Top with some of the herb and spice mixture. Next add some of the cooked savory minced lamb mixture, as the last layer.

Fold over the uncovered half of the dough square to cover the filling. Press down lightly all over. Cook in a large skillet or on a pre-heated oiled BBQ hotplate. Don't have the cooking surface too hot. It should take about 10 minutes to cook (5 minutes a side). Cut into smaller squares or wedge shapes and serve with lemon slices or quarters.