Vegan Green Jackfruit Recipes: Barbecue, Curry, Taco, Pasta, Carnitas and Stir-Fry
The humble jackfruit has received a boost recently from the Meatless-Monday advocates and from people trying to eat less meat for health reasons. Ripe jackfruit has a sweet taste and is a popular ingredient for dessert dishes. Green jackfruit is less sweet and more savory and has a unique and appealing texture.
The texture of cooked green jackfruit is similar to cooked pulled chicken and pork and it has been used as a meat substitute for decades throughout Asia. it also resembles the texture of tofu, mushrooms and fish. While dedicated vegans may shun the notion of 'meat substitutes', many recent vegetarian converts including flextarians and semi-vegetarians often crave dishes that resemble the dishes they loved when they were meat-eating carnivores.
The Jackfruit plant (Artocarpus heterophyllus) is related to figs, breadfruit and mulberry. When the huge fruiting bodies are opened they reveal large pods or bulbs, which are not the seeds themselves, but a fleshy edible seed coatings that are cooked for savory dishes. There may be as many as 100 to 500 edible bulbs within a single jackfruit, interleaved between thin bands of fibers. The edible bulbs are cut open, the thick light brown colored seeds are removed, and the delicious flesh (sheath) is used for the dish. The Jackfruit seeds are also edible.
Jackfruit can be purchased fresh from specialty stores, but it can be hard to locate a good supplier and it is only available fresh in summer. You can grow your own, but be warned that the fruit are huge (3-30 kg; 6- 60 lb) and the trees are gigantic when mature - over 30 m (100ft) high! Frozen, dried or canned Jackfruit (preserved in brine for savory dishes) are widely available and convenient.
Jackfruit is rich in calories, dietary fiber, minerals, and vitamins and is free from cholesterol and saturated fats. Jackfruit is relatively rich in protein with 100 g containing 1.7 g of protein (3% of the recommended daily allowance), which is higher than the protein in 100 g of figs, mulberries and sweet potatoes.
This article discusses the nutrition information for jackfruit, its uses, and a collection of the best ever jackfruit recipes for savory dishes.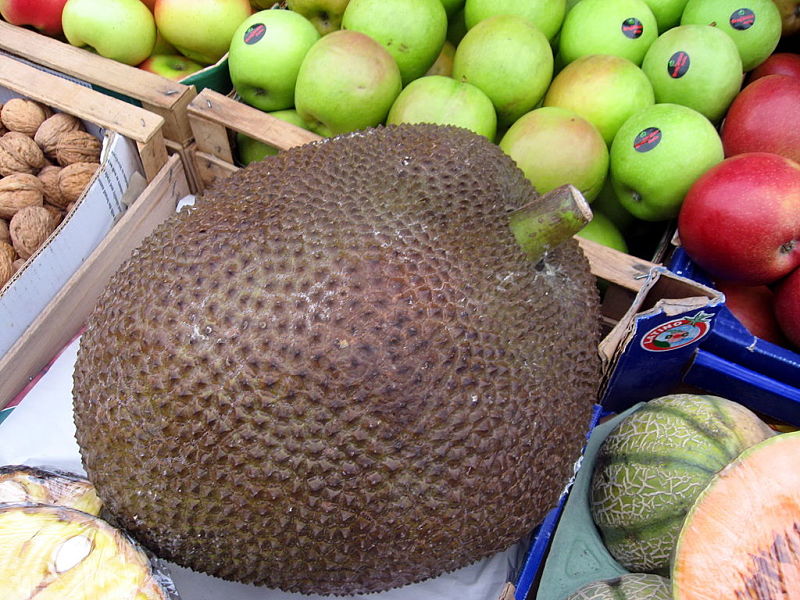 Health Benefits of Jackfruit and Nutritional Facts
The table below compares the nutrients of 100 g of jackfruit with figs, sweet potato, butternut squash and potatoes. The key points are:
► 100 g of extracted jackfruit bulbs provide 95 calories when ripe, less when green. Jackfruit has more calories than the other foods listed in the table below.
► Jackfruit is rich in dietary fiber, and has 1.7 g or protein, more than the other foods except for potatoes.
► Fresh bulbs contain small amounts of vitamin-A, and antioxidants. Jackfruit is a rich source vitamin-C, with about 14 mg in a 100 g serving, which provides about 20% of the recommended daily allowance. Jackfruit is also an excellent source of the B-group vitamins especially niacin, riboflavin, vitamin B-6 (pyridoxine) and folic acid. Jackfruit has higher levels of vitamins than figs, sweet potato, butternut squash and potatoes.
► Jackfruit is a good source of minerals including magnesium, manganese, potassium and iron.
Preparation, Serving Tips and Uses of Jackfruit
Preparing fresh jackfruit can be very messy due to the latex like sap that exudes from the fruit when cut and the large size of the fruit. You can use canned or frozen young or green jackfruit to avoid these problems.
Jackfruit is sliced open in a similar way to large melons, squash and pumpkins. A white, sticky latex exudes from the cut ends, but it can be easily washed off your hands, knives and plates as well as the jackfruit slices. It is messy but can be dealt with.
The thick fibrous rind and the fibrous core in the middle of the fruit needs to be removed to loosen individual bulbs. Harvest the bulbs and collect in a bowl.
Cut open the thick orange-yellow flesh of each bulb and remove thick, light-brown seeds, which are edible, but are prepared and cooked separately.
Collect the delicious bulb flesh, which is use for cooking most dishes.
Young green jackfruit can be sliced into bite size pieces and cooked whole without removing the seeds, which are edible.
Canned and frozen young green jackfruit comes as sections, rather like pineapple sections.
Suggested Uses of Jackfruit in Savory Dishes
► Substitute jackfruit as an ingredient in dishes containing tofu or tempeh
► Replace some of the mushrooms in dishes with green jackfruit cubes or sections
► Use fried or roasted jackfruit to make vegetable versions pulled "Pork" or "Chicken" sandwiches.
► Put add cooked jackfruit to burritos and tacos, and also for pizzas and pasta dishes.
► Jackfruit can also substitute for fish and seafood in 'Fish" Cakes or 'Salmon' Salads.
► Since jackfruit is a fruit and tastes sweet, you can also use it in desserts such as fruit salads, tarts and custards.
Cooking Methods for Jackfruit
Oven Roasted Jackfruit
Preheat your oven to 400 degrees F (200 degrees C). Lightly grease a shallow baking pan and spread the jackfruit out in a single layer. Place the pan in the oven and toss and flip the slices over while cooking for about 20 minutes, or until the pieces start to brown up. Season with salt and pepper, and other slices. Cook for another 5 minutes.
Barbecued and Grilled Jackfruit
Young green jackfruit slices can be placed directly onto a barbecue or grill grate and cooked until brown on both sides. What is often referred to as barbecued (BBQ) jackfruit is in fact jackfruit that has been roasted in BBQ sauce. After the jackfruit has been oven-roasted until brown, pour dollops of good quality BBQ sauce over the jackfruit and stir to coat all sides. Place the pan back into the oven and roast for 10-15 minutes.
Pan-Fried Seasoned Jackfruit
Pat the jackfruit pieces dry with paper towels and place in a bowl. Mix together several tablespoons of flour in a cup and season with salt, freshly ground black pepper, garlic powder, dried oregano, paprika and other spices. Pour over the jackfruit slices and toss to coat well. Heat 2 tablespoons of rice bran or grape seed oil in a skillet, wok or frying pan, Fry the jackfruit pieces until brown on both sides (generally about 5 minutes a side). Drain the jackfruit pieces on paper towels placed in a colander or sieve.
Stir-Fried Jackfruit
Chopped or slices jackfruit pieces and the separated bulbs can be stir-fried in a similar way to mushrooms or tofu. This is a good way to pre-cook the jackfruit before adding to pasta sauces, pizzas, salads, sandwiches and other dishes.
Boiled Unripe, Young Green Jackfruit
Heat a pot of water to boiling and add 1 teaspoon of salt. Place the jackfruit slices into the boiling water and cook until they are tender (generally about 10 -15 minutes depending on the thickness of the slices.
Caramelised Jackfruit
Fry chopped onions and garlic until tender in a heavy pan. Add a little sugar, maple syrup or even honey and your favorite blend of spices. Cook very slowly over very low heat for 30-45 minutes in a similar way to preparing caramelised onions. Only stir occasionally. This will cook, bown and coat the jackfruit in a delicious caramelized sauce which will thicken during the cooking. This is ideal for sandwiches.
Curried Jackfruit Jamacan Style with Chickpeas
Ingredients
For cooking the jackfruit
1 teaspoons dried thyme
1 teaspoons garlic powder
2 cans of jackfruit in brine
2 teaspoons arrowroot powder
1/2 teaspoons ground allspice (or other spices to taste
1 teaspoons kosher salt, 1/2 teaspoon freshly ground black pepper
For the Curry
1 onion, diced
3 cups of water
2 carrots chopped
1/2 teaspoons salt
4 red potatoes, diced
2 cups cooked chickpeas
2 teaspoons dried thyme
1/2 teaspoons ground allspice
1/2 teaspoons red pepper flakes
4 cloves of garlic, minced and
2 tablespoons Jamaican curry powder
Fresh coriander and parsley for garnishing
1 chilli pepper, chopped after removing the seeds
Method
Drain and rinse the jackfruit slices and then pat dry on paper towels. Cut the slices into bite-sized pieces and transfer to a bowl. Add the spices and toss to coat all the pieces evenly. Heat 2 tablespoons coconut oil in a wok or heavy frying pan to moderate-high temperature. Add the jackfruit tin batches so that there is only a single layer or slices in the pan. Fry the jackfruit slices for about 5 minutes a side, or until well browned and starting to become crisp on the outside. Transfer the cooked jackfruit to a serving bowl and set aside. Using the same pan, add 2 tablespoons of coconut oil and fry the onion, garlic, chopped chilli pepper until softened (about 4 minutes). Add the chopped vegetables and spices and fry for about 5 minutes. Then add the cooked chickpeas, 2–3 cups of water and simmer for 5-10 minutes until the potatoes and carrots are just tender. Add the cooked jackfruit and stir through until the jackfruit is warm. Do not cook any longer as you want to retain the crispness of the jackfruit. Serve immediately garnishing the servings with chopped parsley or coriander.
Pan-Fried Jackfruit Topping for Pasta with Lemon Sauce
Ingredients
1/2 teaspoon paprika
3 tablespoons of flour
1/2 teaspoon garlic powder
1/2 teaspoon dried oregano
1 cup fresh basil leaves (for serving)
2 tablespoons rice bran or grape seed oil
vegan Parmesan cheese, grated (for serving)
1 lb (500 g) dried pasta cooked in salty water
salt and freshly ground black pepper to taste
2 cans of jackfruit in brine, drained and pieces sliced in half
For the lemon sauce
2 cups coconut milk
pinch of ground nutmeg
4 tablespoons vegan margarine
juice of one lemon and the zest
2 tablespoons vegan Parmesan cheese, grated
Method
Cook the pasta on boiling salted water until just shy of the al dente stage. Drain the pasta, setting aside 1 cup of the water. Meanwhile, drain and rinse the jackfruit and cut each piece in half. Pat the jackfruit pieces dry with paper towels. Combine the flour with the garlic powder, paprika, salt dried oregano and black pepper in a bowl. Add the jackfruit and toss to cover all pieces with the seasoned flour. Heat the oil in a skillet or heavy frying pan and fry the jackfruit until brown and crisp on both sides (about 5 minutes for each side). Drain the fried jackfruit in a colander lined with paper towels and set aside. Prepare the lemon sauce by melting 4 tablespoon of vegan margarine in a large saucepan in which the dish will be assembled. Add the coconut milk, lemon juice and grated Parmesan cheese. Sprinkle over a pinch of ground nutmeg. Cook until the lemon sauce has started to thicken. Add the cooked pasta and 1/2 cup of the reserved pasta water. Heat while stirring until everything is hot and combined. Turn off the heat. Season with salt, lemon zest and freshly ground black pepper. Add the pan-fried jackfruit and serve topped with grated Parmesan and fresh basil leaves.
Green Jackfruit Curry Recipe
Ingredients
4 cloves
4 cardamoms
2 green chillies
1 onion, chopped
3 pieces of goraka
1 can of coconut milk
salt and pepper to taste
1 sprig of curry leaves
3 teaspoons curry powder
2 teaspoons chilli powder
1 teaspoon turmeric powder
2 teaspoons ginger, chopped
2 teaspoons garlic, chopped
1 in (2 cm) piece of cinnamon
3 cans of Young Green Jack fruit (or equivalent of fresh fruit)
Method
Fry the ginger, garlic, onions, green chillies and curry leaves in about 1 tablespoon of rice bran oil, until golden brown. Add the spices, stir through and fry for 1 minute. Add the rest of ingredients, except for the coconut milk, and mix to combine well. Transfer the mixture to a slow cooker. Pour in the coconut milk, stir through and cook on low heat for 6 hours. You can also cook on the stove top or in the oven using a heavy bottom pan or Dutch oven. Cook for 3-4 hours using very low heat.
Jackfruit Tacos or Tortillas Recipe
Ingredients
1 white onion
2 cloves garlic
1 teaspoon salt
1 tablespoon olive oil
1/2 tablespoon paprika
8 small corn tortillas
1/4 teaspoon red pepper
1 tablespoon ground cumin
1 tablespoon chilli powder
2 cans of jackfruit in brine
1 cup vegetable broth or water
Method
Fry the onions and garlic in the olive oil over medium heat until transparent and starting to brown. Rinse the jackfruit well and drain. Cut the core pieces off of the chunks of jackfruit. Using two forks, pull the jackfruit meat apart and shred. Remove the seed pods. Add the shredded jackfruit and all the spices to the onions and garlic in the frying pan. Add just enough broth to allow the jackfruit to simmer, but no more, otherwise it will be too watery. Simmer while stirring for 10-15 minutes. Heat the corn tortillas over a flame, in the microwave or an oven. Or heat taco shells in the oven. Add the jackfruit to the heated tortillas or tacos and top with black beans, grated cheese and fresh herbs such as cilantro.
| Nutrients in 100 g serving | Jackfruit | Fig fruit | Sweet potato | Potato | Butternut squash |
| --- | --- | --- | --- | --- | --- |
| Energy | 95 Kcal | 74 Kcal | 86 Kcal | 70 Kcal | 45 Kcal |
| Carbohydrates | 23.5 g | 19.18 g | 20.12 g | 15.90 g | 11.69 g |
| Protein | 1.72 g | 0.75 g | 1.6 g | 1.89 g | 1.0 g |
| Total Fat | 0.64 g | 0.30 g | 0.05 g | 0.10 g | 0.1 g |
| Cholesterol | 0 mg | 0 mg | 0 mg | 0 mg | 0 mg |
| Dietary Fiber | 1.5 g | 2.9 g | 3 g | 2.5 g | 2 g |
| Vitamins | | | | | |
| Folates | 24 mcg | 6 mcg | 11 mcg | 18mcg | 27 mcg |
| Niacin | 0.920 mg | 0.400 mg | 0.557 mg | 1.149 mg | 1.200 mg |
| Pantothenic acid | | 0.300 mg | 0.80 mg | 0.279 mg | 0.400 mg |
| Pyridoxine | 0.329 mg | 0.113 mg | 0.209 mg | 0.239 mg | 0.154 mg |
| Riboflavin | 0.055 mg | 0.050 mg | 0.061 mg | 0.038 mg | 0.020 mg |
| Thiamin | 0.105 mg | 0.06mg | 0.078 mg | 0.081 mg | 0.100 mg |
| Vitamin A | 110 IU | 142 IU | 14187 IU | 7 IU | 10630 IU |
| Vitamin C | 13.7 mg | 2 mg | 2.4 mg | 11.4 mg | 21 mg |
| Vitamin E | 0.34 mg | 0.11 mg | 0.26 mg | 2.9 mcg | 1.44 mg |
| Vitamin K | | 4.7 mcg | 1.8 mcg | | 1.1 mcg |
| Electrolytes | | | | | |
| Sodium | 3 mg | 1 mg | 55 mg | 6 mg | 4 mg |
| Potassium | 303 mg | 232 mg | 337 mg | 455 mg | 352 mg |
| Minerals | | | | | |
| Calcium | 34 mg | 35 mg | 30 mg | 10 mg | 48 mg |
| Copper | | 0.070 mg | | | 0.072 mg |
| Iron | 0.60 mg | 0.37 mg | 0.61 mg | 0.73 mg | 0.70 mg |
| Magnesium | 37 mg | 17 mg | 25 mg | 22mg | 34 mg |
| Manganese | 0.197 mg | 0.128 mg | 0.258 mg | 0.141mg | 0.202 mg |
| Phosphorus | 36 mg | | 47 mg | 61 mg | 33 mg |
| Selenium | 0.6 mg | 0.2 mcg | | | 0.5 mcg |
| Zinc | 0.42 mg | 0.15 mg | 0.30 mg | 0.33 mg | 0.15 mg |
| Phyto-nutrients | | | | | |
| Carotene-α | | | 7 mcg | | 834 mcg |
| Carotene-ß | 61 mcg | 85 mcg | 8509 mcg | 4 mcg | 4226 mcg |
| Crypto-xanthin-ß | 5 mcg | | 0 mcg | 0 mcg | 3471 mcg |
| Lutein-zeaxanthin | 157 mcg | 9 mcg | | 21 mcg | 0 mcg |