Yogurt Marinated Chicken Recipes for Barbecue or Grill
Adding flavor and imparting tenderness and moisture is the main reason for marinating foods, especially chicken which can be bland and dry when grilled. In India and Turkey, yogurt is an important ingredient for marinating. The acidity of yogurt helps to tenderise the chicken and allows added spices to infuse into the meat imparting a delight acidity to the flavor. Similarly the yogurt marinade and spices adds a flavorsome coating for the chicken, which can be grilled or barbecued.
Care is needed to ensure the coating does not burn while the chicken is cooking. So the pieces should be small and have the bones removed (except for chicken wings).
In Turkish marinades, yogurt is often paired with lemon juice, garlic, olive oil and an array of Turkish spices, and herbs such as mint.
Indian marinated tandoori style chicken features a delightful blend of yogurt, ginger, fresh chili, citrus such as lime, garlic and various Indian spices. If you love tandoori chicken in restaurants you will love making your own at home and cooking it on your grill or barbecue.
Yogurt Marinated Grilled Chicken - Turkish Style Recipe
Ingredients
2 teaspoons paprika
Salt and black pepper
2 teaspoons ground cumin
1/4 teaspoon cayenne pepper
2/3 cup plain Greek-style yogurt
1 tablespoon garlic (finely chopped)
3 tablespoons extra-virgin olive oil
Rice bran or Grape Seed oil, for the grill or barbecue grate
2 tablespoons fresh lemon juice, plus lemon wedges for serving
12 bone-in chicken thighs (about 3 1/2 pounds; 1.7 kg), rinsed and dried
2 tablespoons thinly sliced scallion greens and whites (about 1 medium scallion)
Method
Mix the marinade in a large bowl (non-reactive to the acid in yogurt) by whisking the yogurt, lemon juice, oil, cumin, black pepper, garlic, salt, paprika, and cayenne. Using a sharp knife, score the thigh pieces several time to allow the marinade to penetrate. Add the chicken to the yogurt mixture, mix to coat all sides of the pieces and set aside covered in the refrigerator for 4 -8 hours, or overnight for 24 hours (the longer the better).
Preheat a charcoal barbecue grill or gas grill on medium-high for 15 minutes, with a hot area and a medium temperature area. Clean and oil the grill grate with rice bran oil or grape seed oil. Cook the chicken pieces, bone side down for 2-4 minutes over the hottest area, then flip over and grill on the other side. Continue cooking until the skin is browned and crisp. Then, move the chicken to the cooler side of the grill and continue cooking more slowly turning occasionally, until the chicken is dark and fully cooked and has dried,. This generally requires 20-30 minutes. Check regularly to ensure the chicken is not burning. When cooked serve the chicken sprinkled with scallions, onions and herbs, and serve hot with lemon or lime wedges.
Indian Tandoori-Style Grilled Chicken marinated in Yogurt and Spices
Ingredients
1 tablespoon salt
1 tablespoon paprika
1 teaspoon ground cumin
1 teaspoon ground turmeric
1/2 teaspoon ground cardamom
1/2 cup plain Greek-style yogurt
1 1/2 teaspoons ground black pepper
1 tablespoon garlic, finely chopped
3 tablespoons fresh ginger, finely chopped
1/2 cup chopped fresh cilantro, for serving
2 tablespoons fresh lime juice, plus extra lime wedges for serving
1 small onion, chopped, plus extra onion, thinly sliced for serving
2 teaspoons finely chopped serrano chili, (or similar hot red chili)
3 tablespoons rice bran oil or grape seed oil (neutral tasting high smoke point oil)
12 bone-in chicken thighs (or breast pieces) (about 3.5 pounds; 1.7 kg), washed and dried
Method
Add the cardamom, cumin, turmeric, paprika, serrano, ginger, garlic, chopped onion, black pepper, salt, lime juice, oil and yogurt to a blender bowl and pulse until smooth. Transfer the marinade to a large non-reactive bowl. Slash the skin sides of the thighs with a sharp knife and place in the bowl. Turn the chicken pieces to coat all sides thoroughly with the yogurt marinade. Cover and refrigerate for 6-24 hours.
Preheat a medium-hot charcoal or gas grill for 15 minutes so that there is a hot area and a cooler area. The chicken is seared at high temperature to develop a crisp outer coating and then slow cooked to complete the cooking of the meat inside. Cook the chicken pieces for 2-4 minutes on each side until the outside is crisp and brown. Move the chicken pieces to the cooler area on the grill and cook for another 20 to 30 minutes, turning several times. Check the meat inside is cooked. Then, serve the Tandoori chicken with lime wedges, cilantro, extra serrano chili, sliced onions and rice.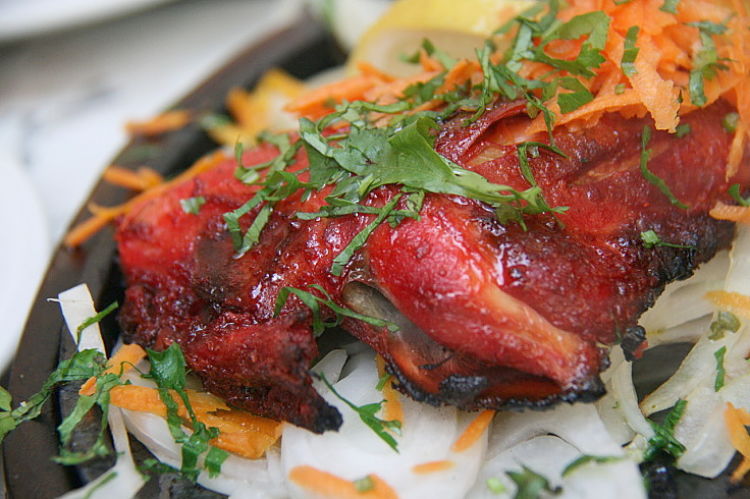 Source:
Tamorlan [CC BY 3.0], via Wikimedia Commons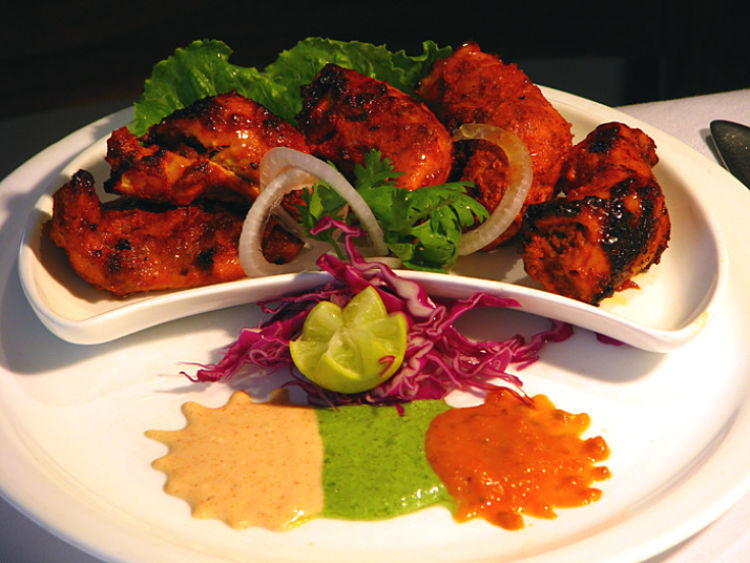 Source:
kspoddar [CC BY-SA 2.0], via Wikimedia Commons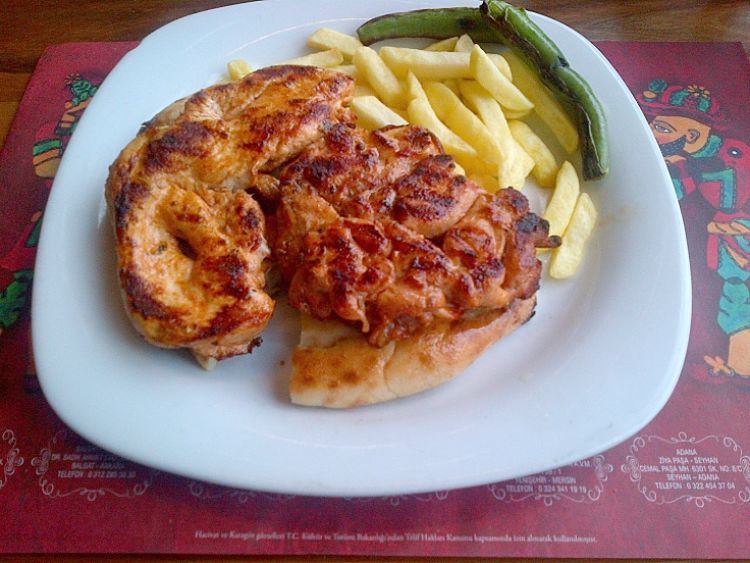 Source:
E4024 (Own work) [CC BY-SA 4.0], via Wikimedia Commons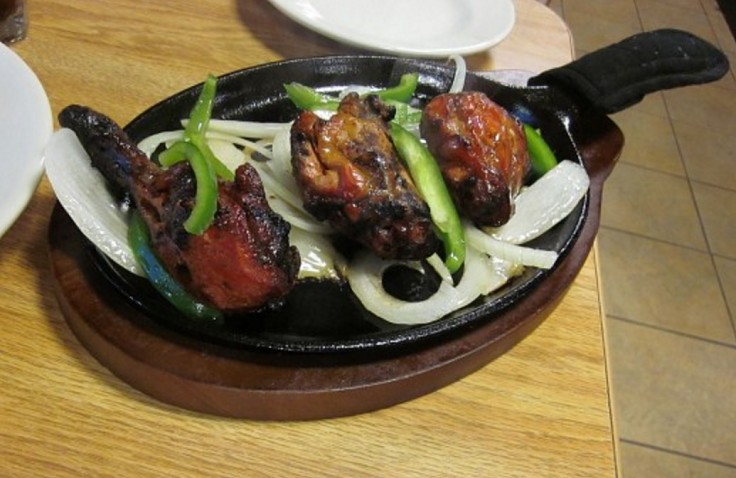 Source: Original Image - John Anderson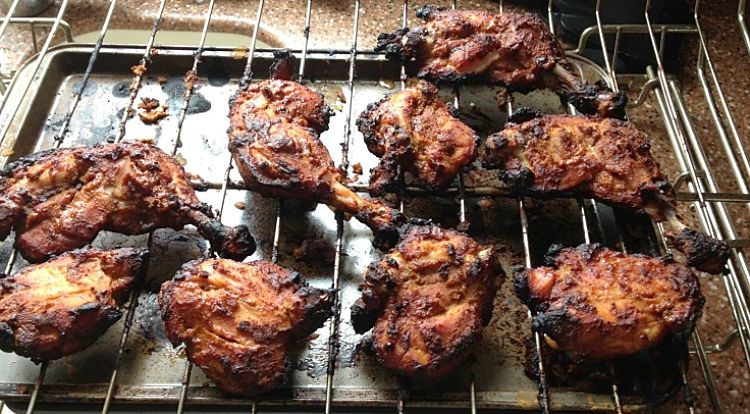 Source:
By Vrinda Arora [CC BY-SA 4.0], via Wikimedia Commons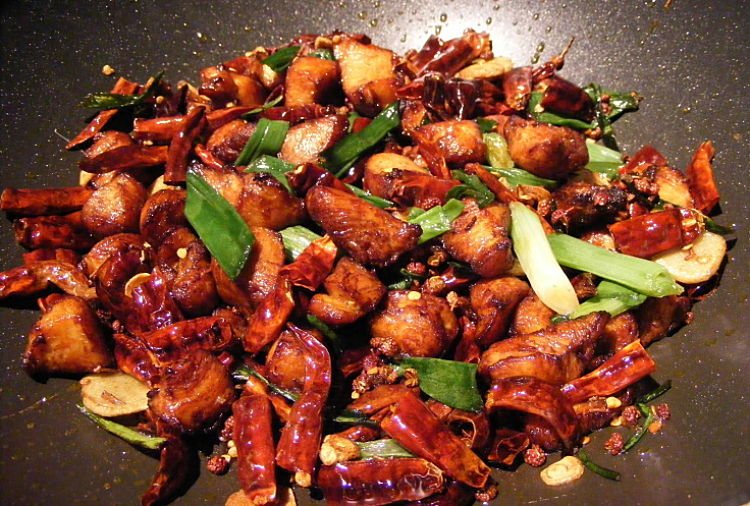 Source:
By FotoosVanRobin [CC BY-SA 2.0], via Wikimedia Commons