Zucchini Flower Recipe with Herb and Rice Stuffing

Zucchini flowers are delicate and light blossoms that are hard to source unless you grow your own. One trick is that the flowers tend to be open in the morning and closed later in the day. Actually it does not matter that much when you pick them, but ensure that they are young and not wilted before you stuff them.

Below are two stuffing recipes, one with rice and herbs, the other with cashews and walnuts. The cooking process is rather delicate and requires careful handling of the flowers and just the right temperature.
Ingredients for Rice, Spices and Herbs Flower Stuffing
1/4 teaspoon salt
1/2 cup tomato passata
2 1/2 tablespoons water
1/4 teaspoon ground cumin
1/4 teaspoon ground black pepper
1/2 cup Calrose rice, medium grain
1 1/2 tablespoon fresh dill, finely chopped
1 1/2 tablespoon fresh mint, finely chopped
1 small brown onion, peeled and finely chopped
1 1/2 tablespoons olive oil, and some extra for cooking
24 zucchini flowers with the forming zucchini still attached
Ingredients for Mixed Nut Zucchini Flower Stuffing
1/4 cup raw walnuts
1 tablespoon white miso
2 tablespoon nutritional yeast
1 tablespoon extra virgin olive oil
salt and freshly ground black pepper to taste
1 small brown onion, peeled and finely chopped
1/2 cup raw cashews, soaked in water for 2-3 hours, or overnight, then drained (to soften)
2-3 tablespoons of chopped fresh herbs such as sage, basil, Italian parsley, mint or dill
Method
Heat the oil in a small saucepan or deep frying pan, over medium heat. Fry the onion for 2-3 minutes until soft and transparent. Add the mint and and mix well. Add the water, tomato passata, salt, pepper and cumin. Increase the stove setting to high, bring the mixture to the boil and then lower the heat to start a gentles simmer. Add the rice, mix and then cover and reduce the heat to simmer gently for 5 minutes. Set aside to cool before stuffing the flowers.

For the Mixed Nut stuffing, fry the onion and then add all the other ingredients. Cook over a low to moderate heat setting for 2-3 minutes. Set aside to cool.

Lightly grease a large flat baking dish with a little olive oil. tale each of the flowers in turn and gently remove the stamen in each zucchini flower. Using a small teaspoon, carefully stuff each of the flowers with either of the stuffing mixtures. Close the petals over the stuffing. Place each of the stuffed flowers onto the baking dish.

Drizzle some olive oil over the zucchini flowers, sprinkle with salt and freshly ground pepper. Add some water to the tray (about a fingernail deep).

Bake the zucchini flowers for 50-60 minutes in a preheated oven set to 170 degrees C. Check to ensure the stuffing is cooked and the flowers are tender. Serve immediately.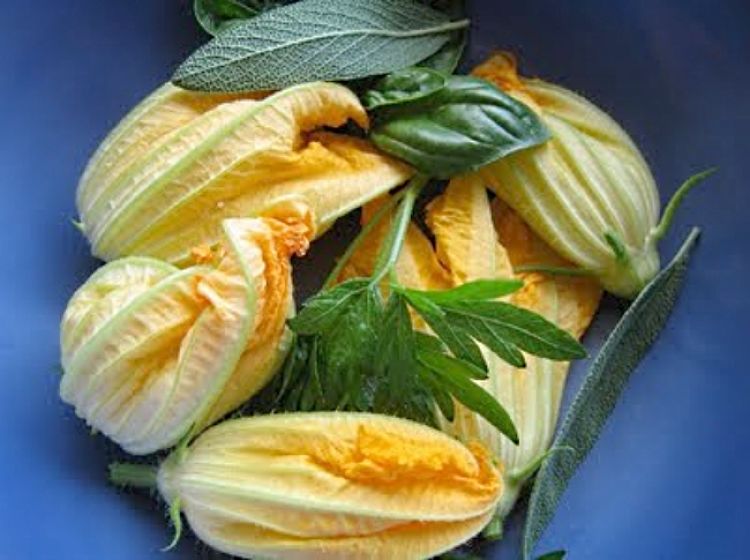 Choose fresh flowers that are as large as possible, firm and have just opened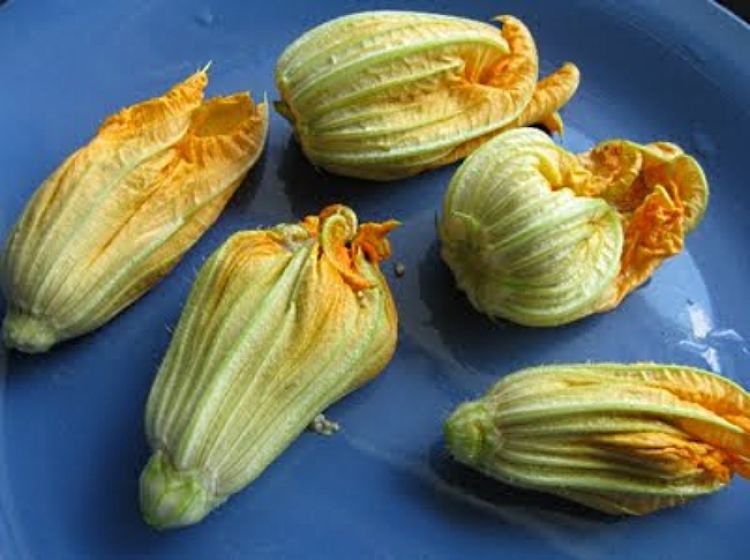 The zucchini flowers are easy to stuff, but it takes care and a gentle touch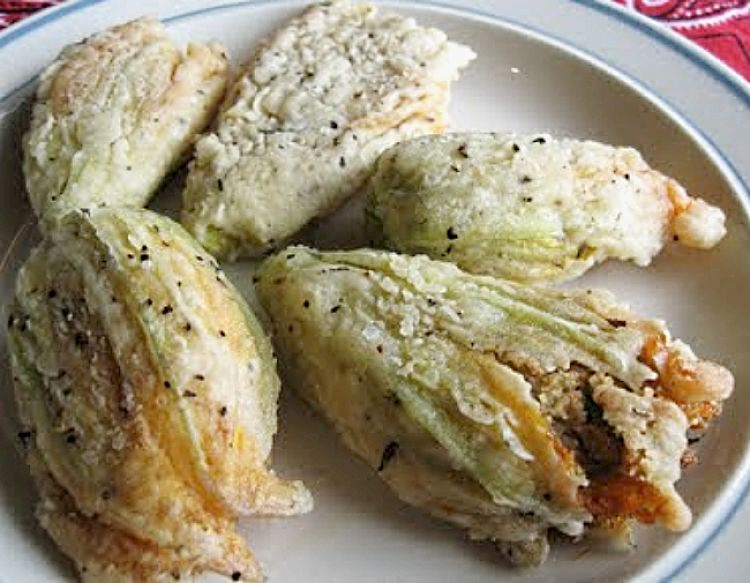 Stuffed zucchini flowers ready to eat. They are delicious and provide an intriguing dish at a dinner party or a family celebration