10 Best Vietnamese Pho Soup Recipes
Pho soup (pronounced "fahr") is a fragrant, light soup made with a rich tasty stock, fresh, crunchy vegetables, herbs, spices and your choice of meat strips, seafood or mushrooms. It is an ideal healthy and light vegetarian dish, as well. It is one of the favorite and most loved Vietnamese soup dishes, that can be eaten for breakfast, lunch, dinner. It is easy to prepare at home and can be enjoyed as a healthy snack any time of the day.

The secret of a stellar pho is the quality of the freshly prepared stock along with the choice of fresh herbs and beautiful spices. Below are 10 of the best ever Vietnamese pho soup recipes for you and your family to enjoy. The ingredients are readily available anbd you can use various substitutes and your own variations.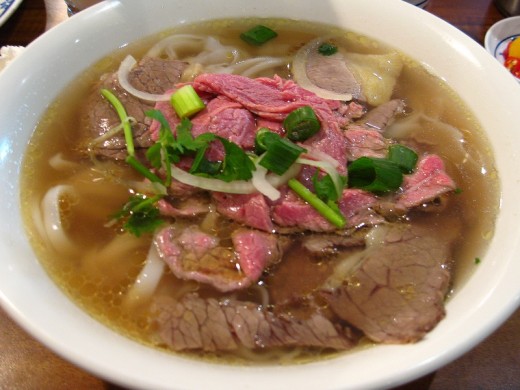 Learn how to prepare delicious homemade Beef Pho soup with this delightful easy to prepare recipe featuring fresh herbs and vegetable.
1. Beef Pho Recipes with Homemade Stock, Herbs and Vegetables
Ingredients
for the Stock
2 onions
10 cm piece ginger
2 1/2 kg (5 lb) beef soup bones
5 star anise
6 garlic cloves
8 cm piece cassia bark
450 g (1 lb) beef brisket or chuck steak
1 1/2 tablespoons salt
1/3 cup fish sauce
1 tablespoon palm sugar (or brown sugar)
to be added to the bowls
soy sauce to taste
black pepper to taste
1 onion, finely sliced
1/3 cup chopped coriander (fresh)
1 kg (2 lb) dried or fresh pho (rice stick) noodles
4 spring onions (scallions), green part only, finely chopped
225 g (8 oz) ( beef sirloin or eye fillet) finely sliced across the grain
for the garnishes
Thai basil
lime wedges
sliced chilies
fresh bean sprouts
Vietnamese mint sprigs
Method
To make the stock, start by preparing the bones. Cover the bones with cold salted water in a large pot. Bring to the boil and simmer vigorously for about 3-5 minutes. Pour off the water and rinse the bones several times in warm tap water. Remove the bones and wipe with paper towels to remove excess fat. Wipe out the pot, add the bones and cover with fresh cold water. Bring the pot to the boil. Then, reduce to a gentle simmer, add the ginger, onion and remaining stock ingredients and cook for 1 1/2 hours, skimming off any fat that accumulates at the surface. Remove the meat when just cooked and set aside in the refrigerator. Cook the broth for an additional hour. Strain the stock to remove the bones and skim off the fat when cold. Reserve the stock in the refrigerator, where it will keep for several days.
To prepare the pho soup, reheat some of the stock. Slice the cooked meat into thin strips and fry briefly to warm through. Cook and drain the noodles. To serve add a serving of the noodles to serving bowls. Add slices of cooked meat, with raw sirloin on top. Top with coriander, onion, spring onion, fresh bean sprouts and your choice of herbs. Season with pepper and thinly sliced chilli. Pour in a serving of the hot stock, add some lime juice and season with fresh basil or mint.
2. Vegetarian Pho Soup Recipe with Shiitake Mushrooms, Toasted Nori Sheets and Fresh Herbs
Ingredients
8 cloves
3 sheets nori
salt and pepper
1 cinnamon stick
3 whole star anise
2 teaspoon coriander seeds
1 1/2 tablespoon soy sauce
5 cups fresh vegetable stock
1 small brown onion, finely sliced
10–12 smalldried shiitake mushrooms
large piece of ginger, finely sliced
1 1/2 cups carrots, julienned or shredded
For serving and garnishing
lime wedges
fresh bean sprouts
hoisin sauce (optional)
1 long red chilli (thinly sliced)
chilli sauce (Chinese or sriracha sauce (optional)
150 g (4 oz) rice noodles, soaked in hot water for 10 minutes, drained
fresh herbs for garnishing (coriander, mint, Vietnamese mint, Thai basil or similar)
Method
Add the cinnamon stick, coriander seeds, star anise and cloves to a dry moderate size saucepan. Place over moderate-high heat and dry-roast for about 3 minutes to release the aromatic. Add the ginger, shiitake mushrooms, stock, onion and soy sauce and bring the saucepan to the boil. Then, reduce the heat to a low simmer. Using tongs, hang the nori sheets over a direct flame for about 30 seconds until each sheet is lightly toasted and has become dry and crisp. Then, add the nori to the stock. Add a pinch of salt and black pepper. Then, cover the pot and simmer for about 20 minutes. Next, add the carrots and simmer for about 7 minutes until the carrots become tender. Strain, reserving the stock, carrots and shiitake mushrooms. Thickly slice the carrots and mushrooms and return to the stock. To serve add some rice noodles carrots and mushrooms to serving bowls. Pour a serving of the hot stock over the noodles and garnish with chilli, mixed herbs and beans sprouts. Serve with hoisin sauce, chilli sauce and lime wedges available to be added.
3. Spicy Beef Pho with Mixed Herbs and Spices
Ingredients
1 large onion, finely chopped
1/2 cup freshly chopped coriander leaves
250 g (8 oz) of dried or 500 g (16 oz) fresh 'banh pho' noodles
300 g (9 oz) filet or surloin steak, with fat removed, sliced very thinly against the grain
for the Stock
1/4 cup fish sauce
2 tablespoon sugar
1/4 cup star anise
1 tablespoon cloves
1 1/2 tablespoon salt
1 tablespoon fennel seeds
2 cinnamon sticks, broken
2 medium onions, quartered
1 tablespoon coriander seeds
1 black cardamom pod, bruised
2 kg (4 lb) beef knuckles, or bones
1 small handful green cardamom pods, bruised
3 long fresh red chillies, halved and coarsely sliced
1 large piece fresh ginger, chopped into large pieces
for the Garnishes
fish sauce
mint sprigs
bean sprouts
hoisin sauce
coriander sprigs
Thai basil sprigs
2 small limes quartered
thinly sliced red bird's eye chillies (or similar hot chillies)
Method
Firstly, make the fresh stock by placing the bones in a large heavy saucepan, Dutch oven or stockpot and covering with cold water. Bring to the boil over high heat, then reduce to a brisk simmer. Grill or fry the onion and ginger over high heat until well browned to release the flavors. Add to the stock. Dry-fry the spices in a heavy pan over low heat for 5 minutes or until fragrant. Transfer the toasted spices to a small piece of muslin or cheesecloth, and tie with twine to make a bag. Add the spice bag to the stock pot and simmer the pot for 10 minutes. Then, remove and wash the bones and spice bag, wash the pot and return the bones and spice bag to the pot with clean water. Simmer the pot for about 2-3 hours, skimming off any fat that gathers on the surface. Next, remove the bones and spice bag from the pot and discard. Then, strain the broth through a fine mesh strainer or cheese cloth. Prepare and drain the noodles. Next assemble the pho, by heating the broth to a gentle simmer over medium heat. Add a serving of noodles to serving bowls. Add some thinly sliced raw meat to the bowls and a ladle of hot broth. Sprinkle with sliced onion, coriander and a selection of garnishes, leaving extra garnishes and sauces on the side.
4.Chicken Pho Soup Recipe with Homemade Chicken Stock
Ingredients
for the Stock
1 star anise
salt to taste
4 red shallots, unpeeled
2 tablespoons fish sauce
1 tablespoon coriander seeds
freshground black pepper to taste
Large piece fresh ginger, unpeeled
3 1/2 litres (3 quarts) cold water
1 teaspoon rock sugar or brown sugar
4 whole cloves (or 1 black cardamom pod)
1 small chicken; or two chicken frames and some chicken mince
for the Vegetables and Garnish
bean sprouts
chillies, sliced
2 sprigs coriander
limes, cut into wedges
sprigs of Asian Parseley
Sprigs of Vietnamese mint
2 sprigs sawtooth coriander
spring onion, sliced finely
1 onion, sliced finely, soaked in cold water
2 chicken breast fillets (or 6 thigh fillets)
2 sprigs rice paddy herb (ngo om), if available
200 g (3 oz) flat rice noodles (banh pho, preferred), cooked
Method
Prepare the stock by removing the bones from the chicken and finely slice the meat. Fry or grill the red shallots and ginger directly over high heat or flames until well browned, and set aside. Dry fry the coriander seeds, star anise and cloves until toasted and aromatic. Add the chicken, water, rock sugar, fish sauce, ginger and red shallots. Cook in a pressure cooker for 45 minutes, or simmer in a pot with a lid for 60-90 minutes. Sieve the stock and discard the solids. Season with salt and pepper. Poach or fry the chicken breasts until just cooked and slice finely. Assemble the pho by adding a serving of noodles to the bowls and topping with cooked chicken slices. Reheat the stock and pour a serving into each bowl. Sprinkle with your choice of chilli, onion, spring onion, bean sprouts and herbs. Squeeze fresh lime juice on top and add bean sprouts and herbs.
5. Vietnamese Prawn Pho Recipe with Mixed Fresh Herbs
Ingredients
1 lime, cut into wedges
150 g (5 oz) rice noodles
1/2 cup fresh coriander leaves
100 g (3 oz) fresh bean sprouts
3 cloves of garlic, finely chopped
4 spring onions, trimmed and sliced
2 1/2 cups of fish or vegetable stock
150 g (5 oz) large cooked king prawns
1/2 cup of fresh mint leaves or Thai basil
Large piece of ginger, crushed or sliced into pieces
1 length of lemongrass, crushed with the side of a knife
3 tablespoons of nam plah (asian fish sauce), or similar
4 birdseye chillies (or similar hot chillies), finely chopped
Method
Transfer the stock to a moderate size pan, add the garlic, ginger, lemongrass and the chillies. Bring to the boil and then simmer briskly briskly boil for 20-30 minutes to create the basic broth. Set aside on very low heat for a further 10 minutes. Add the bean sprouts to the pot and cook over low heat for 10 minutes, then add the noodles and cook for 5 minutes until just tender. Using a slotted spoon remove the ginger, lemongrass and garlic. Then, add the cooked prawns and heat through for 5 minutes. Divide the cooked noodles and stock between the serving plates. Garnish with a serving of coriander, Thai basil, mint leaves, a few slices of red chilli and spring onion. Serve hot with a wedge of lime.
6. Vietnamese Fish Pho Soup Recipe with Pork Bone Stock
Ingredients
1 cinnamon stick
1/2 cup Thai basil
1/2 cup bean sprout
1/4 cup of fish sauce
2 kg (4 lb) Pork bones
500 g (1 lb) Pho Noodle
Hot chili sauce for serving
5 whole cloves, dry roasted
lime, quartered for serving
3 red chilles, finely sliced
1 kg (2 lb) firm fleshed fish
Black Sauce (Soybean sauce),
1/2 cup fresh coriander or mint
Yellow rock sugar (or brown sugar)
1-2 cardamom, baked or dry roasted
1 star anise, grilled or dry roasted.
large pieces of fresh ginger, finely sliced
3 moderate size onions, peeled, grilled or baked
Method
Prepare the stock by cleaning the pork bone under running water. Place on a pot and cover with 8 cups of water. Bring to the boil, then lower the temperature to a slow simmer and cook covered for 2-3 hours. Strain the broth, remove the bones, add 2 cups of clean water. Add the star anise, grilled onion, cloves, cardamom, cinnamon and season with extra salt and pepper if required. Allow to cool and then remove the fat and store in the refrigerator. When ready to assemble the pho, reheat the stock to a gentle simmer. Cook and drain the noodles. Cut the fish into 3 or 4 pieces (one for each serving) and boil or steam until just tender (about 20-30 minutes, depending on thickness). Then, remove the fish pieces to a frying pan and fry in a little oil with the garlic for about 5 minutes. Add a serving of noodles to each bowl, add a piece of fish and top with a variety of fresh herbs and bean sprouts. Pour stock into the bowls and serve with lime slices and extra herbs on a plate.
7. Crab Pho Soup Recipe with Mixed Fresh Herbs
Ingredients
4 lime wedges
1 cup enoki mushrooms
1 cup fresh bean sprouts
1 cup sliced white onion
1/4 teaspoon chili flakes
1/8 teaspoon ground cloves
1 1/2 teaspoons fish sauce
2 cups rice noodles, cooked
1/4 teaspoon ground coriander
1/2 cup fresh Thai basil leaves
1/2 cup fresh cilantro leaves, or mint
1 large piece fresh ginger, peeled and sliced
1 teaspoon chili oil, or chopped fresh red chili
4 cups chicken or vegetable broth (freshly made is best)
2 pounds (1 kg) fresh crab meat (or thawed frozen crab, not tinned)
Method
Using a large heavy pot, heat the broth, cloves, coriander, chili flakes, ginger, chili oil, fish sauce and onion until simmering gently. Cook for 5-10 minutes, until the onion have started to soften. Gently add the crab meat to the stock and simmer gently for 3-5 minutes, until the crab is just cooked. Assemble the pho by placing 1/2 cup noodles in the bottom of each serving bowl. Gently add a serving of crab and ladle one cup of broth into each bowl. Garnish with sprouts, basil leaves, mushrooms, cilantro, herbs and serve with lime wedges.
8. Quick Pork Pho Recipe with Chicken Broth
Ingredients
1 cinnamon stick
2 star anise pods
Kosher salt to taste
1 teaspoon fennel seeds
2 garlic cloves, finely chopped
8 cups low-sodium chicken broth
8 ounces thin rice-stick noodles
Freshly ground black pepper to taste
2 tablespoons rice bran or grape seed oil
1 medium onion, peeled, halved vertically
1 large piece ginger, peeled, finely chopped
2 bone-in pork shoulder steaks (about 12 oz; 375 g each)
2 hot red chillies or 1 teaspoon crushed red pepper flakes
for Serving
Lime wedges
Mung bean sprouts
Fresh coriander stems
Thinly sliced green
Chopped unsalted, roasted peanuts
Method
Heat a large heavy skillet or frying pan over moderate to high heat. Cook the onion, cut-side down, until well browned (about 5 minutes) and set aside. Add garlic, cinnamon stick, chillies, red pepper flakes, fennel seeds and star anise to the dry skillet and cook while stirring, until fragrant (about 1 minute; do not burn). Add the onion, ginger, and pour in the broth. Bring the pot to the boil and then reduce the heat and simmer for 20-30 minutes. Meanwhile, heat a little heat oil in a frying pan over moderate to high heat. Season pork with salt and pepper and cook on both sides in the hot pan until browned and cooked inside (about 5 minutes per side). Let rest 5 minutes and then slice the pork thinly. Cook the noodles and then add a serving to each of the serving bowls. Add several slices of pork. Strain the broth and ladle a serving into the bowls. Dress the pho soup with bean sprouts, green onions, coriander and peanuts and serve with lime wedges and extra fresh herbs on the side.
9. Vegetarian Pho Soup Recipe
Ingredients
for the Soup
4 cups water
2 star anise
3 whole cloves
2 cinnamon sticks
1 1/2 cups rice noodles
2 tablespoons tamari or soy sauce
1 tablespoon grape seed or rice bran oil
1 large white onion, peeled and quartered
Salt and Freshly ground black pepper to taste
5 ounces (140 g) thinly sliced shiitake mushrooms
4 cups vegetable stock or broth (freshly prepared)
1 large piece of ginger, peeled and halved lengthwise
for the Garnishes
4 small lime wedges
4 sprigs of fresh mint
1 1/2 cups Mung bean sprouts
4 sprigs of fresh basil or cilantro
1 1/2 cups green onions, thinly sliced
1 teaspoon fresh jalapeño or hot red chili
Method
Heat a Dutch oven or heavy pot over moderate heat. Add the star anise, cinnamon sticks and cloves and dry toast until fragrant (about 3 to 4 minutes). Add the vegetable stock, water, onion, ginger and tamari. Increase the heat to high, bringing the mixture to the boil. Then, reduce the heat and gently simmer the mixture for 30 minutes. Cook the rice noodles, drain and set aside. Fry the shiitake mushrooms gently in warm oil until the mushrooms are tender and lightly browned, (about 4 to 5 minutes), then set aside. Once the broth is cooked and flavorsome, strain out the onions, spices and ginger using a small metal sieve. Season to taste and heat to simmering ready for serving. Assemble the pho by adding a serve of cooked noodle to the bowl, some mushrooms and a serving of broth. Add your choice of fresh garnishes and herbs.
10. Vietnamese Mixed Seafood Pho Recipe (Pho Hai San)
Ingredients
1 cup field Mushrooms
1 onion, finely sliced
2 tablespoon fresh coriander
500 g (1 lb) Pho noodles or similar
2 tablespoon coriander finely chopped
5 liters (5.2 quarts) fresh vegetable stock
500 g (1 lb) shrimp, mussels, crab, firm white-fleshed fish, clams, scallops
Spices for the Broth (1/2 to 1 teaspoon of each)
Cloves
Sea salt
Cinnamon
Star anise
Black pepper
Fennel seeds
Black cardamom
Coriander seeds
Green cardamom pods
Method
Fry the seafood in small batches so that all the items are just cooked. Add the field mushrooms and spices into the simmering stock (you can also use homemade chicken stock for the broth). Simmer the stick for 30-40 minutes. Cook the noodles until just soft. To serve, add a portion of the cooked noodles to serving bowls and add some hot broth. Add a serving of the mixed seafood and top with your choice of coriander, onions, mushrooms and herbs.
Related Soup Articles and Recipes
=> Best Easy Homemade Stock Recipes for Soups, Stews, Curries and Drinks
=> Best Minestrone Soup Recipes with Delightful Variations
=> Best Mulligatawny Soup Recipes for Lamb, Chicken, Vegetarian Varieties
=> Best Spicy Shrimp, Fish and Seafood Soup Recipes - Hot, Sweet and Sour Flavors
=> Best Vegan Vegetable Soup and Stew Recipes Showcasing a Wealth of Vegetable Tastes and Textures
=> Chicken Enchilada Soup Recipe Collection - Slow Cooked in Crock Pot
=> New Summer Blended Gazpacho Soup Recipes Made Without Bread
=> Quick and Easy Soup Recipes Made with Whole Foods
=> Seafood Chowder Soup Recipes - Homemade, Simple, Tasty
=> Best Wonton Soup Recipes - Easy to Make Homemade Won Tons
=> 10 Best Homemade Thai Tom Yum Soup Recipes
Images for Recipes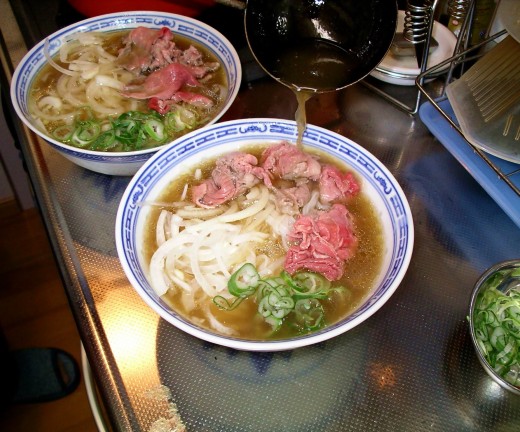 Assembling Vietnamese Pho soup for serving, by pouring the hot stock over the meat, herbs, noodles and vegetables.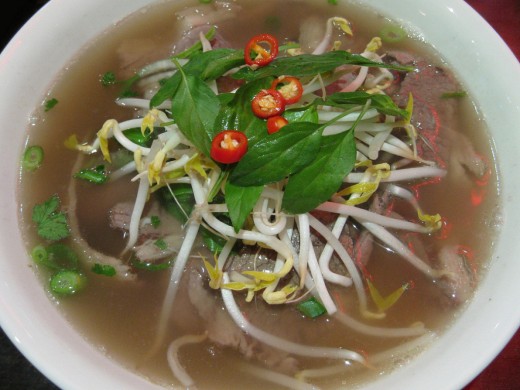 Discover how to incorporate a wide range of inseason vegetables and herbs into Pho Soup with these great recipes.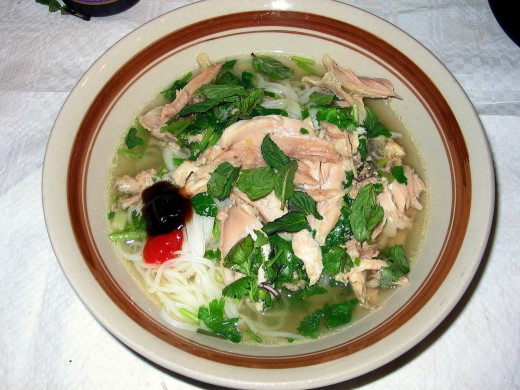 Delicious Chicken Pho Soup is easy to make at home with a homemade chicken stock and mixed fresh herbs and spices. See this great recipe.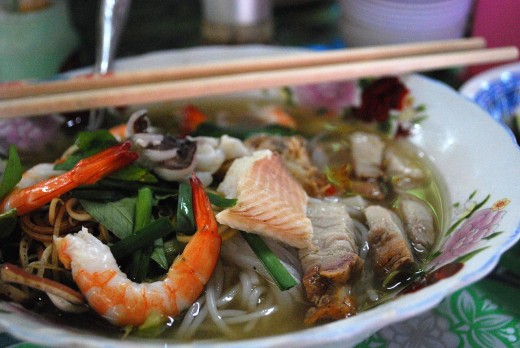 Seafood Pho ios a delight pairing the delicate taste of fish, prawns and shellfish with the tang of fresh herbs and crunch of bean sprouts and green onions.