Best Minestrone Soup Recipes with Delightful Variations
Minestrone is a thick Italian soup made with a variety of vegetables, and usually includes pasta or rice. Common modern ingredients include beans, celery, carrots, onions, stock, beans and tomatoes. Actually, there is no set recipe for minestrone.

Even in Italy, the introduction of tomatoes and potatoes from the New World profoundly changed this soup dish. Minestrone is usually made out of whatever vegetables are in season and can include left overs from other dishes. It can be vegetarian, but it can also contain meat, be flavored with bones or contain a meat-based broth, such as chicken or beef stocks.

Minestrone is, therefore, very versatile. But there are some tips and guiding principles that help ensure the core, heart and soul of minestrone is what your guests and family expect. Variations can be added to the core recipes, or the ingredients changed, to ensure you make an excellent minestrone, which tastes the way you want.
Tips for Making the Perfect Minestrone Base
The Core Stock
Minestrone is simple, but liquid element, into which all the other ingredients are added and cooked, is very important. The best way to ensure full flavor in a quick minestrone is to use a prepared stock made with vegetables, chicken or stock. If you use beans and hard vegetables that require simmering for a long time, you can use the vegetables and beans to develop the stock. Adding a range of herbs and spices helps develop a rich thick, tasty stock. Purists are devoted to using a bollito misto as a stock. A recipe is provided below if you want to try this. It is made with knuckle of gammon, wine, smoked pancetta, peppercorns, bay leaves and various herbs.
Hearty or Light? Meat or Vegetarian?
The name Minestrone name means "big soup" and many people see this as a reason to really stuff in the ingredients including meat. Others feel obliged to use butter, fat, smoked pancetta, bacon and bacon bones to boost the richness of the soup. In some ways, this may be excessive as most minestrone contains an array of beans and vegetables and it is a dense and chunky soup.
Potatoes or Starch?
Many people add potatoes to help thicken the minestrone. Others use rice and beans as a thickener as they absorb much of the liquid. A thickener, such as starch may be required for quick minestrone when there is not enough time for the thickeners in the vegetables to do their job.
How to Avoid Overcooked Ingredients
The pasta can become overcooked and mushy, especially if the minestrone is reheated for a second meal. The same applies to some of the vegetables. The simple solution is to cook the pasta separately and to add some to the bowls when the soup is served. You can add all the vegetables at the start, if you are in a hurry. But this will mean that some vegetables will be overcooked, as you wait for the harder ones to finish cooking. Care with the size of the ingredients such as carrots can help. But the best way to do add the vegetable ingredients in stages, so that they are all cooked to the right consistency that retain their own identity in the soup. This especially applies to the herbs and pasta. Beans will generally require part cooking beforehand as they take a long time to cook even when soaked in water overnight.
Extras and Variations
Some of the many variations and extra ingredients are:
beans
potatoes
arborio rice
dried mushrooms
tomatoes
red and white wine
porcini
Parmesan and other cheeses
fresh herbs such as basil and coriander
herbs and spices
various types of pasta
Bollito Misto the Best 'Stock' for Minestrone
Ingredients
1 dried bay leaf
Coarse salt to taste
2 sweet Italian sausages
1 pound cotechino sausage
2 sprigs flat-leaf parsley
8 potatoes suitable for boiling
2 celery stalks, finely chopped
12 baby carrots, 8 whole, 4 chopped
freshly ground black pepper to taste
3 tablespoons extra-virgin olive oil
8 cups homemade, low-sodium beef stock
1 1/2 medium red onions, finely chopped
1 large whole chicken, cut into 8 pieces
1 pound (500 g) beef brisket, fat trimmed
Method
Heat the oil in a large pot or Dutch oven over moderate heat. Season the brisket, all over with lots of salt and freshly ground pepper. Cook for 4-5 minutes on each side until golden brown. Add the stock, celery, chopped carrots, parsley, onion and the bay leaf. Bring the mixture to the boil. Then, reduce heat to simmer and cook covered until the brisket is very tender (about 1 1/2 to 2 hours). Strain the stock though a fine sieve back into the pot. Then, return then browned brisket to the stock and add the chicken pieces, sausages, onions, carrots, celery and potatoes. Bring to a boil, and then reduce to a simmer and cook until the meats and potatoes are just tender (generally about 20-30 minutes). Use a slotted spoon to remove the cooked meat and vegetables to a platter and serve. Strain the stock into pot and use this for making a delightful minestrone.
Minestrone Recipe with Beans, Herbs and Fresh Vegetables
Ingredients
3 cups hot water
1 1/2 teaspoons salt
1/4 cup chopped celery
4 cups vegetable broth
1/2 teaspoon dried basil
1/4 teaspoon dried thyme
1/2 cup chopped zucchini
1/2 cup small shell pasta
1 1/2 teaspoons dried oregano
1/2 cup Italian or green beans
4 cups fresh Baby Spinach leaves
1 cup white onion, finely chopped
4 teaspoons garlic, finely chopped
3 tablespoons extra virgin olive oil
1/2 cup carrot (julienned or chopped)
1 (14 ounce; 450 g) can diced tomatoes
1/2 teaspoon freshly ground black pepper
2 tablespoons fresh parsley, finely chopped
2 (15 ounce; 450 g) cans red kidney beans, drained
2 (15 ounce; 450 g) cans small white beans or 2 (15 ounce) cans great northern beans, drained
Method
Heat 3 tablespoons of olive oil over moderate heat in a large, deep pot or Dutch Oven. Add the onion, garlic, celery, green beans and zucchini and saute for 5 minutes until the onions just start to become translucent. Pour in the vegetable and add the drained beans, tomatoes, carrot, hot water, dried herbs and spices. Bring the mixture to the boil and then reduce the heat and simmer gently for 15-20 minutes. Add the pasta and cook for an additional 20 minutes or until desired consistency, adding her spinach during the last 5 minutes.
Slow Cooker Minestrone with Mixed Vegetables, Herbs and Beans
Ingredients
2 bay leaves
Salt to taste
1 teaspoon dried basil
1 teaspoon dried oregano
1 small onion, finely diced
1/2 teaspoon dried rosemary
2 celery stalks, finely diced
2 small carrots, finely diced
1/8 teaspoon red pepper flakes
1 small zucchini, finely diced
4 cloves garlic, finely chopped
6 cups good quality vegetable stock
Freshly ground black pepper, to taste
Freshly-grated Parmesan cheese, for serving
1 cup chopped fresh spinach (or baby spinach)
1 (28 oz; 800 g) can diced tomatoes, with juices
1/2 cup dried whole wheat elbow pasta (or similar)
1 (15 oz; 425 g) can red kidney beans, rinsed and drained
1 1/2 cups fresh green beans, trimmed and cut into small lengths
1 (15 oz; 425 g) can cannellini beans or similar, rinsed and drained
Method
Add the onion, celery, garlic, carrots, green beans, tomatoes, beans and broth to a medium size slow cooker. Add the oregano, basil, bay leaves, rosemary and red pepper flakes to the bowl. Cover and cook on a low setting for 6-8 hours, or on a high setting for 3-4 hours. In the last 30 minutes of the cooking period, add the pasta, zucchini and spinach. Cook until the pasta is just tender. Season with salt and black pepper and serve with Parmesan cheese.
Kale and Cannellini Minestrone Recipe
Ingredients
2 tablespoons olive oil
1 carrot, finely chopped
Parmesan cheese for serving
1 large onion, finely chopped
1 tablespoon fresh lemon juice
2 cloves garlic, finely chopped
1 bunch kale, rinsed and chopped
1 teaspoon fresh rosemary, chopped
6 cups of good quality vegetable stock
2 stalks celery, sliced into short lengths
Flat-leaf parsley leaves, for serving as a garnish
2 x 400 g (14 oz) cans cannellini beans, rinsed and drained
Method
Discard the thick kale stems and chop the leaves into 2 cm (1 inch) thick slices. Heat oil in a saucepan over medium heat. Add the onion, garlic, carrot, celery and saute cook, stirring occasionally, until tender (about 4-6 minutes. Add the stock, beans, rosemary and kale. Cover, bring to boil and then simmer until the vegetables are tender (generally about 15-20 minutes). Mix in the lemon juice and sprinkle with flat-leaf parsley. Add some extra stock if the minestrone is too thick. Serve sprinkle with Parmesan and extra herbs.
Vegetarian Minestrone Recipe with Parmesan Cheese
Ingredients
1 leek
1 stick celery
1 handful basil
2 medium zucchini
1 cup baby spinach
150 g (5 oz) green beans
50 g (2 oz) fresh shaved Parmesan cheese
1 can cannellini beans, rinsed and drained
2 tablespoon of rice bran or grape seed oil
1 liter (1 quart) organic or homemade vegetable stock
Method
Slice the zucchini in quarters, length ways and then chop into small pieces. Slice the celery and leek, and the beans. Chop the basil and other fresh herbs. Heat the oil a heavy pot or Dutch oven over moderate to high heat. Add the celery and leek and fry for 2-3 minutes. Add the zucchini and fry for an additional 2 minutes. Season with salt and freshly ground black pepper. Add stock, cover the pot and bring to the boil. Then, reduce the heat and simmer for 5 minutes. Then, add green beans and drained cannellini beans and simmer for 5-7 minutes. Remove from the heat, add the spinach and finely chopped basil leaves. Serve topped with Parmesan cheese. You can heat the cheese in an oven to make Parmesan crisps.
Related Soup Articles and Recipes
=>10 Best Vietnamese Pho Soup Recipes
=> Best Easy Homemade Stock Recipes for Soups, Stews, Curries and Drinks
=> Best Mulligatawny Soup Recipes for Lamb, Chicken, Vegetarian Varieties
=> Best Spicy Shrimp, Fish and Seafood Soup Recipes - Hot, Sweet and Sour Flavors
=> Best Vegan Vegetable Soup and Stew Recipes Showcasing a Wealth of Vegetable Tastes and Textures
=> Chicken Enchilada Soup Recipe Collection - Slow Cooked in Crock Pot
=> New Summer Blended Gazpacho Soup Recipes Made Without Bread
=> Quick and Easy Soup Recipes Made with Whole Foods
=> Seafood Chowder Soup Recipes - Homemade, Simple, Tasty
=> Best Wonton Soup Recipes - Easy to Make Homemade Won Tons
=> 10 Best Homemade Thai Tom Yum Soup Recipes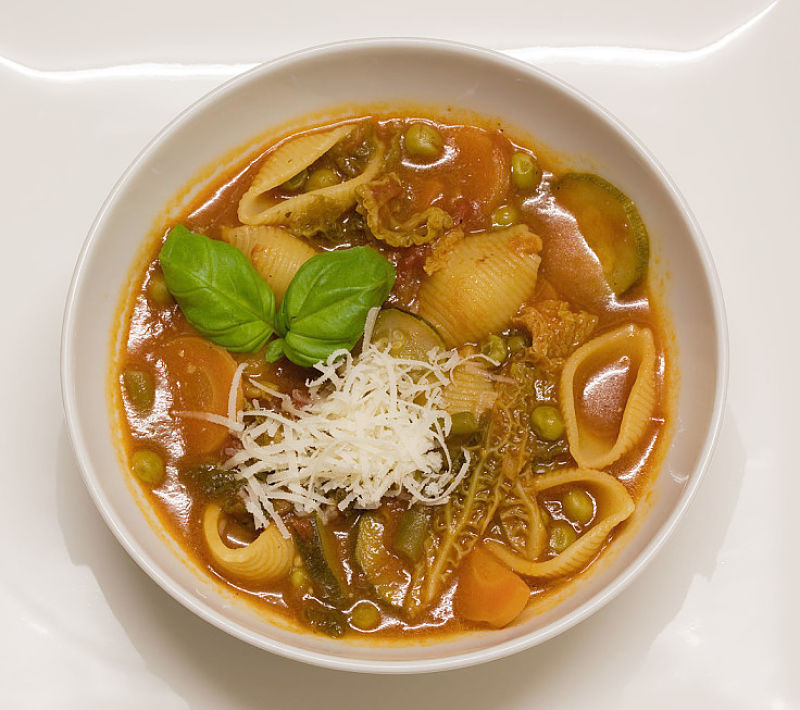 Source:
Julie Anne Workman [CC BY-SA 3.0], via Wikimedia Commons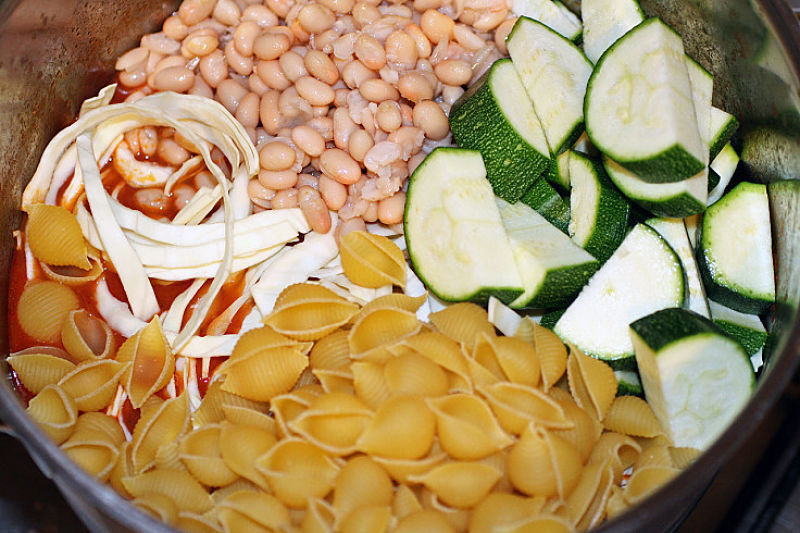 Source:
Fimb from London [CC BY 2.0], via Wikimedia Commons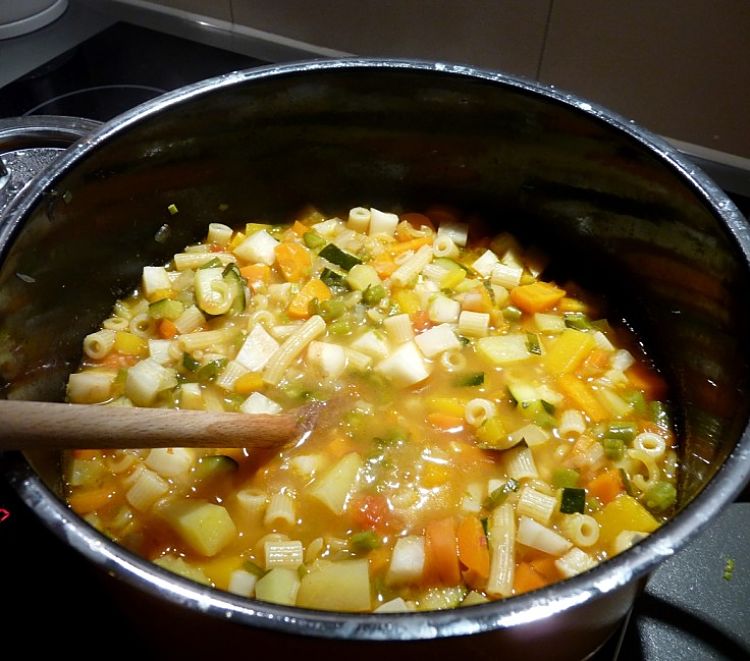 Source:
Patricia Bischof [CC BY-SA 3.0], via Wikimedia Commons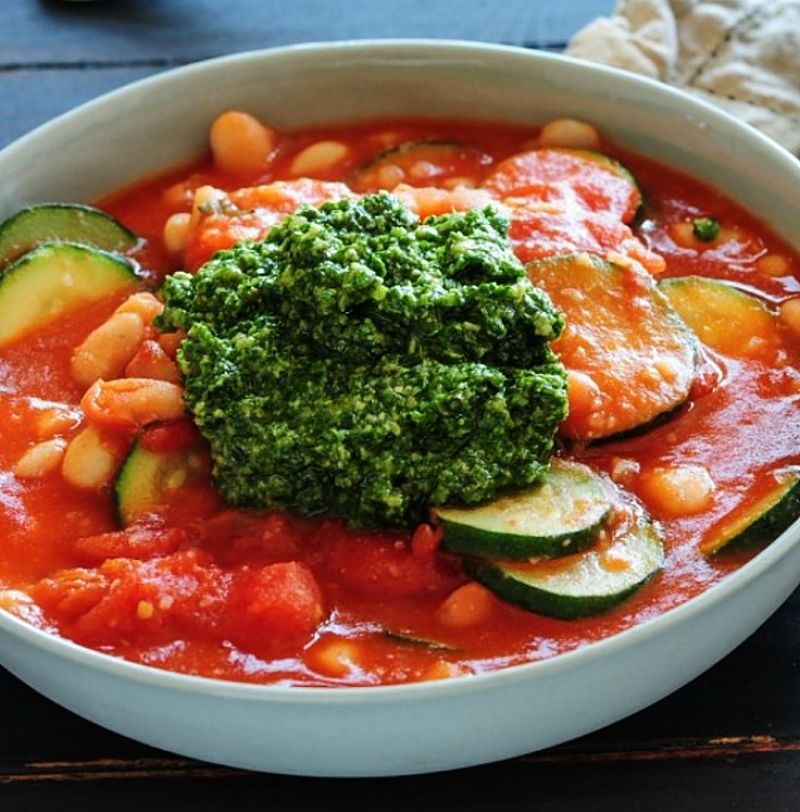 Source: Public Domain
Source:
Katrin Morenz [CC BY-SA 2.0], via Wikimedia Commons