Best Spicy Shrimp, Fish and Seafood Soup Recipes - Hot, Sweet and Sour Flavors
Steaming bowls of seafood soup warm you up. The chilli, herbs and spices showcase the flavor and texture of the seafood and make your taste buds wake up and take notice. These soups are light and very versatile as a main dish or a snack. Smaller servings make a lovely entrée to a main meal.
A variety of fish, shrimp and other seafood can be used individually or in various combinations. Choose fresh seafood from what is available.
The freshness and quality of the seafood really matters. You can also use a wide variety of spices and fresh herbs to suit your taste. How hot and spicy you make the dish is really up to you.
You can easily vary the amount of chilli in the recipes, or use less strong varieties.
The recipes included in this article are moderately hot, spicy and aromatic and are based on simplified Thai and Chinese soup recipes, with readily available ingredients.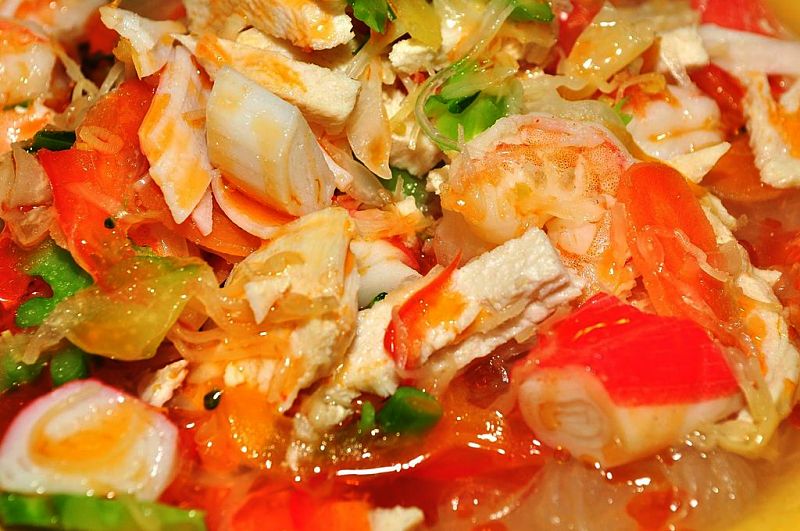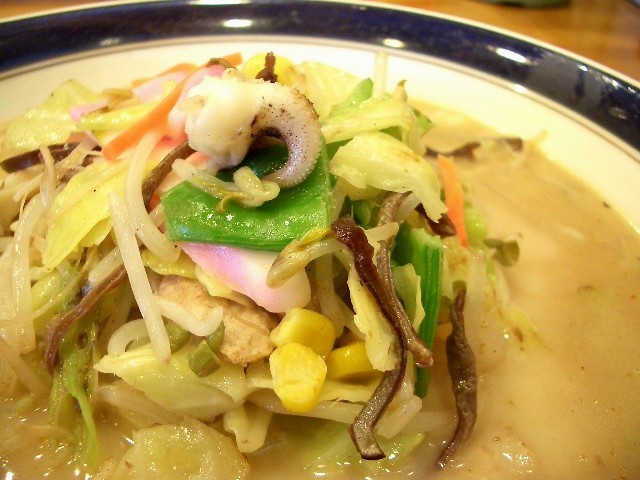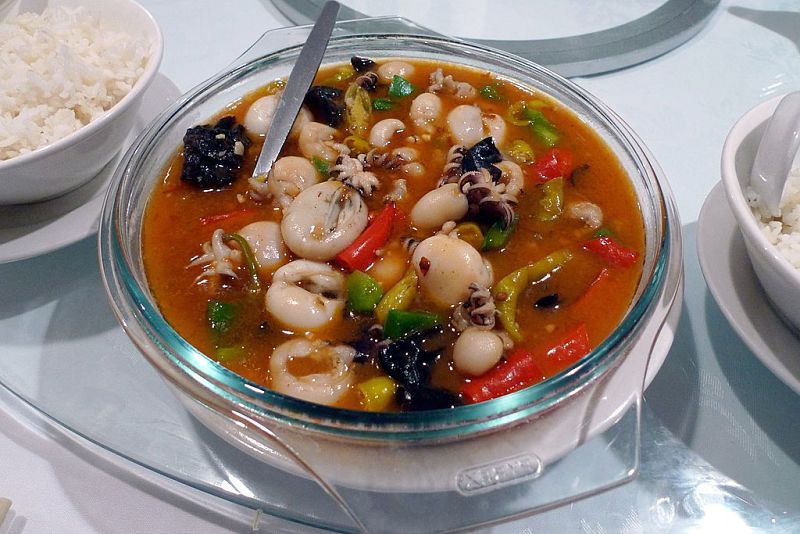 Spicy Sweet and Sour Seafood Soup
12 shelled prawns
Handful beans sprouts
Basil leaves, to serve
4 cups vegetable stock
2 tablespoon fish sauce
3 shallots, finely sliced
2 tablespoon tamarind paste
3 tomatoes, cut into wedges
2 red chillies, finely chopped
1 tablespoon soft brown sugar
3 celery stalks, finely sliced
1 lemongrass stalk, finely chopped
3 cloves of garlic, finely chopped or crushed
400g (14 oz) firm white fish (no bones), cut into large square chunks
1 tablespoon grape seed or rice bran oil (neutral flavor and high smoke point)

Heat the oil over medium heat in a large frying pan. Add the chopped chilli, garlic, shallots and chopped lemongrass. Stir fry for 1-2 minutes, then add the sugar and tamarind paste and fry for 2-3 minutes extra, stirring frequently. Add the stock and bring the soup to the boil. Then lower the heat to a simmer. Add the tomatoes and celery and simmer for about 5-7 minutes. Add the prawns and fish, and cook for 2 minutes. Finally add the bean sprouts and you choice of fresh herbs, such as basil and coriander. Adjust the seasoning and saltiness of the soup by adding extra fish sauce and sugar. What you want is a spicy sweet and sour taste. The sugar and salt smooths the taste and counteracts the acidity of the fish sauce. Serve topped with basil leaves and extra finely sliced chilli.
Spicy Fish Soup, Chinese Szechuan Style, with Hot Bean Sauce
Fish Marinade:

1 egg white
1 tablespoon cornstarch
2 teaspoons rice wine
1/8 teaspoon salt

Soup Ingredients

2 cups fish stock
2 teaspoons soy sauce
1 tablespoon rice wine
2 tablespoons grape seed oil
1 cup Chinese cabbage, sliced
2 celery stalks, finely sliced
4 cloves garlic, finely chopped
1 tablespoon peppercorns (Szechuan preferred)
1 scallion, sliced into short length
One large piece of ginger, peeled and finely sliced
500 g (1 lb) firm white flesh fish fillets (no bones) cut into chunks
1/4 cup dried red Chilli peppers (or equivalent)
1 tablespoon Szechuan hot bean sauce (available from Asian Food Markets)

Combine the fish marinade ingredients, add to a bowl with the fish and toss to coat all sides of each piece of fish. Set aside to marinade for 20-30 minutes. Heat oil in a large pot, deep frying pan or saucepan. Add hot bean sauce and stir in the oil until aromatic (about 1 minute). Add garlic, ginger, half of scallions, peppercorns, and dried Chilli. Stir fry for about 1-2 minutes until fragrant. Add the soy sauce and rice wine, mix to combine. The add the stock, heat to boil the soup. Then reduce the heat so the soup is just simmering. Add the fish celery and cabbage and simmer of 10-15 minutes until the fish is just cooked.
Hot Spicy Shrimp Soup - Thai Style
2 cups fish stock
1/2 teaspoon sugar
4 fresh lime leaves
12 canned straw mushrooms
1/2 teaspoon Chilli paste
1/2 fresh cilantro, or basil
8 fresh mushrooms, cut in half
2 tablespoons fresh lime juice
2 tablespoons premium fish sauce
4-6 fresh Chilli peppers, finely chopped
1/2 stalk fresh lemongrass, sliced into short lengths
1 large piece of fresh Thai ginger root (or other ginger)
8 oz (220 g) shrimp (shelled, with tail left on, with veins removed)

Wash, rinse and drain the prawns. Add the stock to a large pan and bring to the boil, and then reduce the heat to a gentle simmer. Add the rest of the ingredients and cook until the shrimp just change color (do not cook for too long). Remove the larger lemon grass pieces and lime leaves. Sprinkle with fresh cilantro, parsley or other herbs and serve.
Related Soup Articles and Recipes
=>10 Best Vietnamese Pho Soup Recipes
=> Best Easy Homemade Stock Recipes for Soups, Stews, Curries and Drinks
=> Best Minestrone Soup Recipes with Delightful Variations
=> Best Mulligatawny Soup Recipes for Lamb, Chicken, Vegetarian Varieties
=> Best Vegan Vegetable Soup and Stew Recipes Showcasing a Wealth of Vegetable Tastes and Textures
=> Chicken Enchilada Soup Recipe Collection - Slow Cooked in Crock Pot
=> New Summer Blended Gazpacho Soup Recipes Made Without Bread
=> Quick and Easy Soup Recipes Made with Whole Foods
=> Seafood Chowder Soup Recipes - Homemade, Simple, Tasty
=> Best Wonton Soup Recipes - Easy to Make Homemade Won Tons
=> 10 Best Homemade Thai Tom Yum Soup Recipes