Easy Alcoholic Punch Recipes for Parties and Anniversaries
Big-batches of punch are a great idea to kick off a great party.
There is something about sharing and intriguing or mysterious punch that break the ice so to speak.
The punch recipes here are alcohol based and some really a pack a punch, so beware!
Mixing the drinks beforehand saves a lot of time and guarantees that the drinks will be ready to drink right through the night. Always have extra ice on hand so that the guest can add ice to their glasses when serving themselves.
There are many recipes and options to choose from and those listed are the tip of the iceberg in terms of what is available.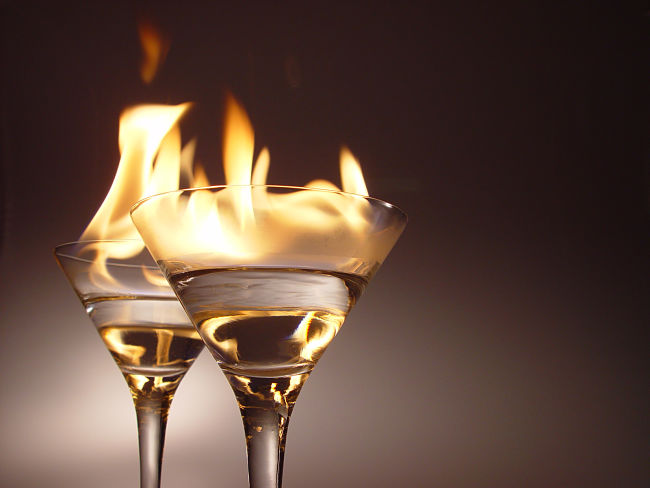 Fresh Lime Margarita Punch
You need a lot of limes to make this punch. Fresh limes are essential. This margarita is full strength and your guests may need to be made aware of this.
Dipping the rims of the glasses into a mixture of salt and sugar is a nice touch.
3/4 cup of sugar
6 tablespoons salt
20 cups crushed ice
1 quart (1 liter) cups Triple Sec
1 1/2 quarts (1.5 liters) cups fresh lime juice
1 1/2 quarts (1.5 liters; 2 bottles) of tequila
20 lime wedges for salting the rims of the serving glasses
Mix the salt and 6 tablespoons sugar in a shallow bowl. Rub the rim of 20 Margarita glasses with the lime wedges. With each glass held upside down, dip the rim into the salt and sugar mixture. Place the glasses onto a tray.

Combine tequila, lime juice, triple sec and 6 tablespoons sugar in large pitcher; stir to dissolve sugar. Add some ice to keep it cool, but reserve most of it for used when serving the drinks.
Hurricane Orange, Rum and Pineapple Punch
2 cups dark rum
1 cup grenadine
3 cups light rum
6 cups pineapple juice
2 cups fresh orange juice
8 cups passion fruit juice
1/2 teaspoon almond extract
Orange wedges and Maraschino cherries, for garnish
Combine the almond extract, grenadine, dark rum, orange juice, light rum, pineapple juice and passion fruit juice in a one gallon (4 liter) container. Chill until ready to serve in glasses filled with ice. Garnish with cherries and orange wedges.
Pine and Lime Sangrita Style Punch
3/4 cup sugar
2 cups tequila
1 cup triple sec
1 liter club soda
1 cup orange juice
1 1/2 cups fresh lime juice
4 limes, each one cut into 12 wedges
Two bottles dry white wine(each 750-ml)
46 oz (1.5 quarts; 1.5 liters) of pineapple juice
1 pineapple, peeled, cored and cut into 1medium size chunks
Put about 1/3 of the pineapple chunks 1/2 of the lime wedges in a medium bowl. Mix 3/4 cup water and 1/2 cup of the pineapple juice and pour over the pineapple pieces and lime wedges. Freeze until firm (generally about 4 hours).

To make a simple syrup, put the sugar in a saucepan with 3/4 cup water and heat to dissolve the sugar. Set aside to cool.

Mix the wine, the triple sec, orange juice, sugar syrup, lime juice, tequila and the remaining pineapple juice in a punch bowl. Float the pineapple-lime iceberg that was prepared previously, in the bowl and add the remaining pineapple chunks and lime wedges. Pour in the club soda just before serving. Serve in glasses full of ice.
Peach and Champagne Punch
2 1/2 cups water
1 bottle champagne, chilled
1 can peach nectar, chilled
1 can frozen orange juice concentrate
1 bottle sparkling mineral water, chilled
orange slices, (for serving)
Combine all ingredients in a large punch bowl. Serve with orange slices and crushed ice.
Cherries and Vodka Punch
1 1/2 cups vodka
ice (for serving)
2 lb (1 kg) cherries (frozen)
1/4 cup triple sec (or Cointreau)
3 cups dark grape juice ( chilled)
1 liter (4 cups) of ginger ale (chilled)
1 lb (500g) strawberries (fresh, hulled and sliced)
Combine all ingredients in a large punch bowl. Serve with crushed ice.
Rum, Brandy and Fruit Juice Punch
25 ounces brandy
sprigs fresh rosemary
25 ounces Jamaican rum
8 1/2 ounces simple syrup
1 ounce Angostura bitters
2 Pinches of ground cardamom
10 ounces freshly squeezed lime juice
10 ounces freshly squeezed orange juice
Combine the Angostura, simple syrup, lime juice, orange juice, brandy and rum in a punch bowl and add two pinches of cardamom and the sprigs of rosemary. Taste and to adjust sweetness and extra cardamom if desired. Garnish with slices of lime, orange and lemon.
Related Drink Articles and Recipes
=> Diet Wines and Low Alcohol Wines - Now Taste Much Better
=> Energy Drinks: Side Effects, Health Concerns, Dangers with Alcohol
=> Homemade Sorbet and Sherbet Recipes With Fruit, Herbs, Alcohol
=> Best Homemade Hot Chocolate Recipe Collection Spiked with Alcohol and Spices
=> Rumchata Recipes to Make - Homemade Rumchata from Horchata and Rum
=> Ginger Beer Recipe Ideas - How to Make Homemade Ginger Beer
=> Cooking with Beer, Stout and Ales - Best Ever Beer Cooking Recipes